How to Choose a Web Scraping Service Provider: Key Factors to Consider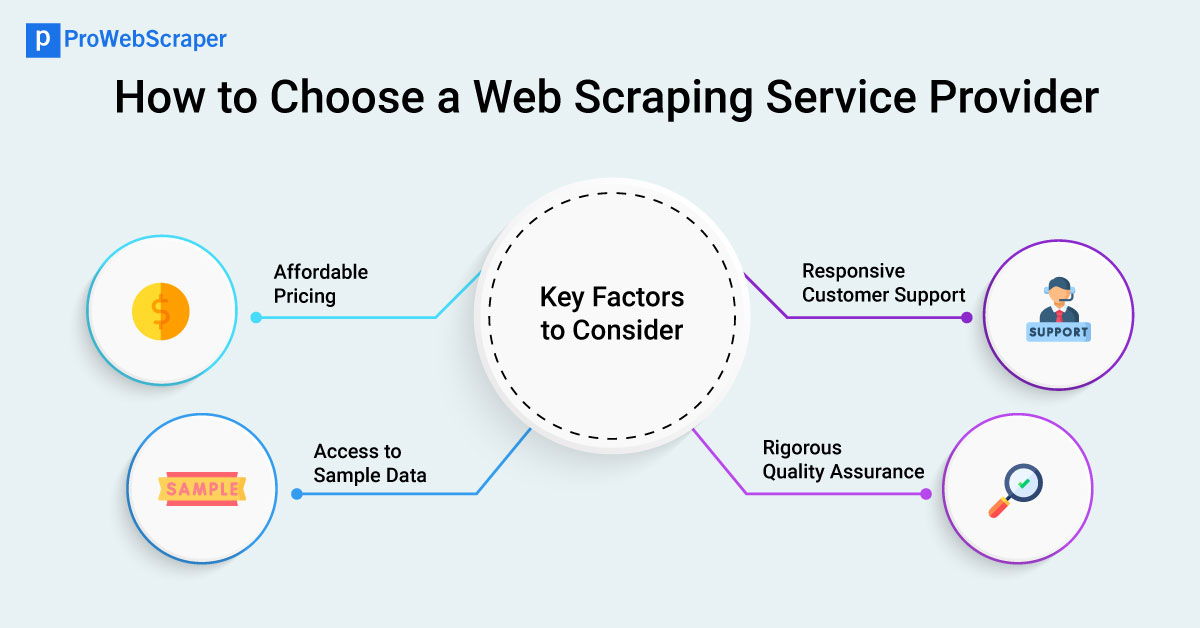 Planning to get hold of a great web scraping service provider and wondering how you should go about it?
No worries. You are not alone.
Most people, while selecting a good web scraping service provider, come across a few concerns. You will be able to relate to a few:
The service provider seems to be alright but how do I trust him for quality and service?
What about the security and confidentiality of my data? Can I trust web scraping service providers for this?
What if I need data in large volumes? How do I know whether the web scraping service providers can work on scale like that? Even if they do, can they still deliver quality service?
Does setting up a web scraper take time, or needs technical expertise? Or can it be set up quickly?
Can they scrape data from all kinds of websites? Or will their expertise have limitations while scraping data from complex websites? What about anti-scraping tools these websites have?
These are all valid queries. But it would be great to consider other key factors as well.
Yes, the credentials of the service provider, data security and customized service are important. But there are a few vital points to keep in mind while searching for a reliable web scraping provider.
Around 30% of companies select the wrong kind of web scraping service provider. And the reason? Simple- they do not consider some of the key factors!
Ideally, you should look for a web scraping service provider that is not merely doing a job. The service provider should be more like a partner in your web scraping project. It should be someone equally keen to see you succeed.
In this blog, we will explore these important aspects. But we will also address a few secondary factors too. Each factor will help you in selection of the right web scraping service provider.
As a result, you will have a hassle-free web scraping experience.
Let's get started!
Primary Factors to Consider:
Affordable Pricing:
This one is obvious, isn't it?
Everybody looks for a web scraping service at a cheap rate.
If you Google it, you will find many who claim that they provide web scraping service at a cheap rate. They must be right too..
Then what's the catch?
The catch is whether they provide quality at affordable pricing. This is a tough one..
So don't think that because it is cheap, you can go for it. You should look for a web scraping service that provides quality too.
It is an industry where pricing for web scraping could be anywhere between $500 to $10000. So finding a quality web scraping service is always challenging. It is challenging because if it is cheap, it may not offer great quality and service. If it offers great quality and service, it may not be affordable.
What do we do then?
So look for a web scraping service provider offering this great combination of quality and affordable pricing.
Precisely why ProWebScraper is the right match for you. It provides proven quality and service at competitive rates. This is why it is a preferred service for businesses of all sizes.
Access to Sample Data:
How do you finalize which web scraping service provider is right for you?
Like we do for other things, we search for it in the search engine. We survey the top search results. Each one would claim that they are industry leaders in web scraping.
What will you do then? Each one is a contender for selection.
This is why it would be good to ask them to provide sample data. So look for a web scraping service that provides you sample data. If it matches the quality, accuracy and service you are looking for, it's the right one for you.
All will claim quality and you will be confused if you do not ask for sample data.
To remove all confusion, ProWebScraper gives a free sample of scrapped data. Then, it will be an easy call for you!
Responsive Customer Support:
At the end of the day, you will always need customer support.
The web scraping service provider may be excellent. It may provide quality data and all that. But what about support when you need it?
So select a web scraping service provider that provides quality customer service. Typically, good companies get back to you in 24 hours.
ProWebScraper specializes in quick response time and provides timely technical assistance.
Efficient Setup Times:
So you may be all excited to start the web scraping task. But what about the setup time required?
Don't forget to check how much time the web scraping service may take to set it up..
If the web scraping service is going to take time, it will delay everything you have planned.
So select a web scraping service that promises efficient setup time. That will help you jumpstart your web scraping project!
ProWebScraper understands this urgency. So we get our customers started in a matter of days!
Scraping Complex Websites:
Bear in mind that all websites are not made same!
At times, the data you need is stored on a website that is complex in nature. It may be difficult to scrape the data from such a website..
The anti-scraping mechanisms used today make it more challenging. So it becomes difficult to run web scraping projects smoothly.
So pick a web scraping service provider that can do this efficiently.
ProWebScraper has a proven track record of scraping data from complex websites.
Data Cleaning Services:
Let's say, you found a good web scraping service provider. But don't be in a hurry.
You need to find out how much time it will need for cleaning the data and pre-processing. As you have an urgency, you should first find out how much time this is going to take. You should find out their turnaround time. Then select the web scraping service provider accordingly.
You would love ProWebScraper for this. It provides a complete solution. How it efficiently and quickly cleans the data. How it makes the data available to you so that you can start using it immediately. You would love it!
Rigorous Quality Assurance:
At the end of the day, it's all about quality.
Getting data is not enough. What if you get unreliable or inaccurate data? So select a web scraping service provider who has quality assurance mechanisms in place.
ProWebScrape follows a rigorous quality assurance process. Manual and automated checks we conduct leave no room for error. This ensures clean, reliable and easy-to-use data.
Secondary Factors to Consider:
Data Volume and Scalability:
It would be good to find out if your web scraping service provider can tackle vast quantities of data. Secondly, you should know before you get started- can they scale it up in future?
ProWebScraper can scrape any amount of data for you and scale up as much as you want.
Data Delivery and Integration:
The devil is always in the details.
You should know how the web scraping service provider will deliver the data. Will it be in CSV, JSON, Excel? Find out well in advance.
We ensure that you get data in all standard formats. Our proven API lets you integrate it all with your systems.
Customization Options:
Yes, how about the service provider's ability to customize to your needs? Can they extract specific data fields and customize the rules of scraping for your needs?
ProWebScraper can customize as per your requirements and provide you custom-made solutions.
Industry Expertise:
You don't want to deal with a service provider who does not belong to that industry, do you?
So check carefully. Select a service provider with relevant industry experience or expertise.
We have experience and expertise in a variety of areas. We specialize in various things like review aggregation, data analytics or image scraping.
Legal and Ethical Considerations:
Last but not the least. Don't work with a web scraping service provider that flouts the web scraping laws. You should also not select a service provider freely violating ethical considerations.
Be clear about this and pick the web scraping service provider with a clean record in this.
ProWebScraper follows the legal and ethical norms and standards. We adhere to the guidelines laid down by the industry and the government.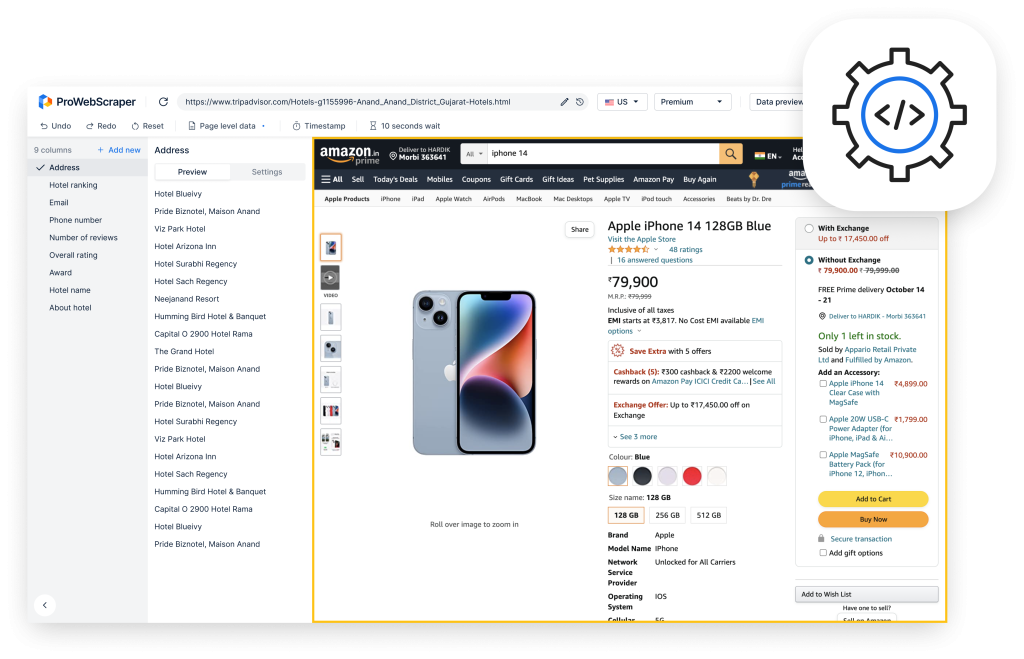 Conclusion:
Selecting the right web scraping service provider is never easy.
But if you follow this guide, you will easily be able to select the right one.
ProWebScraper provides quality web scraping service at an affordable rate.
Hope you will find this blog useful in selecting a suitable web scraping service provider!