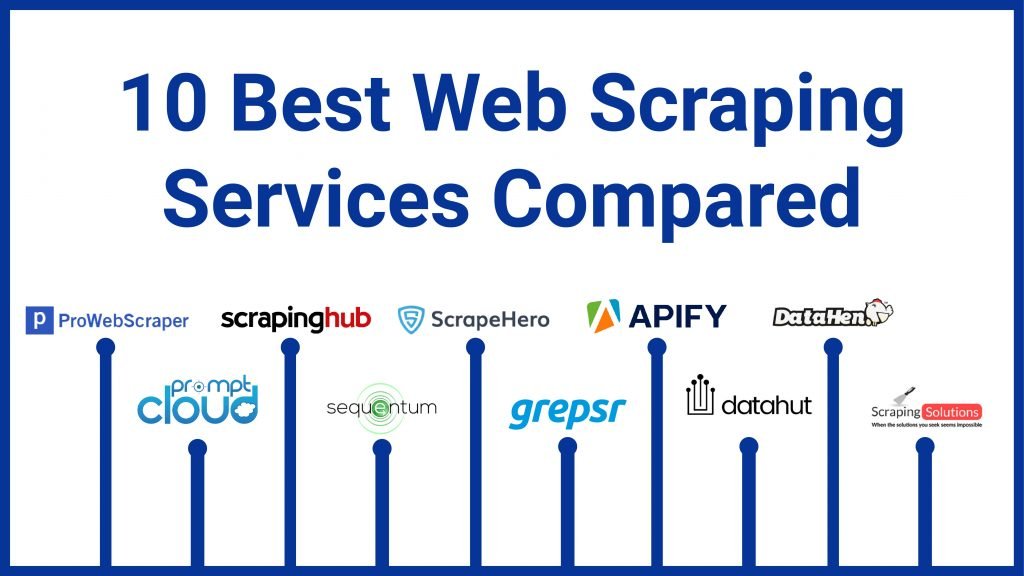 Are you looking for a web scraping service that can transform your data experience?
Well, who doesn't?
But there are countless web scraping services.
How to identify the right one for you?
Well, no worries.
We have put together a list of the top 10 web scraping services from which you can easily choose the right one for you.
Explore the list and select the one that fits the bill!
How does Web Scraping Service Work?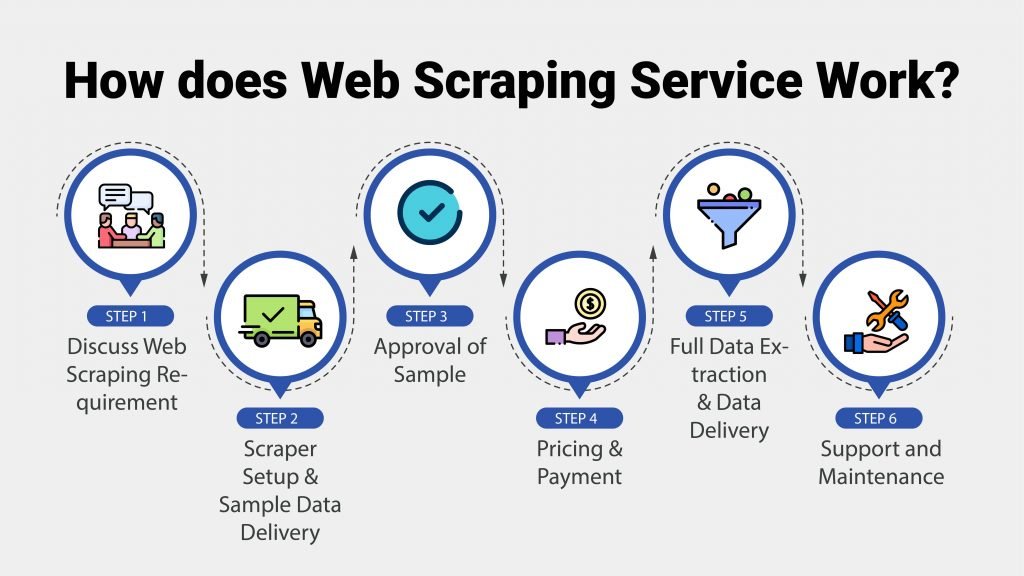 Before we go into the web scraping services, let's understand the process of how a service works:
1. Discuss Web Scraping Requirement: It starts with an initial interaction and discussion regarding what your requirements are. This will help the service understand what you are looking for and serve you accordingly.
2. Scraper Setup & Sample Data Delivery: Based on your requirements, the service would build a sample scraper to extract the data you want. Once some of that data is scraped, the service would share the sample data with you for review. This will give you a sense of the quality and quantity of data you are likely to get.
3. Approval of Sample: Once you have seen and reviewed the data, you can give your feedback and suggestions, if any. Else, you can approve the sample and the service can move forward with extraction of the rest of the data you need.
4. Pricing & Payment: Once you approve the sample data and give a go-ahead for the full extraction of the data, it all comes down to pricing and payment. You need to work out the pricing and payment modalities with the service. This sort of seals the contract.
5. Full Data Extraction & Data Delivery: Now the service would rigorously work on the extraction of the data you need. Once the extraction is over, the service would deliver the data in the way discussed and agreed upon by the two parties.
6. Support and Maintenance: This is the part that takes care of the quality. The service would strive to provide clean and actionable data to you. At the same time, if there are any issues later, the service would also provide immediate and prompt customer support as well. 
10 Best Web Scraping Services
Given below are the top 10 web scraping services which operate on the best possible standards of customer service and quality discussed earlier.
Let's get started!
Cheapest in the industry

Scraping for any kind of website

24×7 customer support

Free scraper setup by expert
If you want a service that efficiently procures the data you want at affordable rates, don't look any further. ProWebScraper is what you need.
From the point where you articulate your needs to data delivery in a format of your choice, ProWebScraper simply floors you with its service every step of the way.
Right from building the scraper to maintaining it and eventually delivering the data you need, ProWebScraper simply stands out from the rest. Their extremely seasoned team takes you through the entire process from planning to data delivery in a hassle-free manner. As a bonus, don't forget; they don't charge any fees for set-up and maintenance!
The best part is that you no longer need to worry about the technical issues of web scraping; you can focus on accelerating the growth of your business.
While different businesses have different requirements, no need to worry if you have highly specific requirements. No matter what your web scraping needs are; one-time or recurring, low or high-volume, ProWebScraper can deliver on almost any kind of web scraping projects with the flexibility you require–from project specs to contract details.
With millions of next-generation proxies, ProWebScraper has the advantage to rotate IP addresses with each request and automatically retries failed requests. In effect, it means that the scraper bot will never get blocked and you will continue to get 100% clean and accurate data.
Regardless of the type of website or how complex the website structure is, ProWebScraper specializes in scraping web data from the trickiest of places. This is why ProWebScraper has a stunning track record of extracting and delivering data from millions of web pages daily.
They can provide you data in JSON or CSV format. They also provide API to directly integrate data into your business process.
They provide a 24/7 online support system for support requests in case you run into any trouble.
In short, ProWebScraper is an unrivaled web scraping service for its many fortes and unique service innovations.
ProWebScraper's Pricing
ProWebScraper only charges you based on how many pages you extract successfully
Plans start from $40/month for scraping 5,000 pages
Setup and maintenance fee: 0$
ProWebScraper is the only web scraping service that doesn't charge a scraper set-up and maintenance fee.
Popular Plans
Scrape 50,000 pages for $250
Scrape 100,000 pages for $375
Scrape 500,000 pages for $1,000



Tackling complex and challenging assignments

Sophisticated monitoring system to track website changes

Delivers bulk data

Strong customer support
If you are looking for a web scraping service that is enterprise-grade and yet fully managed, setting you absolutely free to focus on your business, PromptCloud fits the description. Yes, PromptCloud is a market leader in web scraping for a variety of reasons.
With this service, you are likely to just sit back and relax because it will take care of everything. From building and maintaining a scraper to ensuring data quality to data delivery, it just excels at every part of the process.
It doesn't matter how complex is your task or requirement, PromptCloud specializes in tackling the complex and challenging web scraping assignments and creating customized data feeds for your specific needs. A sophisticated monitoring system keeps track of the slightest website changes so that you don't miss out on even a single piece of data.
Add to the complexity, the requirement of quantity or scalability, and yet PromptCloud comes out on top.
PromptCloud is also absolutely flexible, ready to serve you in whichever way possible. Whether it's the data source, data frequency, or anything else, it's always willing to make the changes and serve you better. We have devised the data-aggregation feature of our web-crawler which enables clients to get data from multiple sources in a single stream. This feature can be a great asset for you- whether you are a news aggregator or job boards. Whether you need them to clean the data or provide the different supporting formats for the clean data, they do it all with a smile!
With an army of data wizards at their disposal, they attend to the minutest of details and deliver best-in-class web scraping service to tens of thousands of clients worldwide.
With a slew of stunning service features, it's no wonder why PromptCloud ranks with the other competitors on our list of top 10 web scraping services!
Promptcloud's Pricing
Promptcloud offers monthly pricing.
The monthly bill is calculated based on the crawling frequency and data volume.
Scrape 10,000 records for $5 [prorated] [Record is number of rows, not pages]
Site maintenance & monitoring fee ⇒ $79
Eg: If we are crawling a site every week and deliver, say, 50,000 records in a month, the cost for this site on the monthly bill would be: $15 (for volume fee) + $79 (towards site maintenance & monitoring fee) = $94 for the month.
Try Scrapinghub

Provides service to start-ups to Fortune 500 companies

Robust quality assurance to provide clean data

Follows full legal compliance

Includes all popular delivery types such as FTP, etc.
With 10+ years of experience and delivering 8 billion pages per month, Scrapinghub is a force to reckon with as a web scraping service!
With a growing global clientele that includes start-ups and Fortune 500 companies, Scrapinghub has emerged as a leading web scraping service. Whatever the size of your business may be, Scrapinghub can serve as a complete web scraping service for all your needs.
It has managed to be a global leader in web scraping because of its rare expertise. It has a legion of data scientists who relentlessly improve mechanisms and systems to serve you better. It has scraping infrastructure that can be scaled up to whatever level you wish. While scaling it up is what Scrapinghub loves to do, it doesn't compromise quality. It has put in place unparalleled quality assurance methodology and mechanisms to provide you with clean and actionable data. For this, they have devised lightning-quick manual, semi-automated, and fully automated testing processes.
However, Scrapinghub does not cross the line with its web scraping. It follows legal norms and fully complies while scraping the data so that your project does not get jeopardized.
In terms of customer support, it offers excellent online support for all your queries. Many delivery types such as FTP, SFTP, AWS S3, Google Cloud Storage, Email, Dropbox, and Google Drive make it easy for you to immediately put the data to use and integrate it into your systems. They use a flurry of formats for delivery can be CSV, JSON, JSONLines, or XML.
In sum, for a score of customer-friendly attributes, Scrapinghub is a leader in the market!
Pricing
| | |
| --- | --- |
| Data Subscription | Custom Projects |
| Starting at: $450 / month | Starting at: $2,000/month |
| Data – hourly, daily, weekly, monthly | Bespoke data requirements |
| Proven Quality Assurance methodology | Free project assessment |
| Standardized Data Schemas | Dedicated team – and end to end partnership |
| Data coverage guaranteed | Legal & GDPR compliance review |
| Sample data available | Multi-Skilled Teams |
| Monitoring and maintenance of all data | Project managers, python developers, data scientists |
| A range of output formats & cloud delivery locations | Proven Quality Assurance methodology |
| Dedicated team & support center | Solutions that scale with you |
| | Enterprise service-level agreements |
Works closely with organizations through the life cycle of web data extraction

Comes up with custom data schema design for specific needs

Premium alternative data results using "Best of Breed" enterprise software

Pricing based on quotes
When it comes to enterprise web data extraction solutions, Sequentum is an undisputed pioneer. For large-scale and reliable web data extractions, Sequentum has carved a niche for itself.
From the beginning till end, Sequentum takes full responsibility and remains on its toes to serve you the best it can. Whether it's web data extraction agent development, hosting, continuous maintenance, data compliance, or data delivery, Sequentum delivers on every count.
This enables you to stop worrying about access to data and focus on the business intelligence derived from the data.
Moreover, Sequentum works closely with organizations and manages the entire life cycle of web data extraction rather than merely scraping the web data. Sequentum takes care of compliance guidelines, works out the best possible custom data schema design for your specific output requirements, devises intelligent data agents to extract your data, provides suitable and timely maintenance, and delivers data in a format of your choice.
Its seasoned team of data experts delivers premium alternative data results using "Best of Breed".
To top it all, Sequentum extends matchless customer service and delivers amazing web scraping services to a wide array of its clients.
For its robust enterprise-grade data extraction and excellent customer support, Sequentum ranks with the best in the web scraping industry.
Sequentum's Pricing
Sequentum has not published pricing information for their web scraping service.
Custom API

Scalable

Scrapes complex JavaScript/AJAX sites, CAPTCHA

Custom Artificial Intelligence (AI/ML/NLP) based solutions to analyze the data
If you are searching for a service that can convert billions of web pages into actionable data, ScrapeHero is the one for you!
From absolutely unstructured pieces of web data, ScrapeHero provides high-quality structured data to power your decision making with actionable intelligence.
The reason why countless customers love ScrapeHero is that you don't need any software, hardware, scraping tools, or skills- they do it all for you.
For websites that don't provide API or have rate-limited or date-limited API, ScrapeHero builds custom API so that you can integrate it into your business processes.
ScrapeHero is a sought-after service because of its outstanding scalability. It can crawl and scrape thousands of web pages per second and scrape billions of web pages every day. This is why a large number of the world's iconic companies rely on ScrapeHero for its data.
However, it's not just mechanical data extraction that you get; ScrapeHero has put in place AI-based quality checks to analyze data quality issues and fix them. Without compromising quality, ScrapeHero takes care of complex JavaScript/AJAX sites, CAPTCHA, IP blacklisting transparently.
ScrapeHero is much more than a typical web scraping service; they can build custom Artificial Intelligence (AI/ML/NLP) based solutions to analyze the data they gather for you.
ScrapeHero delivers data in JSON, CSV, Excel, XML and more. It beautifully integrates with cloud storage providers such as Amazon S3, DropBox, Microsoft Azure, Google Cloud Storage, and FTP.
Over and above this, you get top-notch customer support for any and every one of your requirements.
With a remarkable track record of web data extraction for some of the largest companies in the world, ScrapeHero has earned global recognition as a web scraping service.
Scrapehero's Pricing
Business Plan :

$150 per website per month for scraping 10,000 pages

Enterprise Basic :

$1000+ per month
Monthly subscription required
One-time set-up fees additional
Scrape up to 1 million pages

Enterprise Premium

$5000+ per month
Monthly subscription required
Setup fees included
Scrape up to 1 million+ page
Fully managed web scraping service platform where you can delegate your routine data scraping work

Extracts millions of records in a quick crawl run

Custom web scraping solutions for companies of different shapes and sizes

on-demand troubleshooting support
For organizations looking to delegate their routine data scraping work, Grepsr is the most trusted web scraping service to choose from.
It's a completely managed web scraping service platform. It allows you to outsource your mundane web scraping work and lets you sit back and relax. Rather than worrying about some web scraping tool and hardware, you can focus on business strategy and how you can take your business to the next level. You can leave the web scraping intricacies to Grepsr.
If scale is what you are after, Grepsr is the most reliable choice. It propels the whole web scraping process with powerful scrapers that can extract data from any website.
Besides, Grepsr thrives on custom solutions web scraping. As requirements differ with companies, Grepsr has provided quality custom web scraping solutions for companies of different shapes and sizes. It has put in place robust quality control mechanisms based on artificial intelligence and machine learning to carry out automated and manual checks for any lapses. This helps them provide clean and accurate data.
Grepsr also lets you integrate data with tools that you already use such as Dropbox, Google Drive, Amazon S3, and more.
You can view your data in your desired format. Whether it's a spreadsheet or API, you don't need to worry.
When it comes to customer service, you get on-demand troubleshooting support from their army of data experts around the clock.
As you can see, there are a number of service traits for which Grepsr stands out in many ways. With this kind of web scraping prowess, Grepsr is undoubtedly one of the best!
Grepsr's Pricing
On-Demand

Starts from $199/Source
Includes 50k records, once
Typical turnaround time is 12-24 hours.

Recurring

Starts from $129 setup /Source
Plus $50/Month per 50k records
Schedule data extraction
API access & data feeds

Enterprise

Starts from $999/Month
1M credits to Grepsr for Chrome
Dedicated Account Management
Data QA Dashboard
And more…
One-stop solution for web scraping, data extraction and robotic process automation (RPA) needs

Experienced and trained data experts to extend quality service

Integration of your new web scraping solution into your ambience or workflow in the form of internal database, CRM or API.

Non-disclosure Agreement (NDA) to keep your data safe
Apify is an outstanding web scraping service as it is a one-stop destination for all you need- web scraping, data extraction, and robotic process automation (RPA) needs.
Apify for Enterprise is a great service for innovation-driven organizations who believe in harnessing the power of data.
Apify has excelled as a service partly because of its world-class experts who stay with you all throughout. From preliminary analysis of your requirements to final data delivery, you will be served by some of the world's smartest data experts on web scraping and automation.
You will benefit from custom integration. It will let you integrate your new web scraping solution into your ambiance or workflow in the form of internal database, CRM or API.
You will get what is called a Service-level Agreement (SLA) which is a sort of contractual guarantee that ensures the timely delivery of data without compromising the quality.
There's always a Non-disclosure Agreement (NDA) which means that what happens with Apify stays with Apify.
When it comes to customer service, you get premium support. You get easy access to priority support by email or phone in record 24-hour response time. You can also get access to a private channel in Apify's internal Slack.
With a score of premium service benchmarks, Apify stands tall among its peers.
Apify's Pricing
Marketplace [Order an affordable solution from certified external developers]

For Small or medium-size projects with little support
Starting at $100
Delivery in 1 week

Enterprise [Get an end-to-end solution for any scale from Apify experts]

For large-scale projects with full support
Starting at $1,000/month
Delivery in 1 to 4 weeks
Scrapes millions of records every day

Clean data or money back guarantee

Robust Q&A process ensures 100% data integrity

Premium customer support
Datahut is an excellent web scraping service, just as good as any you will get.
Here's what makes it stand out.
It removes the chaos from the web scraping process and makes it systematic and cohesive. It delivers critical data from the Internet to the world's leading companies.
Clean data or you get a refund on your money. This is what makes Datahut such a reliable service. Its remarkable team ensures the extraction and delivery of clean data. Else, you can get your money back.
With Datahut, you don't miss even a single piece of critical data. If you use software and do it yourself, you might miss a lot of data points. But Datahut ensures that you get the tiniest data from the most complex of websites.
You get continuous support from their team of seasoned experts. No matter what you want, they are there to help you out and deliver in a timely way.
With a data vendor that shuts shop and goes away or discontinues service, you could be left in the lurch. With Datahut, you don't have to worry about this issue at all. You will get service 24×7 as long as you want.
You can get the data in a format you want such as CSV or JSON. You can also use the API to get the data you want.
As you can see, for its battle-tested process, exemplary data delivery mechanisms, and reliable customer support, Datahut has made a mark in the web scraping industry!
Datahut's Pricing
Datahut's pricing is simple and flexible so you can get and pay for exactly what you need, No hidden costs or surprises.
Personal

$40 per website per month
Upto 10K records per month

Business

$100 per website per month
Up to 50k records per month

Enterprise

Pricing Based on quote
Unlimited number of websites & pages
A host of services such as web scraping, API integrations and ETL processes

Highly trained and experienced data experts

Fast and timely delivery of data

Parallel Processing of data from multiple sources
Datahen would be your top pick if you want to extract data and use it for strategic decision making for your business.
There are many reasons for this choice.
It's a unique data collection platform that you can customize for your needs. It offers a host of services such as web scraping, API integrations and ETL processes.
When it comes to collection and cleansing of web data, it could be cumbersome. But with Datahen, it could all be standardized and streamlined in the best possible way for you.
In this fast-paced world, you can't afford to wait, can you? Then Datahen is best suited for you because it's one of the quickest when it comes to web scraping. It does not waste your valuable time in long feedback cycles, missing data, or deliberation over your specifications and needs. It simply delivers what you need at a fast clip.
If you are wondering how they can manage it, the answer is their highly trained and experienced data experts. They put together the most customized and suitable data solution for your needs.
If you have specific needs such as captcha solving or something, you can simply rely on Datahut because they can deliver it where other services may struggle.
You can choose the format in which you need your data- CSV, XML or JSON. You can get it through API as well. You can integrate your apps to interact with your recently collected data, or any deeper platform functionalities.
As you can see, Datahen is a complete package. For its incisive web scraping, and a set of other services, Datahen is in a league of its own!
Datahen's Pricing
Professional Plan

$149 per month
Extract up to 300,000 web pages per month
Run up to 3 concurrent scrapers
Forum Support

Enterprise Plan

$1000 per month
Extract up to 2,000,000 web pages per month
Run up to 20 concurrent scrapers
Email / Phone Support
Ethical data extraction processes

100% managed data extraction

Fully automated IP rotations and Captcha solving

30-day money back guarantee if you are not happy with the data.
By ethically automating its data extraction needs, Scraping Solutions has emerged as a robust web scraping service.
It provides 100% managed data extraction and ethical web scraping services.
If you are looking for a service that can provide web analytics, consumer behavior, and a host of other informative statistics, Scraping Solutions is the right one for you.
Since it's a 100% fully automated data extraction and delivery system, you don't have to face any hassles or do any troubleshooting. The actionable data will be delivered to you.
Even when it comes to data export requirements, it's fully customized and you don't have to do any manual work.
It's a completely ethical web scraping service- it does not violate any terms and conditions or website bandwidth usage policies.
It has put in place fully managed hardware resources dedicated for data extractions and 24×7 uptime. It specializes in data extraction for the trickiest of websites and practices fully automated IP rotations and Captcha solving.
Last but not the least, you get a 30-day money-back guarantee if you are not happy with the data you get.
In this way, as a reliable and ethical web scraping service, Scraping Solutions has a place of its own in the web scraping industry.
ScrapingSolutions Pricing
Starter

99$ one time fee
50,000 data records

Best value

$179 one time fee
100,000 data records

Professional

299$ one time fee
200,000 data records
How to select best web scraping service for you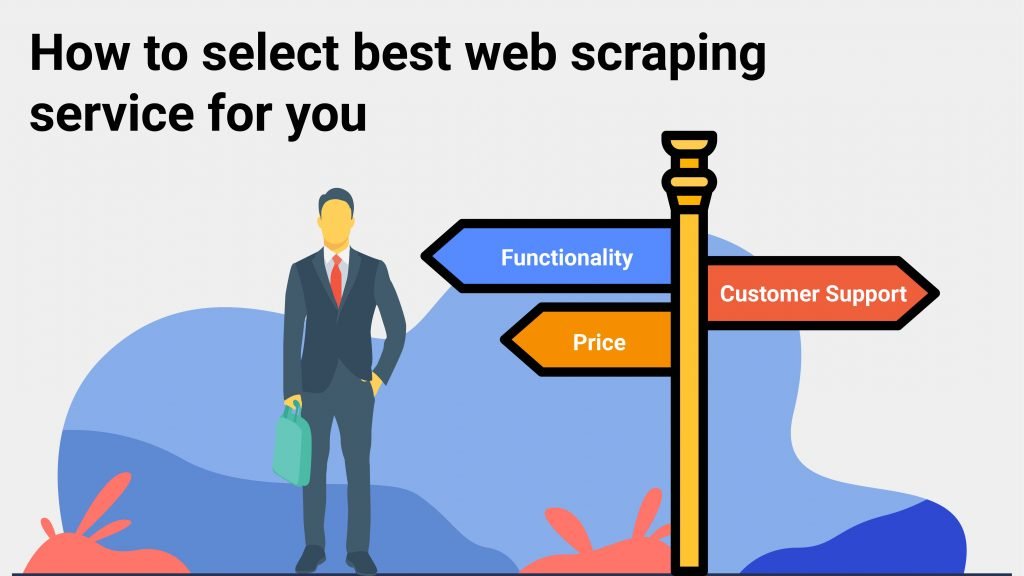 Price : Eventually, it boils down to this. No matter how good a service is, if it's not within your budget, it may not help. So look for a web scraping service that's affordable or within your budget. In order to do this, you need to be clear about your budget right from the word go. So consider price as one of the important criteria to select the right web scraping service for you.
Functionality : It should deliver on the results too. If you have some specific and tricky websites to scrape, you need to look for a service that can deliver on that. Similarly, if you have the requirement to scrape bulk data, you will need to identify a service that can scale it up. So define your requirement and functionality and try to look for a service that lives up to that!
Customer Support: In the end, you are always going to need customer support. So don't neglect this part. Find out all you can about their customer support before you avail a web scraping service. Sometimes, two services may have the same technical expertise but may differ in their customer support. So look for a service with a track record of robust customer support!
Frequently Asked Questions
1.Which is better: Web scraping service or Web Scraping Tool?
When it comes to web scraping tools, you will still have some work to do. You have to set scraper and need to manage it. If you don't have that kind of time and energy to spare, you should opt for web scraping service. This will set you free from the technical issues related to web scraping and you will be able to focus on your core business.
2. Is it legal to scrape a website?
The legality of web scraping is a tricky issue. Scraping public data that is not copyrighted for non-commercial use is mostly legal. If you are doing it on your own, you can land yourself in trouble. There are many aspects to it which you may not be aware of. Therefore, it's better to leave to a web scraping service to deal with the intricacies of the legality of web scraping.
3.How much does web scraping cost?
The cost varies from one web scraping service to another because they have different pricing models and packages. It also depends on the quantity of data that you want to scrape. If you have bulk data in mind, the cost may come down a bit.
4.Is Web scraping hard? / How difficult is it to scrape data from the web?
Despite the sophisticated web scraping tools, web scraping remains a highly intricate process. It is not just about scraping the data but also about doing it in a legal and safe way without causing any harm to the website or yourself. That's not all. Getting hold of clean and accurate data is also a challenge. So many intricacies make web scraping extremely complex and difficult.
5.What are the applications / use cases of web scraping?
You can leverage web scraping for a variety of purposes depending upon your needs.
You can use it for price monitoring if you are into an eCommerce business. Similarly, you can get images and product descriptions too.
You can make use of it for brand monitoring or sentiment analysis as well.
For monitoring MAP compliance, it can be equally useful and effective.
You can also use it for equity and financial research too.
Conclusion:
As you can see, there are various web scraping services. Each one has its unique set of service distinctions which make them stand out. So it's difficult to select one.
Therefore, this blog will hopefully help you out there!
Now, after reading it, you would surely be able to see the web scraping service that works for you in terms of budget, scalability, or any other criteria.
So select the right web scraping service for you and scale up your business!
Please share your valuable comments and feedback here. It will help us grow!