Dataminer Reviews – Pros & Cons, Alternatives & more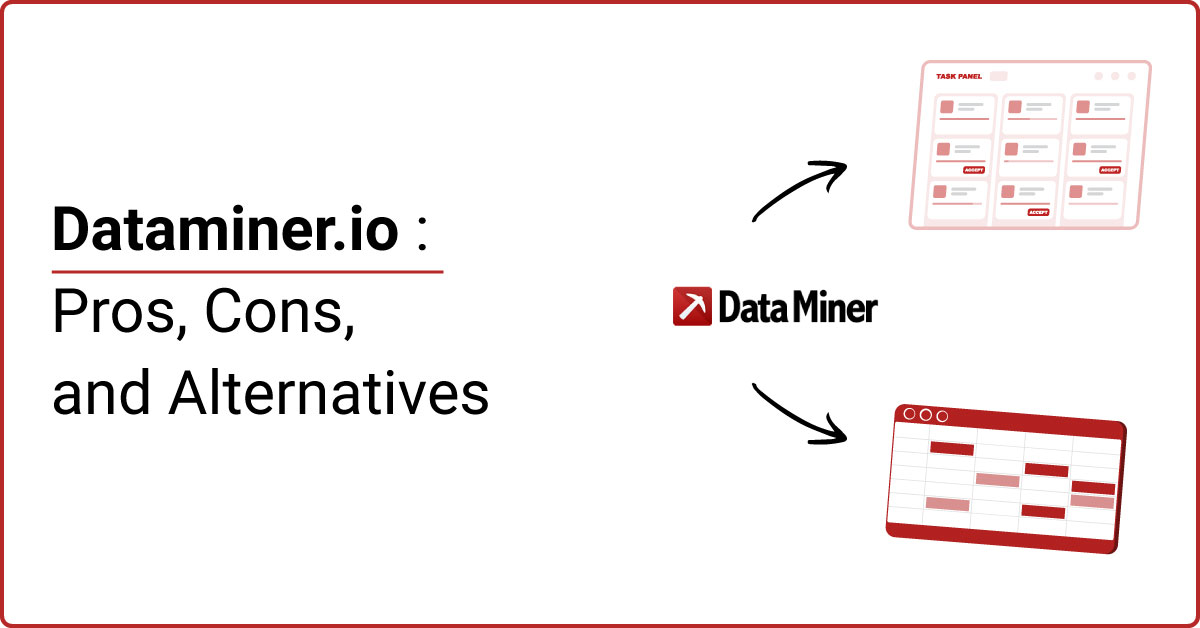 Introduction
Like the Data Miner extension for web scraping?
Ya, many people do. Those interested in data extraction tend to like web scraping extensions like Data Miner. But they are not aware of all the different aspects regarding the extension.
Data Miner is a web scraping extension and each extension has its own strengths and limitations. In this blog, We will explain in detail the strengths and limitations of Data Miner.
You will get to know the minute details about the pros and cons of Data miner, user reviews, alternatives to Data Miner and much more.
Let's get started!
What is Data Miner?
Crafted by Dataminer.io, Data Miner is a tool designed for data extraction. You can use it as an extension in Google Chrome and Edge Browser. You can use it to scrape data from websites. Once scraped, data can be exported to an Excel or CSV file. It can tackle both-single-page and multi-page scraping that makes it useful for diverse web scraping requirements. It has robust privacy and data security norms in place so user data remains secure.
Its simple-to-use interface and customization options make it a good tool. But it has limitations like lack of proxy support or API for automated integration.
Here're the pros and cons of Data Miner:
User-friendly Interface: Its user -friendly interface lets users with limited technical knowledge use it without too much hassle.
Versatility: Compared to other extensions, it gives you more options in terms of data extraction. It can scrape data items such as product information, contact information, emails, phone numbers, real estate listings, and more.
Customizable: It has more than 60,000 pre-set extraction rules. You can also create customized rules as per your needs.
Secure and Private: It has strong privacy and security protocols. Your data is not sold or shared with any third party.
Regular Updates: To address emerging user requirements, it is regularly updated. New features keep getting added to make it more robust.
No Coding Required: It has easy-to-use functionalities such as the Easy Column Finder. The provision to run custom Javascript makes the Data Miner tool easy for all kinds of users.
Limited Scope: As it is a part of the browser, it cannot perform highly complex or large scale data extraction tasks. It is limited to small to medium scale web scraping projects.
No Proxy Support: It means that if a website blocks you, your scraping comes to an end. There is no alternative to continue the scraping from that particular site.
No API: Without API, you cannot integrate the extracted data into your system. You can only download and save it in CSV or Excel and then import it in your database.
Costly: The top paid plan lets you extract 9,000 pages/month for $200. If you compare it to a full-fledged web scraping service, it is highly expensive. You also have to pay $300 per website for custom multi-level scraper creation.
One page can be scraped at a time: You can scrape one page at a time. It means that it will take around 1.5 to 2 hours to scrape 500 pages. It also means that you need to constantly monitor it to ensure it does not stop or get interrupted in between.
Limited Support: You can access support only during specific hours. It may work well if you use it for simple and generic web scraping requirements. You may not get any help if you have highly specific requirements not covered by the tool. For instance, if you want to scrape data from sites like LinkedIn, you may not get any support. It is expected that you set up the scraper on your own. If you want custom scraper configuration, you will need to pay extra for it.
Here are some frequently asked questions (FAQ) about Data Miner and its web scraping capabilities.
Can Data Miner scrape data from websites that have blocked me?
No, Data Miner cannot help you in this. It does not have proxy support. So if you get blocked, you cannot continue scraping data from that particular website using this tool.
Can I integrate Data Miner into my system for automatic data scraping?
There is no API integration. It means that you can scrape the data using this tool but you cannot have automatic integration into your system. It is manual in that sense that you will need to extract the data, download it in CSV or Excel file and then import it into your database or analytics tool.
How efficient is Data Miner in terms of time taken to scrape pages?
Data Miner scrapes data at a slower pace. The tool takes 1.5 to 2 hours to scrape 500 pages because it scrapes one page at a time. While this is going on, you need to keep track of it so that it does not have interruptions or the browser hang-up.
Does Data Miner support scraping from all websites ?
You can use this tool for generic web scraping needs. You cannot use it for complex web scraping tasks requiring data extraction from dynamic websites. A user reported a technical issue regarding scraping data from LinkedIn. It seems that it could not be resolved eventually. You can read more about this case on their forum: Link to forum
Is Data Miner cost-effective for larger web scraping projects?
For 9000 pages per month, it costs you $200. This makes it expensive if you have bulk data extraction requirements. Full-fledged web scraping services are more cost-effective compared to this tool.
If I can't configure the scraper myself, can Data Miner assist with this?
Yes, Data Miner will assist you with setting it up. But it is not free. You will need to shell out extra bucks for that. If you cannot set it up on your own, you will need to pay another $300 for a custom-made multi-level scraper per website.
Data Miner Reviews
Read what users have to say about their experience with Data Miner and its web scraping features in the reviews below. The reviews are sourced from its Google chrome extension page. Please read all these reviews to make informed decisions.
Positive Reviews:
"Highly useful extension, excellent guidance and UI, very well done. I was able to create a custom recipe within 5 minutes without any reading of documentation. The automatic paging worked nicely as well."
"Being in software for many many years and used various application, after so many years I found this app to be very useful. This is a great application however you need to first take lessons to learn and then try it. The documentation and videos are great. I used this from scrapping a very unorganised data and Zach help me to complete the recipe. Their customer support is great. Actually I do not mind paying a fee for the application even they refused to get them a cup of coffee also! I suggest you choose this software now and enjoy the functionalities. Wishing very best to the team."
"I guess it doesn't work for everyone, but it worked great for me!"
"Easy to use, fast and hassle-free, I recommend it to everyone."
"It took some time to figure out how Data Miner actually works, especially combining pagination and crawl scrape, but Zack has been the most helpful with everything – starting from technical advices and finishing with suggestions for best plan combination for huge volumes of historical data scrape. I've not felt for a minute that I'm alone with it, Zack is very quick and very specific with all his responses, trying to help me out. I strongly recommend it, I really do! You just might have to do some testing and asking for some help, if there are some things that seem not to work as they should."
"Worked perfectly for pulling season stats on nba.com. Love it!"
"Easy to use. Great support – live and email. Nice people too."
Negative Reviews:
"Such a time waste. Most of the time didn't work and sometime it hang the browser, when I click on data minor icon. Its better to do everything manually. 110% Time Waste."
"Most time does not work. waste time."
"Not useful and very bad search result."
"Frustration with the overhaul in version 5. Preferred the simplicity of previous version v3.299.72."
"It was a good piece of a tool for a while, now this is useless! Most time did not work! :(."
"Too limited you can scrape only 3 pages. Requires paid subscription to try scraping anything worth scraping. Could not even test it to see if it works for what I need."
"Requires paid subscription to try scraping anything worth scraping. Could not even test it to see if it works for what I need."
"Used to be great. However this is no longer a free tool after it limited the URL list scrape into only three web pages for the free version."
"Depressed! Could you tell why there are so many limited sites? Is it Chrome's policy, or Data Miner's? I spent hours to get familiar with the app, and was told that I have to upgrade to scrape my target pages, and I am still not sure if Data Miner works or not on it."
"Shameful waste of time. Like playing a riddle, no page tells which site cannot be scraped with the free plan. I tried it on Indeed, Paypal(my own payment history), Craigslist and other 3 sites. It works only on Craigslist. Most of the recipes on public do not work or have little value. I do not know if you have reviewed such recipes before going public. It wastes more time… I like your clean UI. Hope to be better and would like to come back to update the rating."
"I found another extension that could capture what this extension, Data Miner, couldn't."
"All of the five-star reviews for this extension are fake and were from a company that is paid to give five-star reviews. The extension doesn't work on any major social media sites, and it is flagged as malware by windows. Don't touch it."
"Non of Free Recipe Works 🙁 You have removed the working versions by allowing others failed recipe to show up in public. These were working and now can't be found in search again… Whats the point of giving us Free Plan when none of the currently available recipe works 🙁 Your Free Plan was Awesome Only with Working Google Map Data Extractions. Please review and enable some working Recipe for Free Plan."
** Please note that the reviews provided are based on the given information and may not reflect the entirety of user experiences with the dataminer reviews
Introducing ProWebScraper as an Alternative Solution to Data Miner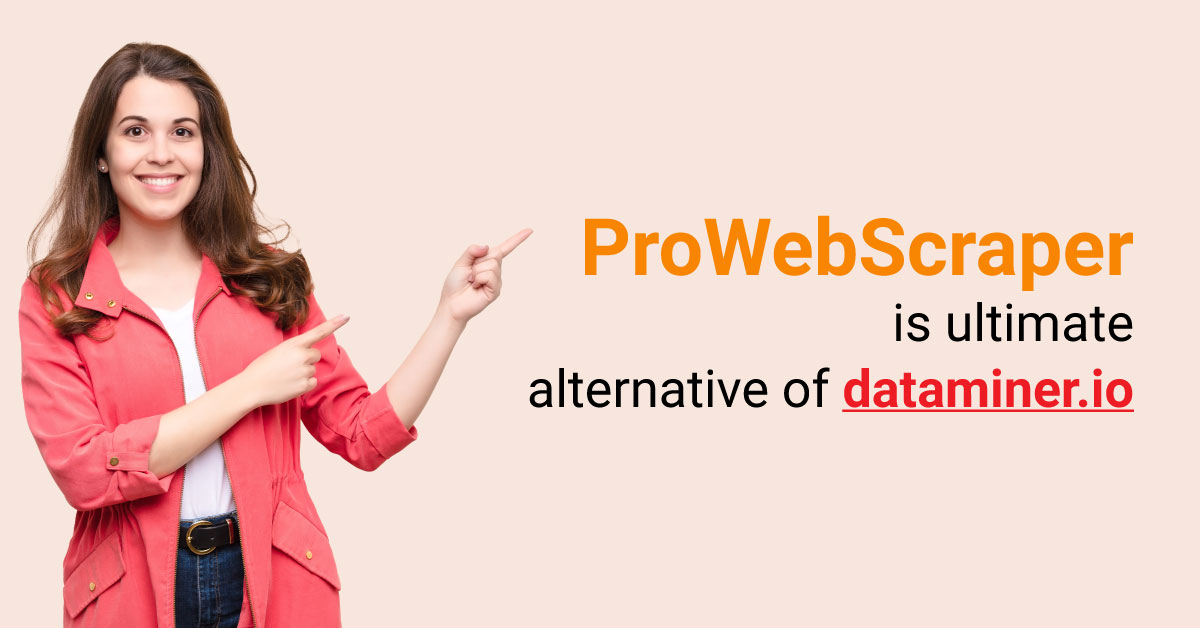 Data Miner is a decent tool for simple web scraping projects. When you start a more complex web scraping project, you may encounter challenges like IP being blocked or CAPTCHA before you can extract the data you want. In such a situation where you want to extract data from a large number of websites and face these challenges, Data Miner as an extension is not enough. For more complex data extraction requirements, you will need to look for a more robust alternative such as ProWebScraper.
ProWebScraper is a comprehensive web scraping service, specializing in complex large scale data extraction tasks. It is affordable and offers flexible pricing options. It is a dynamic solution that can tackle all web scraping challenges like anti-scraping mechanisms, IP blocking and CAPTCHA. You can get a free setup and use it optimally for your respective needs. It offers excellent customer support too.
The following table provides a quick comparison of Data Miner and ProWebScraper:
| Features/Services | Data Miner | ProWebScraper |
| --- | --- | --- |
| Cost | You need to pay $200 for 9,000 pages/month for which is their highest paid plan. Custom scraper creation costs $300 per website. | Offers affordable pricing and flexible pricing models. Provides free setup for ongoing web scraping requirements. |
| Proxy Support | No | Yes |
| API | No | Yes |
| Bypass Anti-Scraping Mechanisms | No | Yes |
| Automatic Scraper Setup and Maintenance | With changes in website structure, you need to manage changes at your end on your own | Yes, available for free in most cases |
| Scalability | Not scalable for large scale projects. Small to medium scale scraping possible | Perfectly scalable for any kind or size of projects |
| Custom Reporting | No | Yes |
| Versatility | With tricky website structures, it may not work | Can tackle complex data structures and dynamic websites and can extract the data you need |
| Quality Assurance | No provision for data cleaning etc. You are on your own for data validation too. | Yes, automatic and manual QA processes |
| Customer Support | Available but for limited and specific hours. May need to pay additional fees for custom configuration | Robust. An average first response time of just 3 hours |
| Free Sample Data | No | Yes, you can get a sample data set within 24 hours |
ProWebScraper Customer Testimonials and Success Stories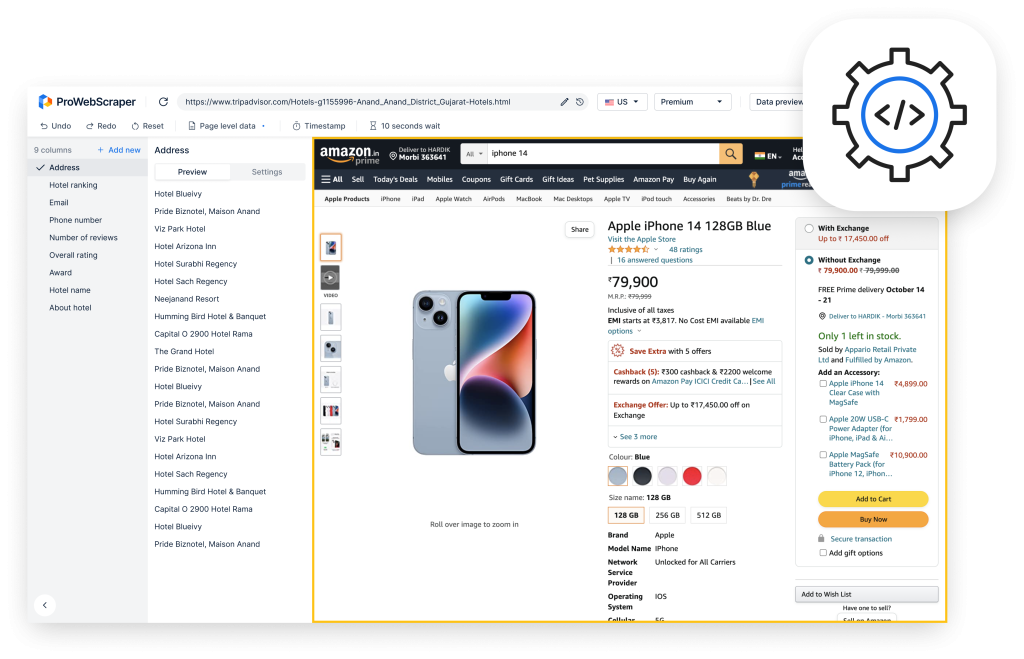 Conclusion
For its easy interface and relatively better data extraction features, Data Miner is a decent web scraping tool for simple web scraping operations. But when it comes to more complex web scraping projects which include coping with anti-scraping mechanisms etc., it has its limitations because it does not have any proxy support. It does not have API integration also which makes scraping, downloading and adding the data to your database a manual process. Customer support is also a concern. Compared to that, ProWebScraper is a great alternative. It is robust as it can tackle complex web scraping tasks which require large scale scraping. It offers proxy support and API integration. It also provides affordable and customizable pricing options.