How to Scrape Data from Website [Without Coding]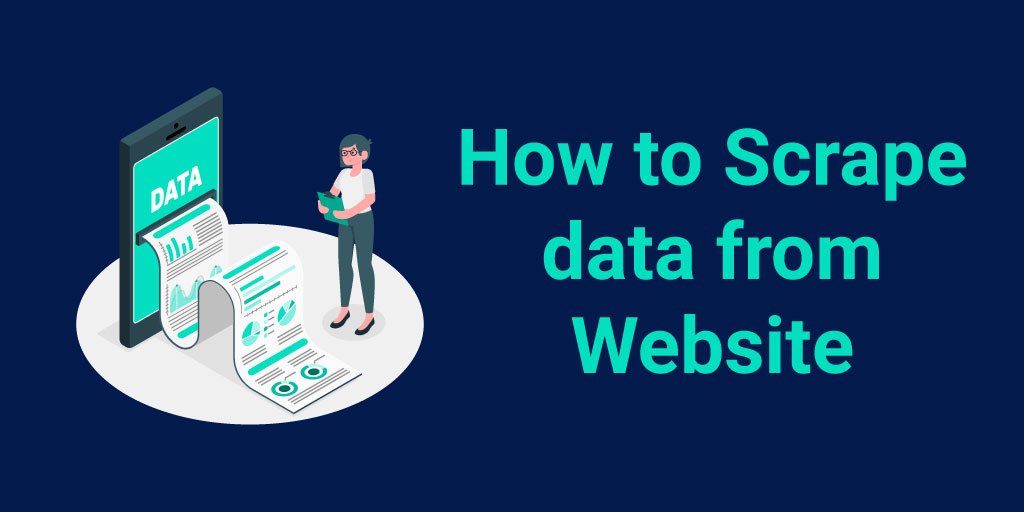 What is the primary thing required to grow your business? Undoubtedly, it's the data. And what's the primary source of data? It's the internet, isn't it?
Once upon a time, businesses faced the problem of 'no data.' Today, the problem they face is 'too-much data.' We cannot use all the data collected through the web pages because it will be too much to study. It will become a time-consuming process.
But then, how can you get this data? We can collect all the required data together through web scraping.
What is web scraping?
Web scraping is a process that helps you extract accurate data from web pages. For this process, you can use different tools called web scrapers. Data extracted through this process is known as web data.
So far, we have understood the importance of data and how we can collect it. But the main point is how to use this web data.
How to leverage the web data?
I know your mind may be curious to know its benefits, but here are a few beneficial ways to use the scraped data of the websites.
1. Analyzing Competition
If you want to stay in the market, you will have to watch your competitors intensely. It is necessary what your competitors are doing to get more customers.
You can use the data to monitor the digital activities done by your competitors and how the customers are responding to them.
2. Analyzing Pricing Strategy
Whether you run an e-commerce business or a business firm, you will have to analyze competitors' prices to create your pricing strategy.
To be stable in the market, you need to know the changes taking place in your niche. Scraping Web data – also helps you study the market through timely insights.
This way, web data helps you remain competitive.
3. Analyzing Brand Image
Today, every person can voice their opinion through social media. It is challenging for businesses to maintain their brand image in such a condition.
However, web data extraction can help businesses understand customers' feelings about their brand. Knowing the public opinions, they can then decide how to increase their brand value and manage their reputation online.
4. Studying new markets
Before entering any new market, businesses need to conduct thorough research to avoid loss.
They will have to study their target audience, customer behavior, customer needs, previous data, competitors' share in the market, government regulations, etc.
They can study all these aspects through web data.
5.Researching industries
While running a business, the owners don't only need to keep an eye on their competitors. But they must be aware of every movement in their industry.
Hence, they can use web data extraction to study industries. With this data, they can know about new opportunities, new developments, innovations entering the markets, upcoming challenges, industry trends, and a lot more.
Apart from these, businesses can also use web data for the following purposes:
Monitoring news
Researching for academics
Studying target audience
Researching for industries
Extracting financial statements
Generating leads
Monitoring SERP
Marketing the content
Predicting challenges
Making suitable decisions, etc.
So, now we need to understand how can we scrape data first to use it.
Steps to get data from a website
We can get the required data from different web pages. But before using this data for our benefit, we have to analyze this data by converting them into a spreadsheet format. Using the copy-paste method to convert the data will be highly time-consuming. Moreover, converting all the data together can lead to errors.
But you can get rid of all these problems through web scraping. As said, web scraping is a process that helps you extract data from the web pages and organize them in the desired format.
So, we can use web scraping tools like ProWebScraper to extract data from our desired web pages.
This process requires no code, so even a person who has little knowledge of operating a computer can scrape the data using ProWebScraper.
So, let's look at the steps of scraping data through ProWebScraper.
The general steps to use any easy web scraper like ProWebScraper are:
Step 1: Copy and paste into ProWebScraper
Visit the webpage from where you want to scrape data. Copy the URL and paste it into the ProWebScraper. By doing this, the scraper will build an extractor to fetch the necessary data from the desired URL.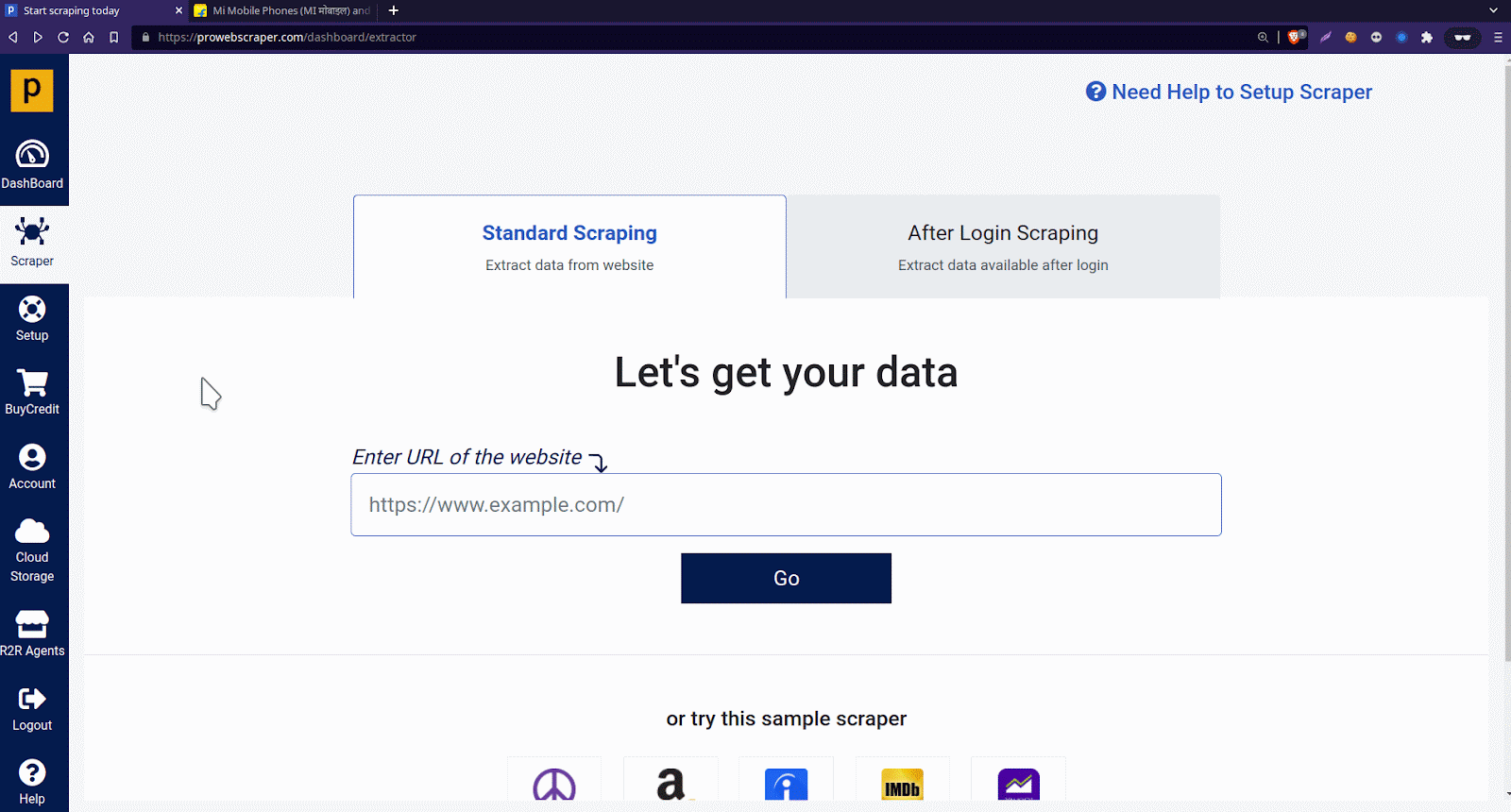 Step 2: Select data you want to scrape
You will see that ProWebScraper opens the website for you and allows you to scrape data from there.
To begin with, you must first click on the data you want to scrape.
Suppose you want to scrape the titles of the products. Then, you must point-and-click on the title of any one of the products.
You will see all titles on the page have been selected automatically.
You can rename to column from column setting.
To scrape other data you will see an 'Add Column' button at the top of the page. Click on it and click on other data like 'Price' and rename it.
Similarly, if you want to scrape more data from the same website, you can repeat the process.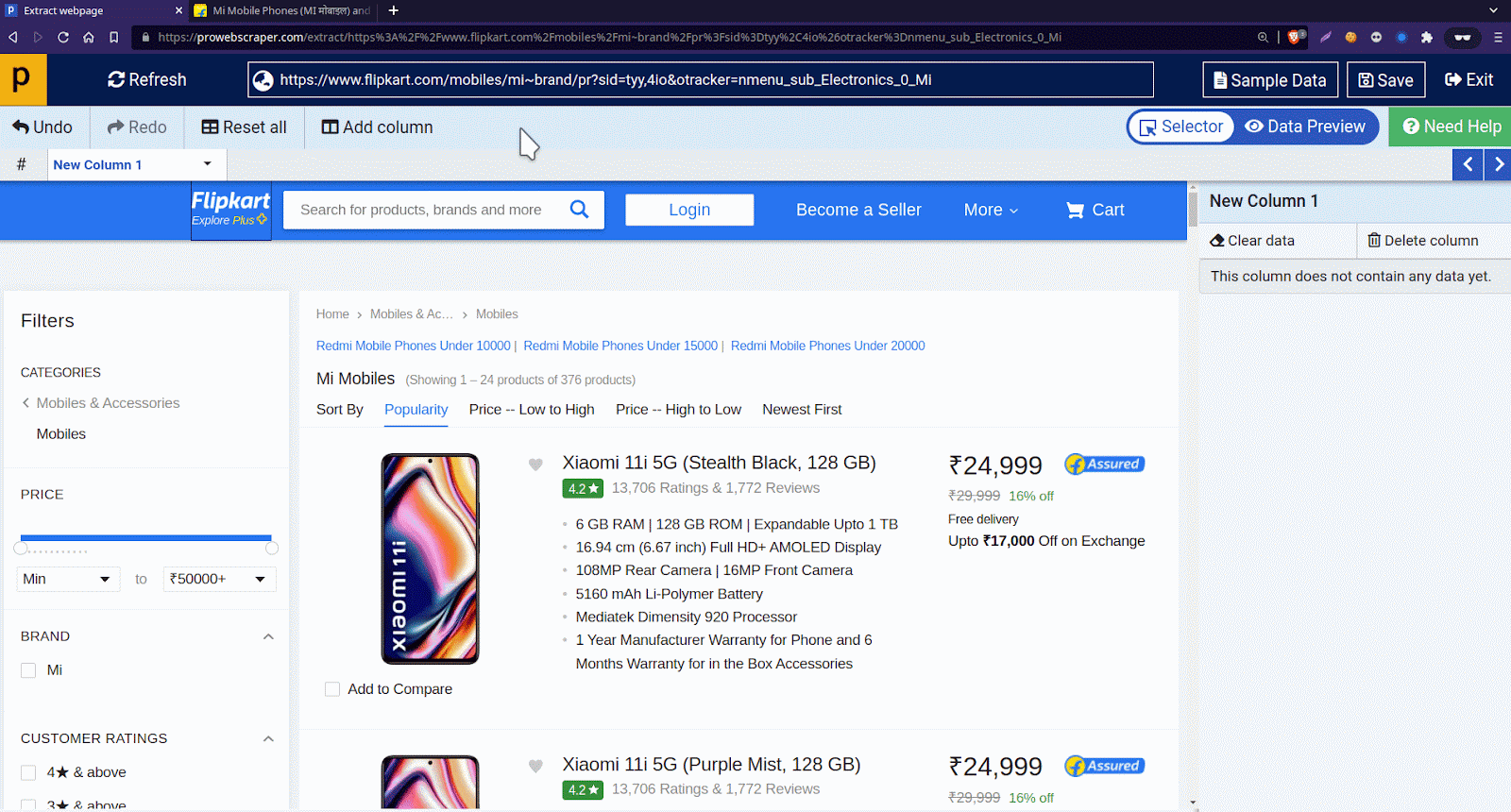 Step 3: Save and Run
Click on the Save button that appears on the right-hand side of the top of the screen. You will notice that a dialogue box appears on the screen.
Enter the scraper's name and click on the "Save and Run" button.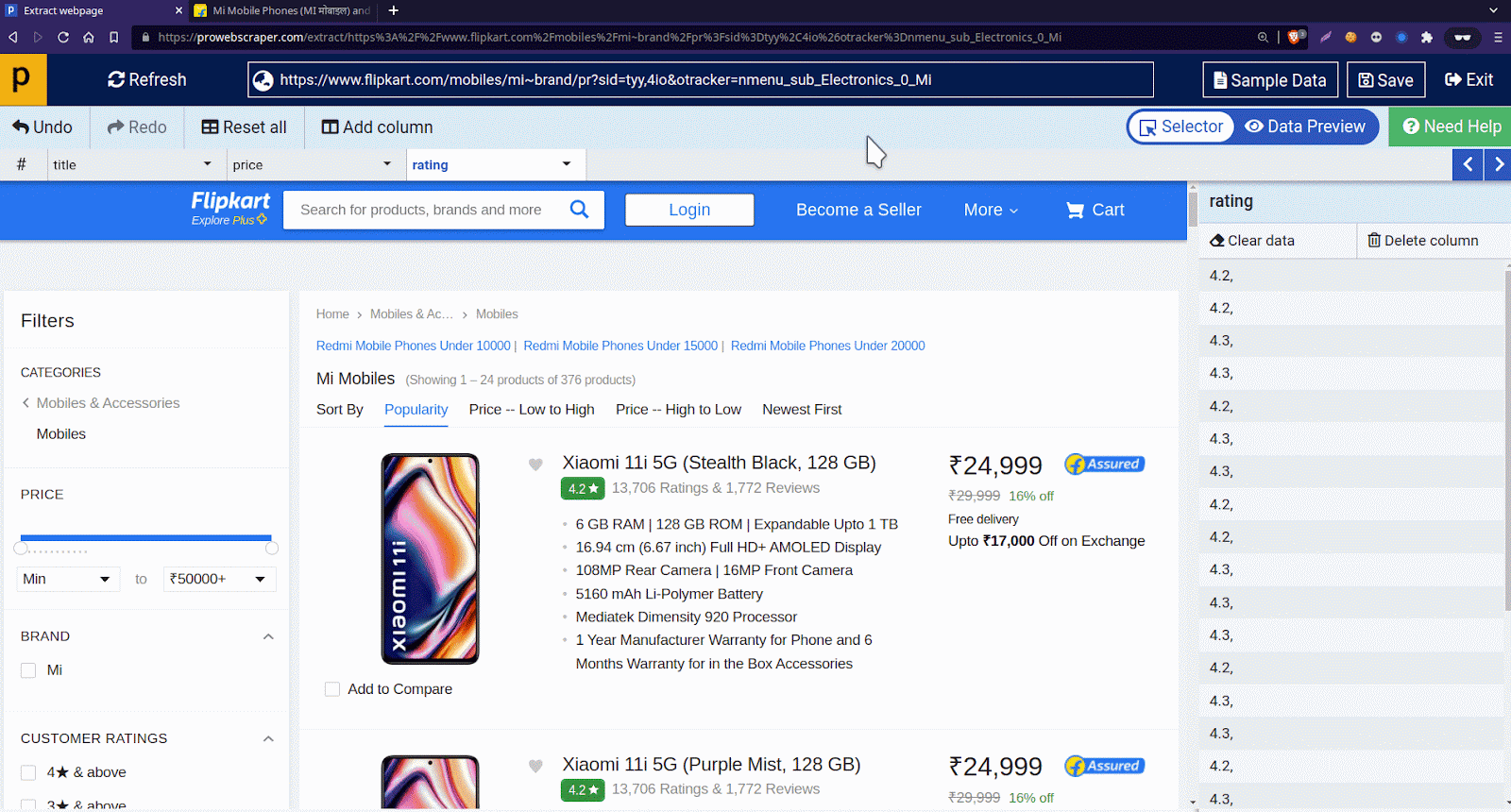 You will see that the ProWebScraper is processing the data for you. You can see 'Running' written in the Status column.

Step 4: Download data
Once the processing gets over, the 'Running' in the status column will turn into 'Finished.'

Then, you can preview the file of the scraped data. If everything looks fine, you can then download the data into JSON or CSV format based on your needs.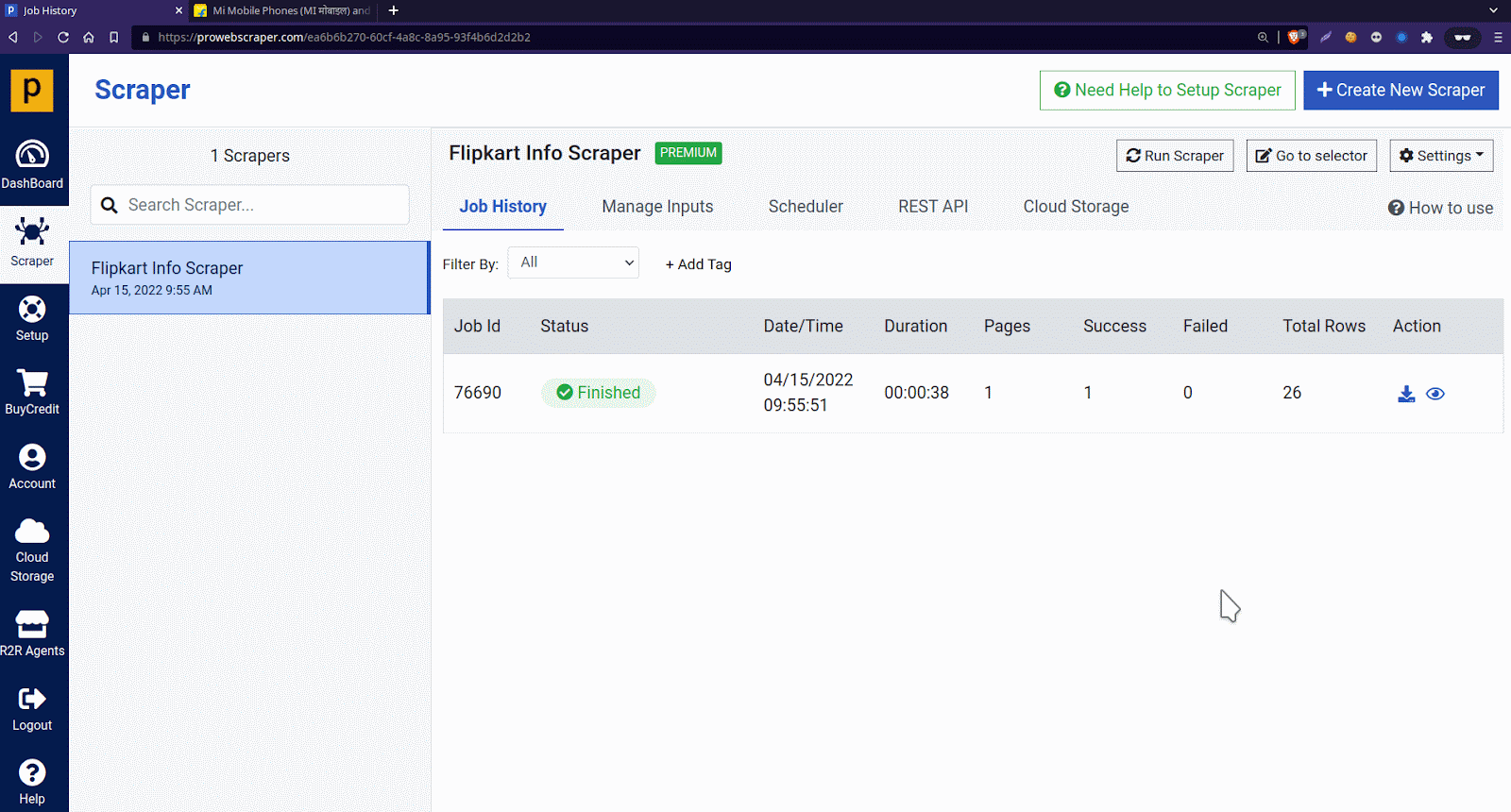 Hence, you can quickly scrape the desired website data in four simple steps.
What are the next steps?
Once you are comfortable with web scraping, you can also move forward with the following steps.
1. Bulk scraping
Web scraping tools also allow you to scrape multiple URLs at once with the same user interface. ProWebScraper permits you to scrape 100 web pages for free. It also supports bulk web scraping to make the process easier for you.
Imagine if scraping one web page can save you so much time, then what can be the amount of time you will save through bulk web scraping.
The bulk web scraping process is highly efficient when you want to scrape all the data from your competitor's website. You will only have to run the process once and have all the data in your hand. Isn't that easy?
2. Scheduler
If you have a regular need for data, then web scraping can seem to be a time-consuming and tedious process. Maybe, you will have to hire a person who can only sit and scrape data for you. But doing that will cost you a heavy amount.
Instead, web scraping tools like ProWebScraper give you an option of scheduling your scraping process. You can select whether you want to scrape data daily, weekly or monthly.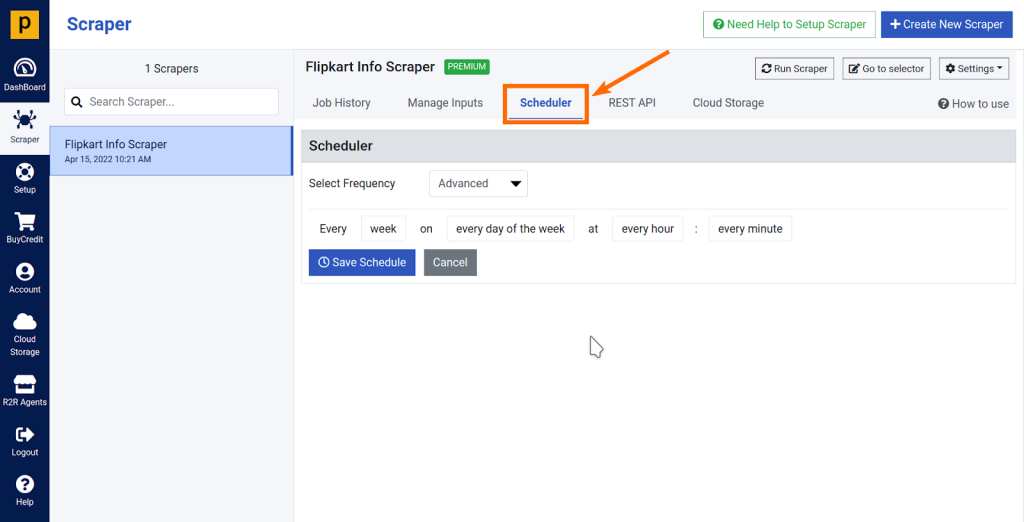 Hence, you save time and energy by using the scheduler feature of web scraping tools.
3. Integrate
You can also integrate the tool with APIs for easy functioning. It helps you get real-time data instantly. Through this, you get the exact type of data you want, and it saves a lot of time for you.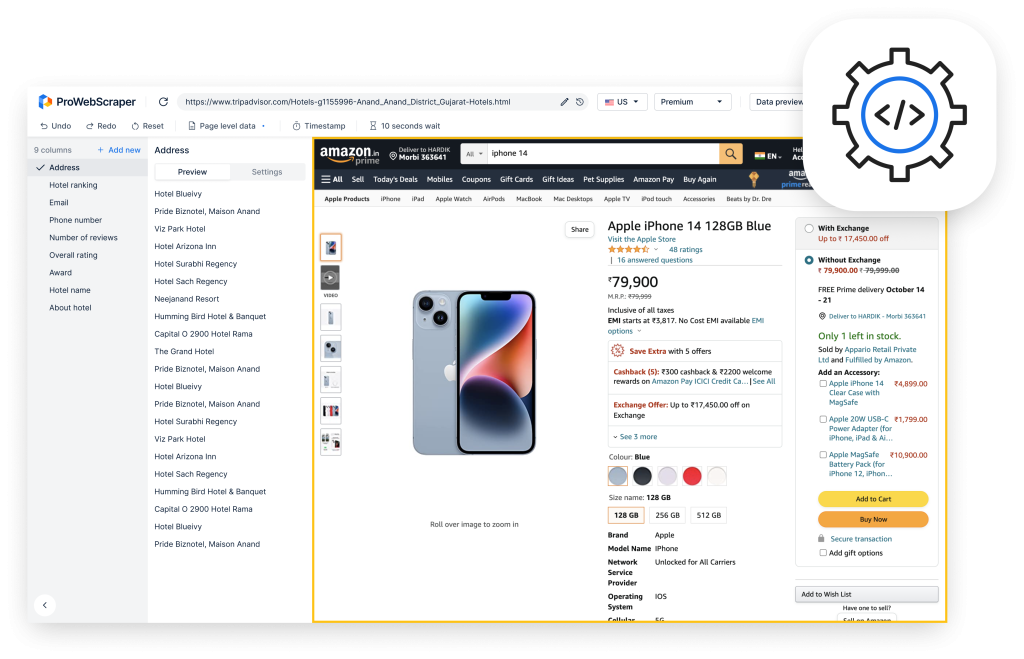 Conclusion
With the help of tools like ProWebScraper, you can easily filter the necessary data from the internet pool. You can use this data to optimize your business goals.
The scraped data makes it easy for you to analyze data that can help you make effective decisions. We all know that one wrong decision can end our business. Hence, this data prevents us from making bad decisions and gives us a better vision of our future goals.
From the data, we can know the exact needs of our customers, monitor the competitor's activities and make a suitable decision instantly so that our business keeps rising.