Choosing the Right Solution: Web Scraping Service vs. Web Scraping Tool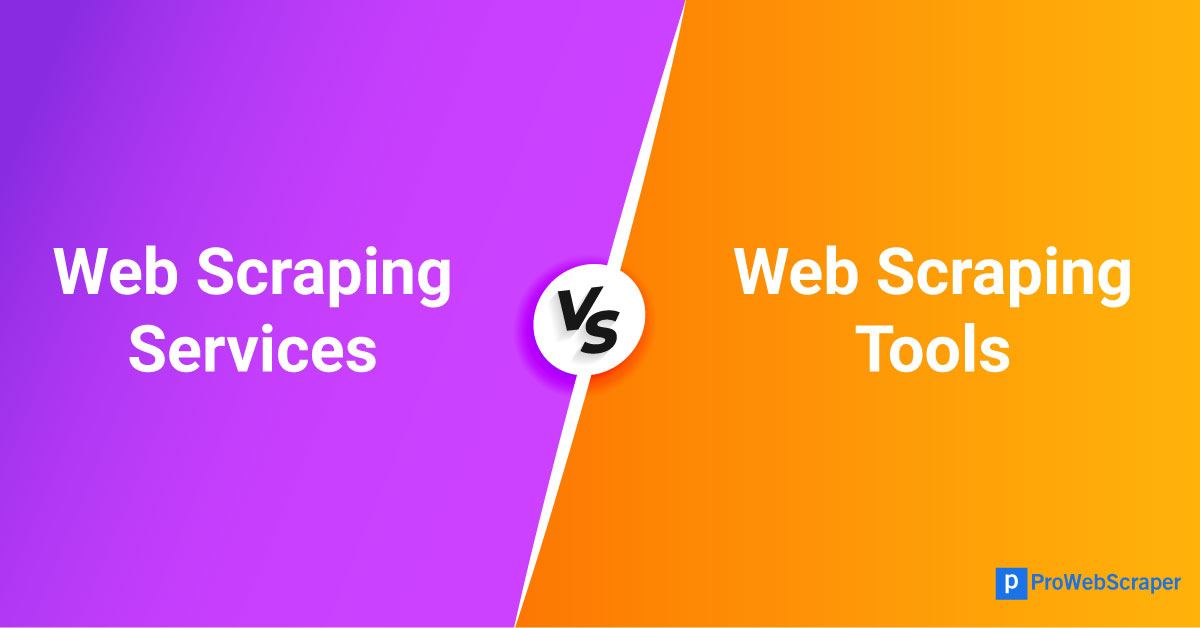 Introduction:
Everybody needs data- to spot business opportunities, make policy decisions and get an edge over others.
We don't need to tell you this- web scraping is the only smart and efficient way to do it.
But what we do understand is that businesses face this key challenge: should they choose a web scraping service or web scraping tool?
Well, considering many options, it is difficult, in our view, to find the best web scraping solution for your requirements. But that is why we have come up with this blog.
We will explain in this blog the way the web scraping tool and service differ. We will also share use cases of both ways of scraping data. This will help you make an informed decision.
Based on our years of experience in the web scraping domain, we have put together a point-by-point comparison that is designed to help you take the right call when it comes to selecting the right web scraping solution.
Understanding Web Scraping Service

What is a Web Scraping Service?
If we have to explain it in simple terms, a web scraping service is a complete solution that takes care of the data extraction process from beginning till end. There's a dedicated team of professionals that will design and deliver customized web scraping solutions for you.
Benefits of Using a Web Scraping Service
In our view, using a web scraping service is a wise choice. The reason? Well, it saves you time and energy. You don't have to worry about how to extract data from complex websites, clean the data and make it ready to use. All you have to do is outsource and wait for the actionable data to arrive!
Key Facts about Web Scraping Services
A web scraping service, according to our understanding, can scrape data from more than 90% of websites.
Service providers invest 10-15% of their time in maintaining their infrastructure and upgrading it from time to time so that it remains robust and reliable.
Service providers also make use of tools and techniques for data cleaning and validation so they ensure that you get accurate and reliable data.
We can tell you that data quality rates vary around 95-98% that leaves very little room for errors or inaccuracy in the scrapped data.
Exploring Web Scraping Tools

What are Web Scraping Tools?
Web scraping tools are different as they are software applications that you have to use in order to extract data from websites. It is a DIY thing. You get the freedom to do it your way and customize it the way you want. It also means that you have to work on it yourself.
Benefits of Using a Web Scraping Tool
In our view, web scraping tools are good for the flexibility that they give you. It gives you more control over how you extract the data. You can customize it completely. You can define all different parameters of scraping, tweak the extraction rules, methods of parsing and data formatting as per your specific needs.
Key Considerations for Choosing the Right Solution
We have put together a comparison table that gives you the important points of difference and advantages when it comes to a web scraping service and a web scraping tool. This will help you pick the right one for your highly specific requirements.
| User Scenario | Web Scraping Service | Web Scraping Tool |
| --- | --- | --- |
| Need for Scalability | Perfect for scraping large quantities of data or for ongoing projects | Can scrape small chunks of data. Scaling up is not easy for a non-technical user. |
| Lack of Technical Expertise | No need to have technical expertise or programming skills | Need to have programming skills or knowledge of scripting |
| Complex or Dynamic Websites | Can scrape data from complex websites or can fetch dynamic content | May find it difficult to tackle complex or dynamic structures |
| Customization Requirements | Can customize to suit your requirements and give you custom-made solutions | Can offer only limited customization |
| Compliance and Legal Considerations | Takes care of legal and ethical guidelines | Responsibility of user to handle legal issues and compliance protocols |
| Time and Resource Constraints | Once you outsource, it saves you a lot of time and energy | For every aspect such as setting it up to cleaning the data, the user has to invest time and resources |
| Maintenance and Updates | The service takes care of maintenance and upgrades | User has to carry out maintenance and keep updating tools |
| Immediate Data Extraction | Data extraction on demand or whenever the need arises | Need to set it up manually and carry out the scraping on one's own which can delay the access to data |
| Cost Considerations | Flexible, custom-made pricing models based on subscription | Large investment for buying the tool |
Is There a Company that Provides Both Web Scraping Service and Web Scraping Tool?
Well, the answer is yes. But trust us, it is rare to find such a company because most companies specialize in either service or tool.
However, we have created a reputation for combining both. If you need, we could give you access to a web scraping tool that you can use as you like. If you need, we can do it for you. In other words, we could be the service provider you can outsource it to.
This kind of diversity of options gives you a lot of flexibility as a user. It makes it easy for you to work out your web scraping plans.
You can pick and choose the offerings that you like and customize it to suit the web scraping requirements for your business.
Case Study: Web Scraping Service
Customer: A global e-commerce company
Challenge: The client needed to carry out real-time price monitoring of his competitors so that he can keep track of how the competitors are making price related decisions and accordingly customize their prices.
Solution: The customer opted for our web scraping service. We provided automated price tracking. This helped the client to derive insights leading to appropriate pricing strategies for their ecommerce business.
Impact: As a result, the customer could dynamically adjust the prices to remain competitive vis-a-vis their competitors. This gave the customer a crucial competitive edge.
Case Study: Web Scraping Tool
Customer: An emerging travel booking platform
Challenge: The customer needed data related to hotel prices and availability of rooms etc. from multiple travel websites on a continued basis so that they can provide real-time travel related information and data to their users.
Solution: Our sophisticated interface enabled the customer to extract highly specific travel related data such as prices, availability of rooms etc. from diverse and complex websites in a customized way.
Impact: The customer could leverage our powerful web scraping tool to get the hotel related data that was needed. This helped because the customer could quickly get hold of the data and make it available to their users way ahead of others.This transformed the user experience and drove traffic to our customer's portal.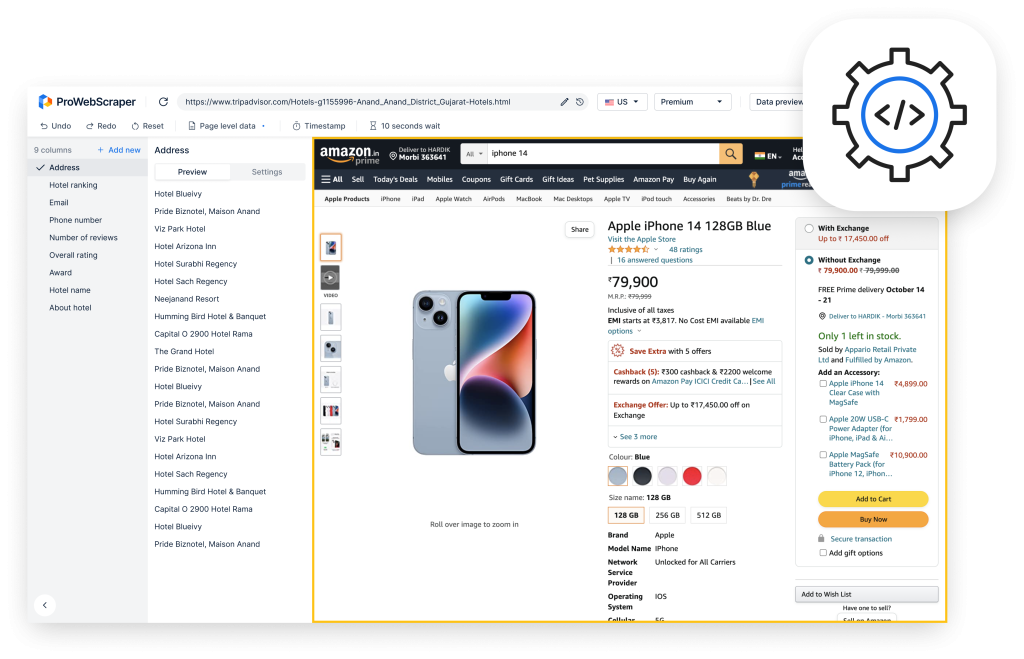 Conclusion:
Web scraping service or tool- the choice will depend on the specific nature of your requirements and challenges. A web scraping tool will give you control over how web scraping is done and allow you to customize it whereas a web scraping service gives you ease because you don't have to manage it. In fact, you don't have to worry about the complexity of data extraction or cleaning the data or anything. You just get to sit back and deploy the ready-to-use data scrapped for you.
So you just need to work out your specific requirements and see what suits best- a web scraping service or a web scraping tool.
This blog, we hope, will help you clarify things for yourself and enable you to make an informed decision!