10 Most Popular Web Mining Tools and Softwares Compared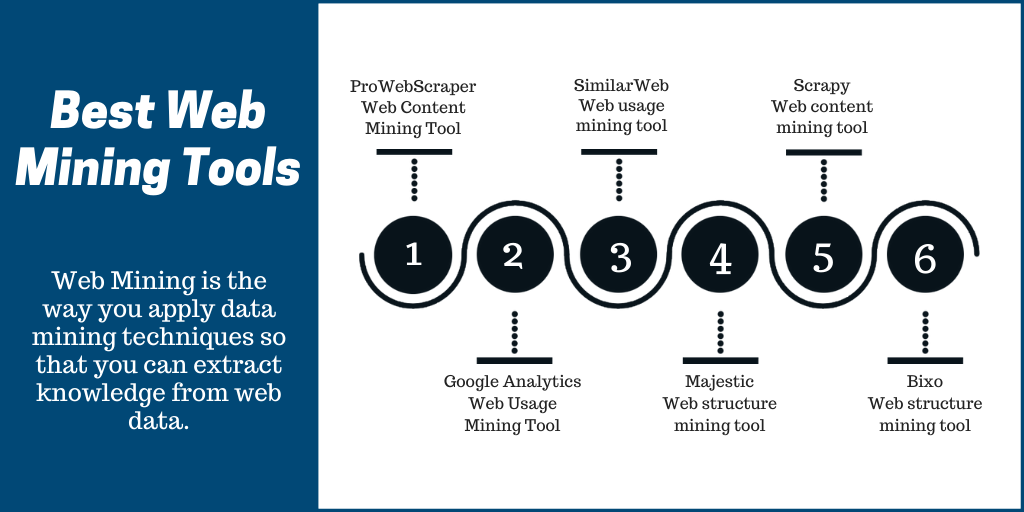 Introduction
Believe it or not, the World Wide Web is set to grow at an astonishing pace!
It's amazing that the World Wide Web is going to see an exponential growth in data- the data that we create and copy will reach 44 zettabytes or 44 trillion gigabytes by 2022.
It has become a rich source of information- the information that you can retrieve and use it for generating actionable intelligence.
You might wonder how to retrieve such a massive amount of data.
No worries.
Web mining is the one-stop solution for your information retrieval and data analysis.
You can discover a lot if you wield the right sort of web mining tools. These tools can enable you to extract, clean and analyze data so that you can arrive at valuable insights with the help of data visualization.
Any guesses how web mining tools can be used for the world of business?
Yes, you are right. You can derive business intelligence by discovering correlations and network of patterns so that you can work out the future trends based on the past data. This can help you shape your business strategy.
With the growing importance of web mining, the web mining tools have also rapidly come up. There are several tools and software available to work out the business insights and intelligence.
Don't get surprised if you come across even free open source web mining tools like Bixo with which you can carry out link analysis. You can also leverage a tool like Scrapy to mine content, for instance web scrapping.
With a variety of tools at your disposal, you can get it all mixed up. So it's necessary to understand how each tool works and which one perfectly suits your requirements.
But before you understand different tools, it would be great to explore web mining a bit and see how it works.
What's Web Mining?
Well, in simple terms, web mining is the way you apply data mining techniques so that you can extract knowledge from web data. This web data could be a number of things. It could be web documents, hyperlinks between documents and/or usage logs of websites etc.
Once you have the extracted information, you could analyze it to derive insights as per your requirement. For instance, you could align your marketing or sales strategy based on the results that your web mining throws up.
Since you have access to a lot of data, you have got your finger on the market pulse. You can study customer behavior patterns to know and understand what the customers want. You can correlate it to your own business structure and strategy to see how you can reconfigure things at your end. With this sort of analysis of data, you can discover internal bottlenecks and troubleshoot. Overall, you can get ahead of everyone in terms of how you anticipate the industry trends and plan accordingly.
You will get to see more benefits of web mining later in the blog.
Web mining can be divided into three categories based on the data to be mined.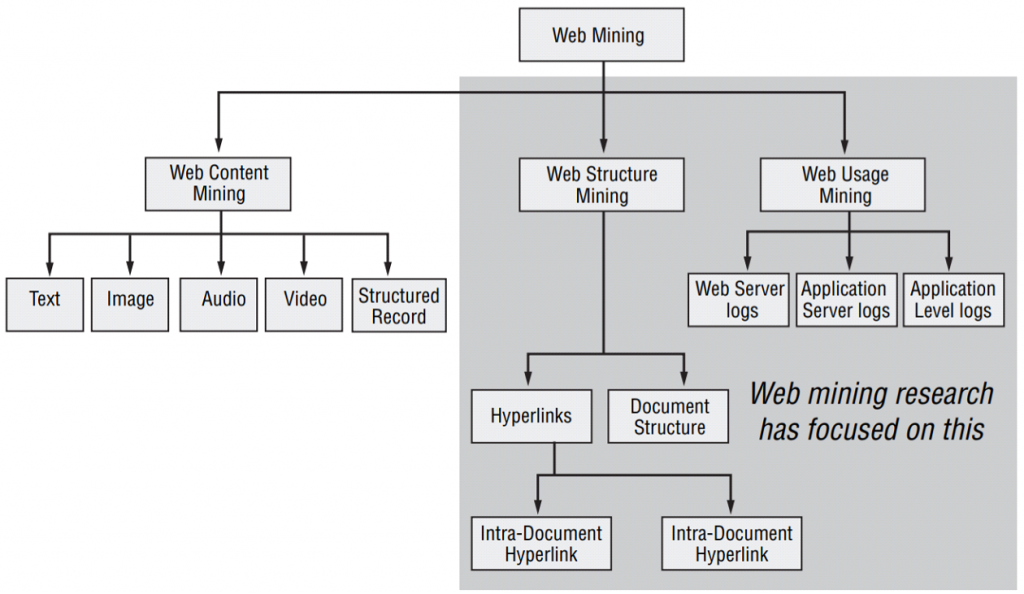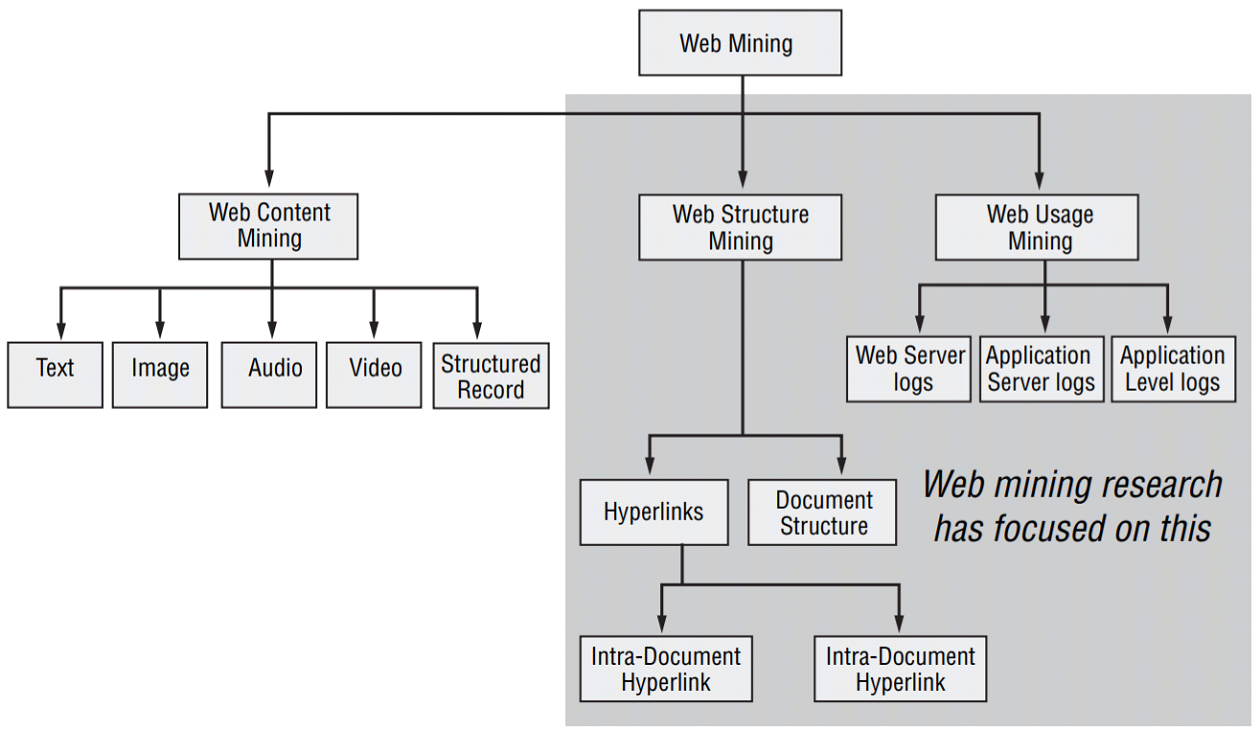 1. Web Content Mining
Web content mining has seen rapid development primarily because the web has seen a rapid growth of content.
Considering the fact that there are billions of web pages with lots and lot of such data, and the web pages are getting added on a continuous basis. In addition to this, an average user is no longer just a consumer of information but a disseminator and creator of content.
A web page has a lot of data; it could be text, images, audio, video or structured records such as lists or tables. Web content mining is all about extracting useful information from the data that the web page is made of.
Web content mining applies the principles and techniques of data mining and knowledge discovery process.
2.Web Structure Mining
Web structure mining focuses on creating a sort of structural summary about web pages and websites. Based on the hyperlinks and document structure, such a structural summary is generated.
What web structure mining accomplishes that it discovers association of hyperlinks at document level. Algorithms like Pagerank and hyperlink induced search algorithm are employed to achieve this.
Web structure mining is particularly useful in improving marketing strategies by discovering relationship and link hierarchy between web pages.
3. Web Usage Mining
Web usage mining focuses its attention on the users. It is used to work out the analysis of website users based on the web site logs.
Different logs like web server log, customer log, program log, application server log etc. come into play. Web usage mining attempts to find out useful information based on the interaction of users.
Web usage mining is important because it can help organizations find out the life-time value of clients, design cross-marketing strategies across products and services, evaluate the efficacy of promotional campaigns, optimize the functionality of web-based applications and provide more personalized content to visitors for their web space.
Best Web Mining Tools
1. ProWebScraper (Web Content Mining Tool)
Overview
ProWebScraper is an incredible web content mining and web scraping tool. Its breathtaking features, uniquely uncomplicated process and unrivalled customer service make it the market champion of web scraping services. It eliminates your biggest fear- getting blocked. With ProWebScraper, you are never going to get blocked. You can simply relax and continue scraping web data. If you have bulk web data scraping in mind, ProWebScraper is the tool for it. In fact, it's designed for scraping vast quantities of data. It's easily scalable and yet produces clean and actionable data. It doesn't matter if the website is dynamic or its structure is complicated; ProWebScraper invariably ensures the extraction of data that you need. Icing on the cake is that it provides free custom set-up; you don't need to bother how to set it up. Leave the technicalities to ProWebScraper, you can just peg away at web data!
Features
Point and Click Selector
Extract data from pagination
Extract data from dynamic websites
Scheduler to extract data on regular and consistent basis
Chaining to extract data from List and Detail Pages
Never get blocked by anti scraping mechanism
Price Free
You can scrape the first 1000 pages for free with a free account. Just enter your email ID to create a free account. No credit/debit card details are required to sign up for free service.
Paid
Persistence

Basic plans begin at $50 for 5000 page credits (1 page credit = 1 page successfully scraped).
They also offer large scale scraping plans starting at $500 for 100,000 page credits that is the lowest by far in the market and credit never expires.

Monthly: Basic Plans start at $40 for 5000 page credits.
API Integration
ProWebScraper REST APIs help you directly integrate structured web data into your business processes such as applications, analysis or visualization tools and enable uninterrupted access to web data.
How to download data
Through API and Dashboard, you can download data in CSV or JSON formats.
Customer Support
Free Scraper Set-up
Support via zendesk ticket
Documentation available for education
Limitations
As of now, the feature for Interactive Scraping (automatically fill forms etc.) is not yet available.
2. Google Analytics (Web Usage Mining Tool)


Overview
Google Analytics is considered to be one of the best business analytics tool. It can track and report website traffic.
You can effectively carry out web usage mining. More than 50% of the people in the world use it for website analysis.
Google Analytics is an important tool because it can help you evaluate how effective your company's online marketing and presence is.
With the help of this tool, you can carry out effective data analysis for gleaning insights for the business.
It's a wonderful tool as it helps you understand and improve the performance of your website and channel performance.
Features
Advertising and Campaign performance analysis
Analysis and testing of website
Audience Characteristic and Behavior analysis
Easy integration with Google's product like, Adsense, Adwords, Google Display Network, Google Tag Manager, etc
Sales and conversion tool
Data analysis on site and app performance
Price
Free: For basic version
Paid: Based on your website usage
API integration
Custom API for data access and collection
How to download Data
Through API and dashboard, you can download reports.
Customer support
Support available for free and paid version
Video and documentation available for education and training
Limitations
10 millions of hits (interactions) per month per property is allowed with the free version of Google Analytics.
Google analytics tracking will not work if user blocked cookies in the browser. In this case, no data will be recorded.
Google analytics does not provide organic keywords for users who are signed in.
Google analytics maintains the history of only 25 months.
3. SimilarWeb (Web usage mining tool)


Overview
SimilarWeb is a powerful business intelligence tool. It offers traffic and marketing insights for any website.
With this tool, users can get a quick overview of a site's research, ranking and user engagement.
SimilarWeb Pro is a market leader across the world as far as web measurement and online competitive intelligence is concerned.
It compares website traffic, uncover valuable insights about the sites of competitors and find out growth opportunities.
SimilarWeb Pro is a well known BI solution. It is renowned for its analysis of competitive intelligence and web measurement.
It uses the biggest international online panel and provides analytics tools that enable to access traffic statistics for any of your websites.
In effect, it also helps you track website traffic and traffic enhancement strategies for various sites at the same time. In all, SimilarWeb is a great tool because it can help you track your complete business health, track opportunities and make effective business decisions.
Features
Traffic and engagement metrics
Search engine optimization and PPC keywords
Audience interests
Traffic source
Industry leaders
Google play keyword analysis
Price
Free plan:
5 Results Per Website Metric
3 Months of Traffic Data
3 Months of Mobile App Analysis Data
Premium plan:
API Integration
You can integrate API for your personal usage and share or integrate with other service.
How to download Data
It allows user to customize reporting and download data via dashboard or API call.
Customer support
Support from Phone or ticket system
To learn more about it, training videos and webinar are available.
Limitations
Traffic estimates are set to full months only; it's impossible to set specific date ranges (in free version).
It estimates only desktop traffic, not considering mobile and tablets.
The number of unique visitors is not available.
Traffic estimates should be treated carefully, especially with smaller websites.
Does not cover 100% web traffic
4. Majestic (Web structure mining tool)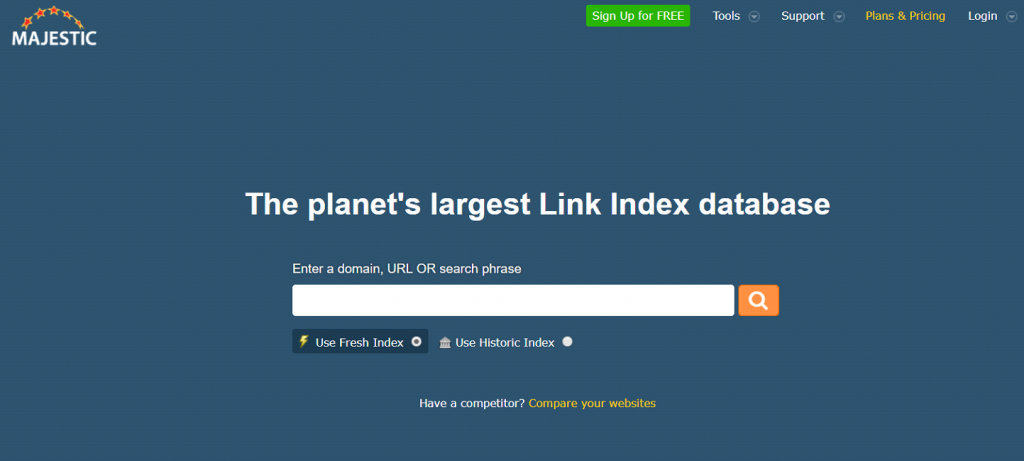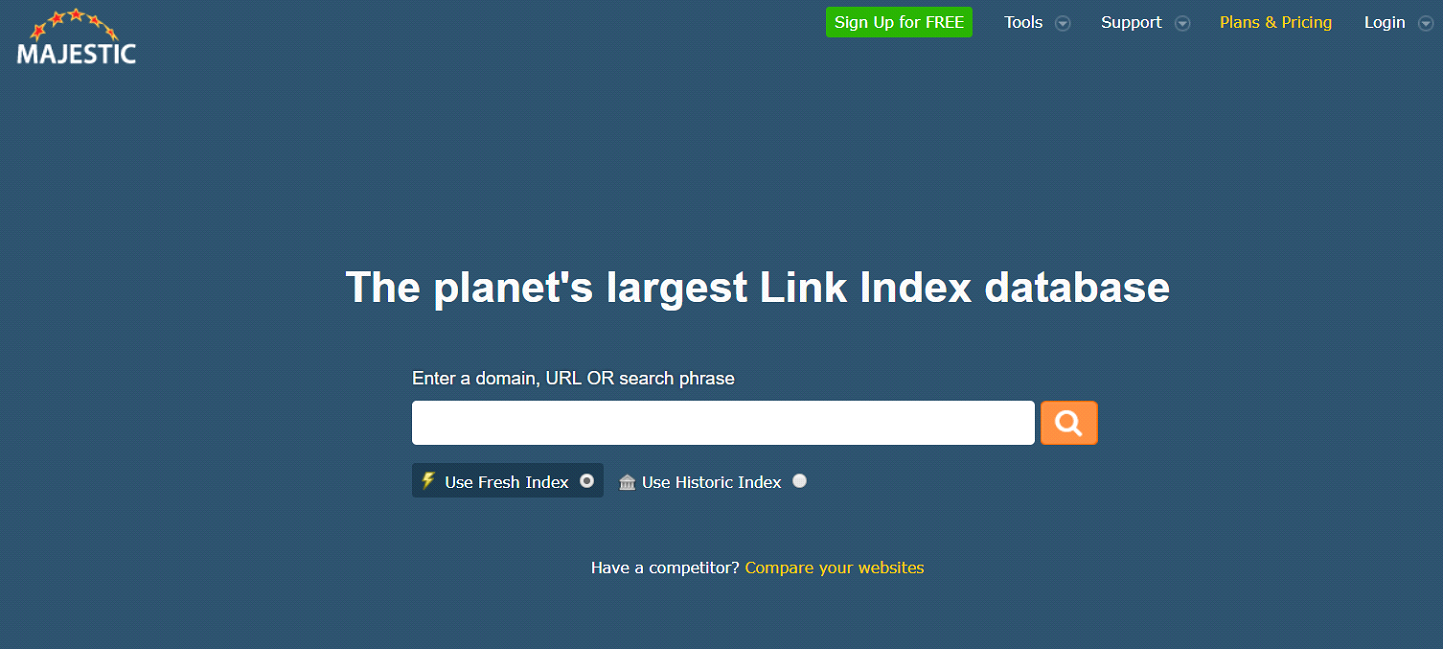 Overview
Majestic is a hugely effective business analytic tool that provides services for Search Engine Optimization strategies, marketing firms, website developers and media analysts. With the help of this tool, you can get reliable and latest data so that you can analyze the performance of your websites and your competition. You can become completely clear about your site's ranking in terms of backlinks.
The data you get from this tool can help you categorize every page and domain by link analysis or link mining.
Majestic can help you access the world's biggest Link Index Database.
Features
Campaigns
Site explorer
Bulk backlinks
Search explorer
URL submitter
Keyword checker
Neighbourhood checker
Compare tool
Clique hunter
Backlink history
Majestic plugins
Price
Lite – $ 49 / month
1 User
1 million analysis units
Pro – $ 99.99 / month
All Lite features
1 User
20 million analysis units
Email alerts
Full API – starts at $399.99/month
All Pro features
Starts at 100 million analysis units
API Integration
API plans include all LITE and PRO tools and benefits, and allow up to 5 users to share a login without hitting concurrency limits.
How to download Data
By dashboard or API, you can easily get data.
Customer support
Lots of how-to-videos for education and training
Forums and email support for help
live demo
Limitations
Not easy to compare backlinks to competitor sites
Need a lot of time to analyze data to get the most out of the tool
Does not have a "pretty" interface-the data leaves a lot to be desired
Some charts are difficult to read/interpret
No keyword difficulty rankings and management.
No SERP results or landing page alignment.
No CPC/PPC metrics.
Custom Majestic metrics can be confusing.
5. Scrapy (Web content mining tool)


Overview
Scrapy is a great web mining tool. It can help you extract data from the websites. It is considered to be a complete solution as a web scraping tool because it can manage requests, preserve user sessions, follow redirects and handle output pipelines.
Features
Selecting and extracting data from HTML / XML
Interactive Shell Console
Cookie and session handling
HTTP features like compression, authentication, caching
Requests are scheduled and processed asynchronously
Price
API Integration
Well defined API for extracting web data
How to download Data
You can download data in multiple formats like JSON, CSV , XML and store them in multiple backends (FTP, AMAZON S3, local file system)
Customer support
Communities (in Github, reddit, StackOverflow and Twitter) provide help.
Nice documentation to learn Scrapy
Limitations
Slow when extracting data in bulk
Can't parse JavaScript
6. Bixo (Web structure mining tool)


Overview
Bixo is an excellent web mining open source tool that runs a series of Cascading pipes on top of Hadoop.
By building a customized Cascading pipe assembly, you can quickly work out specialized web mining applications that are optimized for a particular use case.
Features
Fetch Subassembly
Parse Subassembly
Price
API Integration
How to download Data
You can download in local storage or in AWS-S3
Customer support
Yahoo Groups , Issue Tracker and Online Contact for Help
Documentation to learn
Limitations
Less documentation to understand this tool
No Data visualization
7. Oracle data Mining (Web Usage Mining Tool)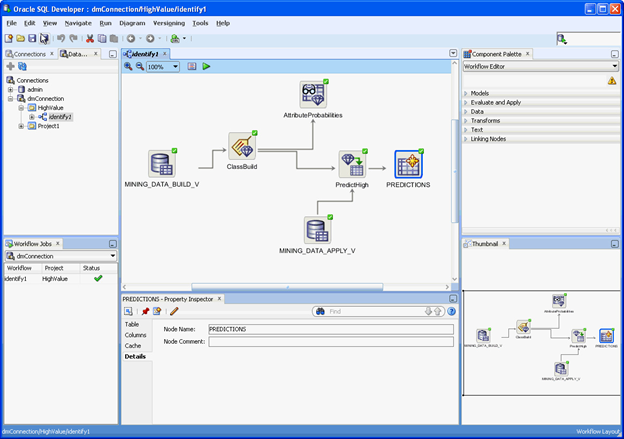 Overview
Oracle Data Mining (ODM) is designed by Oracle. As data mining software, it offers great data mining algorithms which can help you glean insights, work out predictions and make effective use of Oracle data and investment.
With the help of ODM, it is possible to work out predictive models within the Oracle database so that you can easily predict customer behavior, focus on your specific set of customers and evolve customer profiles. You can also discover opportunities in terms of cross-selling and find out discrepancies and prospects of fraud.
Using SQL data mining functions, it is possible to mine data tables and views, star schema data including transactional data, aggregations, unstructured data i.e. CLOB data type (using Oracle Text to extract tokens) and spatial data.
Features
Classification
Regression
Attribute Importance
Anomaly Detection
Clustering
Association
Feature Selection and Extraction
Text Mining
Spatial Mining
Active Data Guard
Database Vault
Online Analytical Processing
Price
API Integration
Oracle supports two compatible APIs for accessing data mining functionality in the database. The first is a PL/SQL API, which includes the DBMS_DATA_MINING package, and there is also a Java API called Oracle Data Mining Java API.
How to download Data
By oracle data miner GUI or API, you can easily get data.
Customer support
Demos, Tutorials for Learning and Training Classes available for understand concepts of oracle data miner
Discussion form available for help
Limitations
Data Mining SQL functions are not supported to the R interface and the Oracle Data Miner GUI, also part of Oracle Advanced Analytics option.
8. Tableau ( Web Usage Mining tool )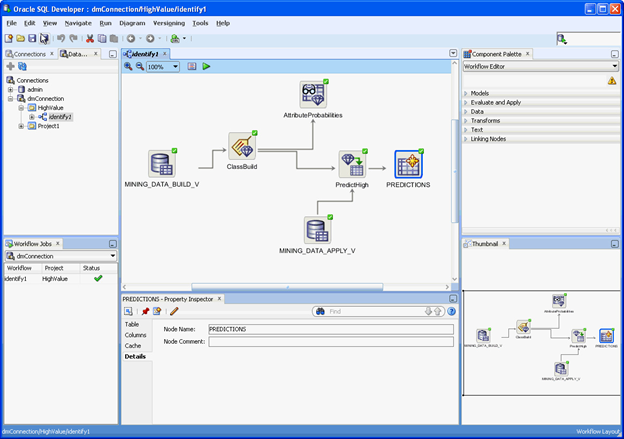 Overview
Tableau is one of the most efficient and quickly growing data visualization tools employed in the business intelligence industry. Why it's extremely useful is because it can enable you to simplify raw data into an accessible format. It is lightening quick when it comes to data analysis. You can get the data visualizations in the form of dashboards and worksheets. Any employee at any level in the company can interpret the data that you create with the help of Tableau. It is possible even for a non-technical user to work out a customized dashboard.
The Tableau Product Suite consists of
Tableau Desktop

Tableau Public

Tableau Online

Tableau Server

Tableau Reader
Features
Tableau has many features which make it popular. Some key features of Tableau are:
Data Driven Alerts
Additional Connectors
Tableau Bridge
Intelligent Joins
PDF Connector
Automatic Query Caching
Android Improvements
Toggle view and drag-and-drop
Highlight and filter data
Share dashboards
Tableau Reader for data viewing
Dashboard commenting
Create "no-code" data queries
Translate queries to visualizations
Import all ranges and sizes of data
Create interactive dashboards
String insights into a guided story
Metadata management
Automatic updates
Security permissions at any level
Tableau Public for data sharing
Server REST API
Price
Plans
Pricing
For Individual
Tableau Creator :
$70
USD/user/month
billed annually
For Team & Org.
Tableau Creator :
$70
USD/user/month
billed annually
Tableau Explorer
$35
USD/user/month
billed annually | min. 5 Explorers required
Tableau Viewer
$12
USD/user/month
billed annually | min. 100 Viewers required
API Integration
With the Tableau Server REST API, you can manage and change Tableau Server resources programmatically, using HTTP. The API gives you simple access to the functionality behind the data sources, projects, workbooks, site users, and sites on a Tableau server. You can use this access to create your own custom applications or to script interactions with Tableau Server resources.
How to download Data
You can easily download data to csv, microsoft access etc. via tableau dashboard or tableau server.
Customer support
Training videos, demos, webinars, documentation are available for learning tableau
Also customer portal, email and counseling agencies available for advanced support
Limitations
No functionality for scheduling or notification of reports
Expensive
Limited Data Preprocessing
9. WebScraper.io ( Web Content Mining Tool )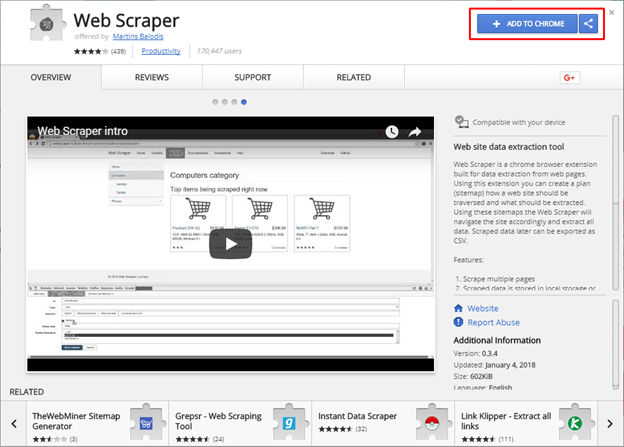 Overview
Web Scraper Chrome Extension is one of the most useful tools for scraping web data. With the help of this tool, you can work out a sitemap or a plan regarding the navigation of a website. Once that is done, web scrape chrome extension will follow the given navigation and extract the data. When it comes to web scraping extensions, there are many that you can find in Chrome. However, this is the one that may the ideal one.
Features
Tree / Navigation
Pagination
Load More button
Cloud Scraper
Run Multiple Scraper at once
Schedule Scraper
Download data in CSV and CouchDB
Data Export to DropBox
Price
Web Scraper chrome Extension (Free!)
Cloud Web Scraper

100,000 page credits – $50
250,000 page credits – $90
500,000 page credits – $125
1,000,000 page credits – $175
2,000,000 page credits – $250
API Integration
How to download Data
You can easily download data into CSV, CouchDB
Customer support
Forum and Email Support available
Limitations
not supporting data behind login
not have api
Scraper speed is low
10. Weka (Web Usage Mining tool ):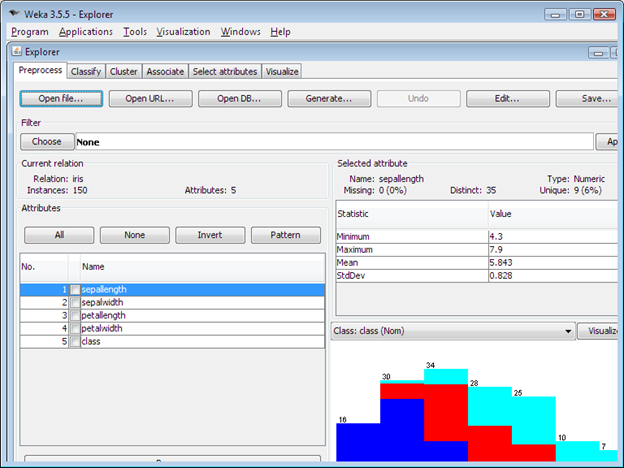 Overview
Weka is a collection of machine learning algorithms for data mining tasks. It contains tools for data preparation, classification, regression, clustering, association rules mining, and visualization.
Weka is open source software issued under the GNU General Public License.
Weka was primarily designed as a tool for analyzing data from agricultural domains, but the more recent fully Java-based version (Weka 3), for which development started in 1997, is now used in many different application areas, in particular for educational purposes and research.
Features
data preprocessing
clustering
classification
regression
visualization
feature selection
Price
API Integration
Api available to perform tasks
Customer support
General documentation, Videos, tutorials, blogs, slides, and Manuals available for Learning and Exploring Weka
Limitations
inability to handle large data sets
less active community
Why Web Mining is so important for you?
We live in a world defined by e-commerce, e-governance, e-market, e-finance, e-learning, and e-banking etc.
It's simply challenging to maintain live contact with customer and understand how they think and feel. Processes have anyway gone online and hence the live contact and human interaction have gone down.
However, it is imperative for a business to keep tracking how customers feel and how they behave. Therefore, intelligent marketing strategies and CRM are the need of the hour. Web mining tools serve as the same for discovering insights and models to improve business further.
There are various reasons why web mining crucial for the growth of business. A few of them are discussed below:
To analyze website traffic
You need to keep tracking how your website is doing. You would naturally want to know from where the user arrived at your website, what they did and whether or not they converted. In addition, you would want to know a lot of additional and miscellaneous details.
This is where web mining tools come into play. They can enable you to extract the data and discover insights and connections related to the aspects of your website traffic quite easily!
For Competitive Analysis
The world of business has gone to the next level of competition. The competition actually defines the rules of the game in e-commerce etc. You would definitely want to keep track of how your competition is going about things. You would want to carry out competitive analysis, identify strengths and weaknesses of your competition and work out the more effective marketing strategies for your products and services.
Look no further, all you need to do is leverage these web mining tools!
For Lead Generation
Web mining tools can transform the way you identify leads, page popularity, the time users spent on your website, entrances, conversion, bounce rate, exit rate, users' geographical locations, device usage (mobile, tablet or desktop), landing pages and behavior flow.
You can have a competitive advantage if you capitalize on the power of web mining tools.
For Collecting Data
Web mining tools can also help you if you wish to extract web data from analytics providers, market research firms, business directories, industry blogs, news sites, e-commerce websites etc.
For Website Improvement
Your website is your online presence in the digital space. Users eventually look at your website to judge how good you are in your business. So it is crucial that you keep looking for ways to improve your website.
If you want to check website usability, loading time, accelerate mobile pages, all you need a robust web mining tool. With the help of tools listed in this article, you can keep improving your website and enhance your online presence on a continuous basis!
For Business Intelligence
Today, the businesses which do well are invariably businesses which leverage business intelligence. They have access to data and analyze it to the minutest of details to glean business insights to propel their business to the next level.
They keep striving to understand customers' purchasing intention a lot better, the trends of purchase behavior, and identify the potential customers for their products and services.
You are no different; you can also boost your business with the help of competitive advantage that business intelligence can produce. You simply need to effectively use the web mining tools and you will be in a much better position to understand and work out strategies for your business.
Whether it's better relationship with customers or effective resource planning, you can do it all quite effectively based on the insights you generate from the web mining tools.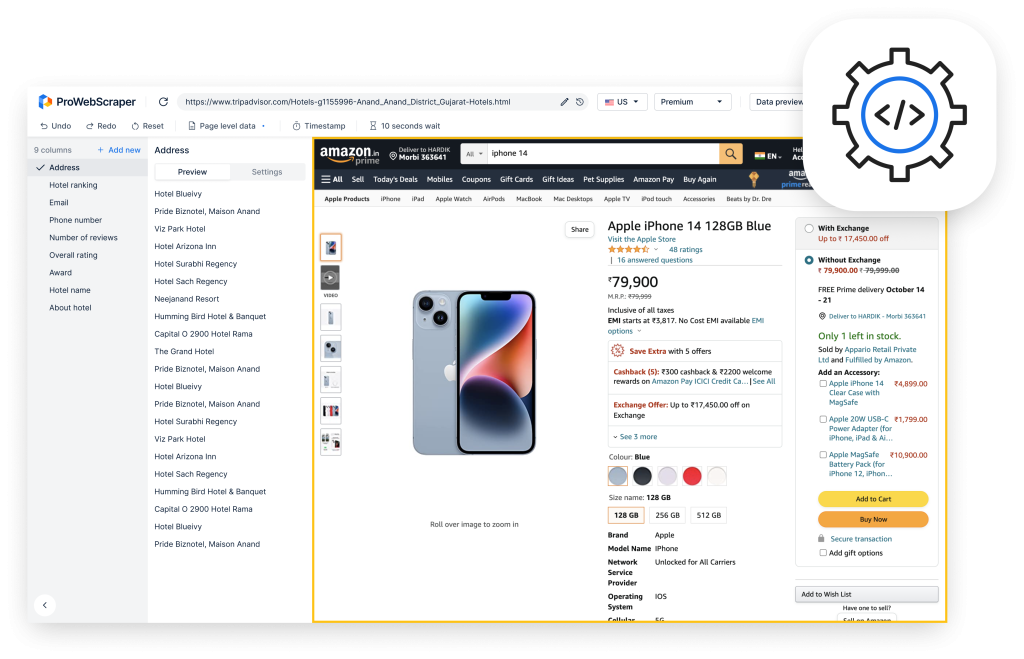 Rounding it Off
Web mining tools are many and each one has its pros and cons. It depends on what your business is and the kind of insights you are looking for.
If you can identify your needs and accordingly look for a tool that maps with your needs, you will be able to generate the competitive advantage you are looking for.
The world of web mining continues to grow and expand. Many more tools are out there that you might come across. If you come across a great tool, we would love to hear about it.
Do drop your comments in the comments section!
Do write to us about how this succinct guide regarding web mining tools helped you!
We wish you happy web mining!