Case Study: How a Retail Company Unleashed the Power of Data with ProWebScraper's Web Scraping Service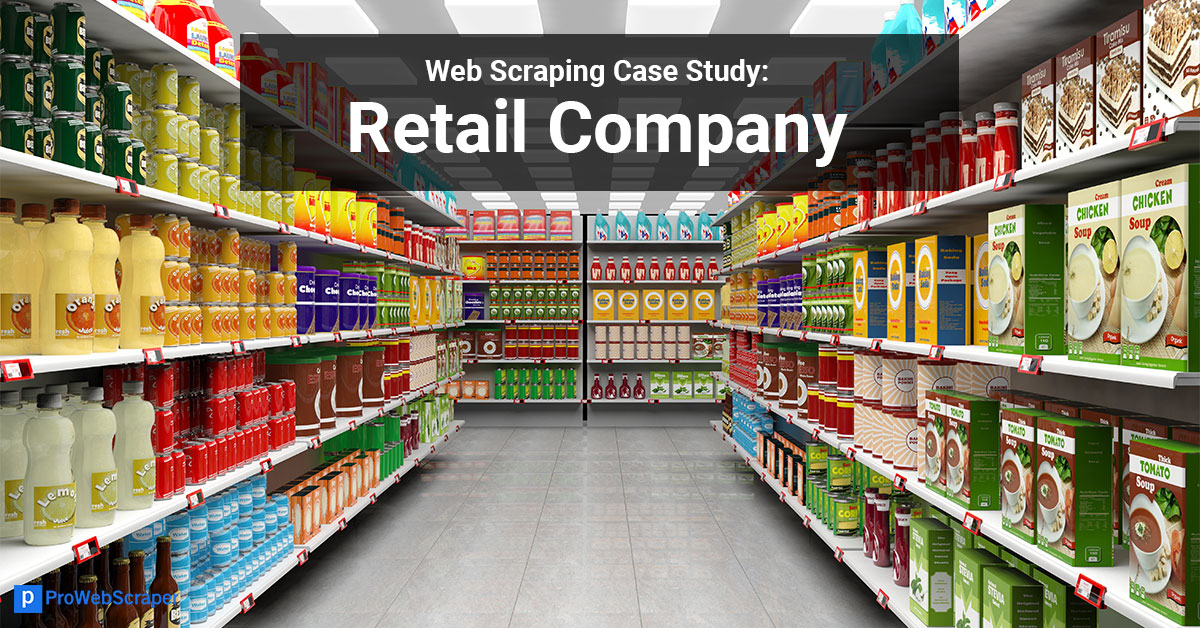 The world of retail is now a digital space of endless competition.
How do you keep ahead of competition?
Simple. Data.
Yes. All you need to do is get hold of data regarding your competition and analyze it for business insights. That's how you drive your business strategies to get an edge, provide great customer experience and position your business in an advantageous way.
This case study explains it all how we lent our web scraping expertise to help a global retail business tackle the tricky challenges they were facing. Having overcome these challenges, they could make informed decisions and outclass their competition.
Web scraping gave them insights which transformed every aspect of their business- pricing strategies, inventory management, customer targeting and personalization and much more…
Want to know more? Read on…
Introducing our valued customer
Our valued customer is a leading multinational retail brand. With 47 stores across 7 countries including Singapore, Malaysia and India, the company is an industry leader.
But due to confidentiality reasons, we can't reveal their name. So we will only refer to them as our customer.
What data did our client want and why?
Since our client operates in a retail digital space, they needed to extract product related data like product title, price and discounted price, length, width, weight, area etc. They wanted data from a host of websites such as IKEA Alam Sutera, IKEA Damansara, KARE Design, Ruma Home, Home Decor Indonesia, etc.
You might wonder why they need all these details.
Well, it helps them carry out competitor price analysis, offer analysis, product analysis etc. using the extracted data related to these products.
Once they can carry out this analysis, they can accordingly work out a strategy to get ahead of their competition!
What were the challenges faced by our customer?
For extracting the data mentioned earlier, the customer was using their own developers in house. As they did not have a professional web scraping service at their disposal, the customer faced a series of challenges:
Scraper Blocking: Getting blocked time and again by websites was one of the key challenges in getting this data.
Speed of Scraping: Getting blocked slows down the scraping. As it was inhouse, they could not scrape at a speed too. It becomes an issue because you need data at a fast clip to adapt to changes happening in the online retail market.
Data Cleaning & QA: Client faced several issues related to data cleaning and QA, including:
Removing duplicate products: In the process of scraping, a lot of duplicate records come up at times. It is during data cleaning that this needs to be addressed. This was one of the challenges for the client to find and remove duplicate records so that they get a clean dataset.
Splitting sale price and original price: Inhouse developers were able to scrape the price perhaps but the client had a highly specialized need to differentiate the price into sale prices and original prices.
Cleaning price data: Inhouse developers were perhaps able to get the price data but were not able to remove extra characters or symbols making it inaccurate. The client faced the challenge of obtaining a clean dataset with reliable pricing information.
How did We Solve the Problem?
We used our expertise to address all key concerns and provided effective solution to our customer. Here's what we did:
Scraper Blocking: We used anti-scraping measures to continue scraping without getting blocked. At the same time, we continued to deliver the data as per the client's requirements.
Speed of Scraping: With sophisticated infrastructure and proven scraping techniques, we could ramp up the data extraction leading to same-day delivery of scrapped data.
Data Cleaning & QA: Our professional processes of data cleaning and QA tackled all of their challenges. This is how we went about it:
Removing duplicate products: Our deduplication algorithm spotted and removed duplicate product entries. This provided the clean dataset that our customer needed.
Splitting sale price and original price: We employed data parsing to split the price data. This took care of the price data issue and the customer could distinguish the price data as they wanted- sales prices and original prices.
Cleaning Price Data: We used our robust data cleaning algorithms which efficiently and quickly cleaned the pricing data. It allowed the client to get accurate and reliable dataset. We could remove the extra characters and symbols leading to clean datasets as per client's requirement.
How Did the Scraped Data Benefit Our Retail Customer?
Once the customer could get hold of the data related to various categories, they could do the following:
Identify Market Trends: The customer could keep track of customer choices, market changes and analyze the competitors effectively. This provided an edge to them. By spotting the market trends in this way, they could align strategies in a way that can give them 78% better opportunities.
Optimize Pricing Strategy: Once the pricing related data was scraped and made available, the customer could spot opportunities and align their pricing strategies as per the insights gleaned from data. This enabled key price adjustments such as discounts etc. resulting in increase in revenue up to 67%.
Enhance Inventory Management: With the help of data extracted, it became easier for the customer to get real-time insights related to product demand and availability. This enabled efficient inventory management. It enabled them to ensure adequate supply of popular products, avoid stockouts, and optimize stock levels. This also helped in decreasing the holding costs and increasing sales.
Improve Customer Targeting and Personalization: After the customer could analyze the extracted data, they could understand the customer behavior and choices better. This helped the client craft targeted marketing campaigns. The client could also provide personalized experience to their customers which included customized recommendations of particular products, promotional activities, and steady flow of communication. This resulted in better customer engagement and loyalty.
"ProWebScraper's web scraping service helped us notch up new levels of business efficiency and bring in sizable profits. With their professional and sophisticated solutions, we could enhance our pricing strategies, rework our inventory management, transform customer experience. We could leverage the data they provided and acquired a clear business edge leading to newer avenues of opportunities. Fabulous work and great service. Highly recommended
Conclusion:
Working with a multinational retail brand, we could get the opportunity to demonstrate how web scraping can redefine a business. Tackling real time challenges and providing personalized solutions, we enabled our client to tap into a treasure trove of data and reap rich business insights.
With the access to this kind of vital data, they could get a competitive advantage in the fast-moving retail market.
If you are into a business that can benefit from the power of web scraping, don't wait to reach out. Talk to us and get custom solutions to transform your business with the help of advanced web scraping techniques and tools!