Top 10 Review Scraping & Monitoring Tools Compared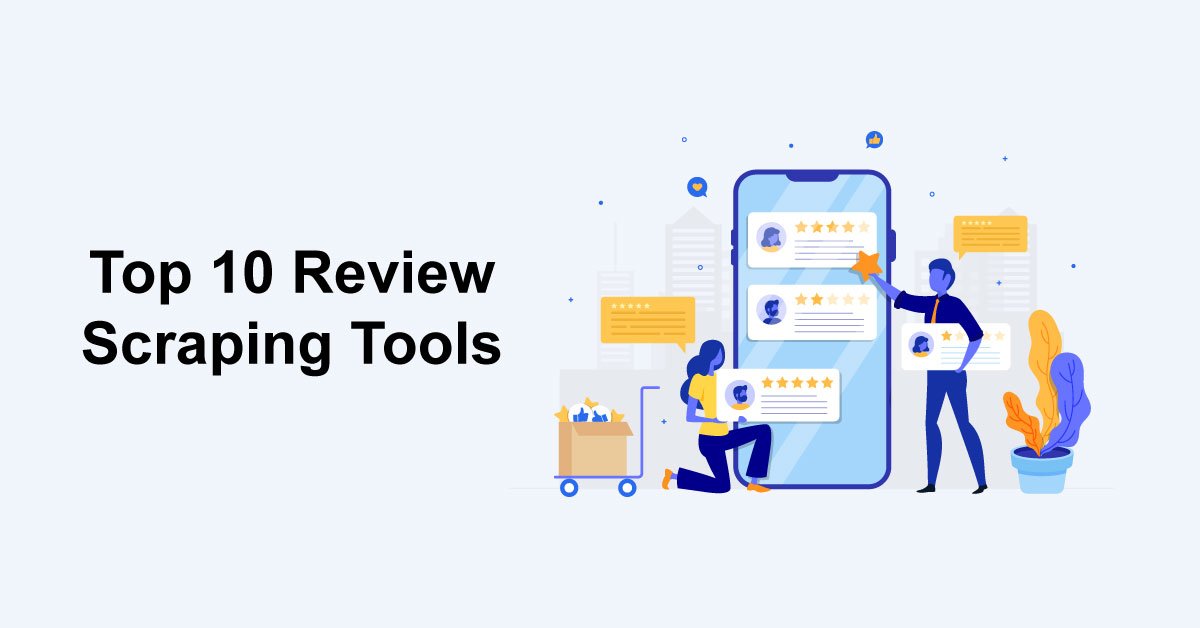 Introduction
How do you choose the products while shopping online? Most of you say you look at the pictures, price, ratings, and comparison of features before making a purchase. And I am sure you would name another critical factor- reviews!
Yes, reviews help us decide the user experience of a product. A Dixa study reveals that 93% of e-commerce users shop only after reading the reviews online. To support this, another study conducted by Fan & Fuel mentions that reviews affect the decision-making behavior of 97% of the people. It also said that 92% of people do not opt to purchase if they find no customer reviews.
The numbers prove that every customer looks at the review at least once before purchasing. Hence, it becomes necessary for businesses to scrape these reviews to know what their users are talking about their brand.
What is review scraping?
Like other data, you can also extract review content from your desired URLs with the help of bots. For this, you can use different tools that help you scrap the HTML pages and extract the required content from them. Moreover, these tools also allow you to store the extracted data in a structured format to make it easy to analyze the data.
Top 10 tools
Here are top 10 tools that can help you scrape reviews quickly.
1. ProWebScraper
ProWebScraper is a modern-day web scraping tool that can help you scrape reviews from different websites without coding. It also allows you to scrape bulk data, which means you can scrape multiple pages of reviews at once.
Even if you are a non-technician, you can still use this scraping tool as it works with the point and click selection method. You can insert the URL and select the reviews you want to scrape by clicking on them. Then, you will find the extracted data to download in your desired format. Isn't it so simple to scrape reviews now?
Along with reviews, you can also scrape price, ratings, title, and more based on your needs.
2. Google Alert
If you don't want to miss any updates about your field, Google Alert can help you. You have to mention the search terms or keywords in Google Alerts. Every time it monitors the search index, it will send you the search results list for that keyword. So, you can keep a constant check on what the audience says or reviews your search terms.
3. Zyte
If you lack time to keep a check on the customer reviews, Zyte can help you by scraping the data automatically. It uses AI-driven product data extraction. Thus, you can even use it for proper competitor research and new product reviews.
4. Parsehub
Are you looking for an easy-to-use tool? Parsehub will help you scrape data from web pages within no time. Since the tool is a no-code platform, even a non-technical person can scrape data like price, reviews, and product details quickly from the website. You can download the extracted data in a desired structured format for better decision-making.
5. Webz
If you don't want to miss out on any customer because of the language barrier, you must opt for Webz. This tool can easily scrape reviews in multiple languages globally and give you a structured representation of the same. It also allows you to sort the review data based on parameters like published date, relevance, etc.
6. Feedcheck
For any brand, it is essential to know what its consumers are saying about them. And Feedcheck can help brands do this. It lets you fetch all the reviews from online stores to know what features of your product soothe your customers. Similarly, you can also scrape your competitor's reviews to understand what is working for them. Moreover, this tool also notifies you of new reviews and gives you a chance to thank customers for leaving positive reviews.
7. Apify
Another web scraping tool that can be helpful to you for review scraping is Apify. You can automate scraping and extract the data to download it into a structured form. Moreover, you can also scrape prices through it for price comparison.
8. Review trackers
Review trackers believe that the brand's success depends on what the consumers say about them. Thus, it is essential to scrape the reviews and feedback so that the brand can retain its consumers. With this thought, Review trackers allow you to scrape reviews from different online platforms, improve your online presence and brand visibility and interact with your customers.
9. Reviewapi
Along with the positive reviews, a brand must look into the negative reviews to improvise its products. And Reviewapi helps to track positive and negative reviews. So, you can easily monitor your brand, download the extracted reviews and place it in a structured format to prepare custom reports. This entire process can help you make life-turning decisions for your product.
10. Datashake
The biggest problem while scraping reviews is to receive duplicated responses. Datashake solves this problem and only presents you with unique reviews from more than 85 review sites which you can download into JSON format. Even if these review websites use different date formats, Datashake arranges it in a particular format and presents it to you.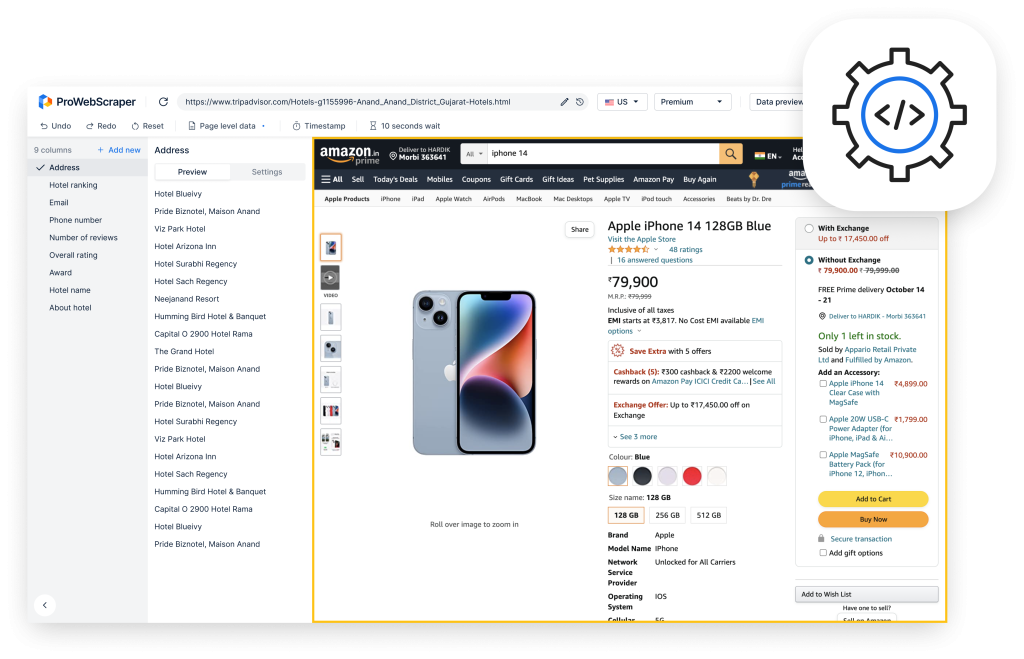 Use cases of scraping review data
If you wonder why should you scrape reviews, here is your answer:
1. Gaining the insight to increase sales
You get an inside look at the customer's perspective through review scraping. You can study what you should offer the customer in the future and if you need to change the price of the product to increase your sales.
For example, you may sell a product at $100, and your competitor may be selling it at $95 with the same features. This cost gap can be one of the reasons why your customers are shifting towards your competitors.
Scraping these reviews will also help you know what stops your potential customers from purchasing your product. It would help if you kept answering the questions asked by the potential customers to make them believe that you guarantee customer satisfaction. Hence, you must monitor your reviews frequently in a day to increase your sales.
2. Identify and resolve customer concerns.
By reading the reviews of your consumers, you understand what a consumer is looking for in your product. You also gain insight into whether your product can actually deliver the desired feature. Are the features of the product helpful to the customer? What is it that you can improve?
Moreover, you also learn which features are not doing well and prevent customers from buying your product. You understand customers' sentiments and can find a proper approach to acknowledge them and satisfy your customers. Basically, you get to know the pain points of your consumers.
3. Competitor review analysis
It is always a great strategy to know what the consumers like about your competitors. To understand this, you must regularly read reviews on the competitor's products.
Doing this will give you insights into what the people like about your competitor, why they choose their product, and how you can make your product more effective. You learn about their strengths and weaknesses and how they position themselves as a brand. You understand what the consumers love about their brand and how you can modify your product to make it lovable too.
Moreover, you also learn about what dissatisfies customers and offer them better solutions to divert them towards your product.
Ultimately, reviews help you know how to have a competitive stand in the market and lead towards improvement.
When you scrape reviews, there are rare chances of landing on a wrong decision for your product.