Table of Contents
Introduction to email verification
Comparison of eight top email verification services

BriteVerify / Validity
Kickbox
Neverbounce (A part of DiscoverOrg)
MyEmailVerifier
MillionVerifier
ZeroBounce
Xverify
Verifalia

How we've rated the services
Introduction to email verification
Email verification is the process of checking the validity of an email address without sending an email.
The various email verification services compared in this article carry out multiple validation checks. However, the three primary goals of email validation are:
To check whether the email address has the correct syntax,
To find out whether the email inbox exists, and
To assess the quality of the email address
Whether you have just a few email addresses on your email list or whether you have hundreds of thousands of them, verifying email addresses will hugely improve your email marketing results, save you from penalties and help you in a number of ways.
Quick comparison of eight top email verification services
Here's a quick, graphical comparison of the top email verification service providers
Accuracy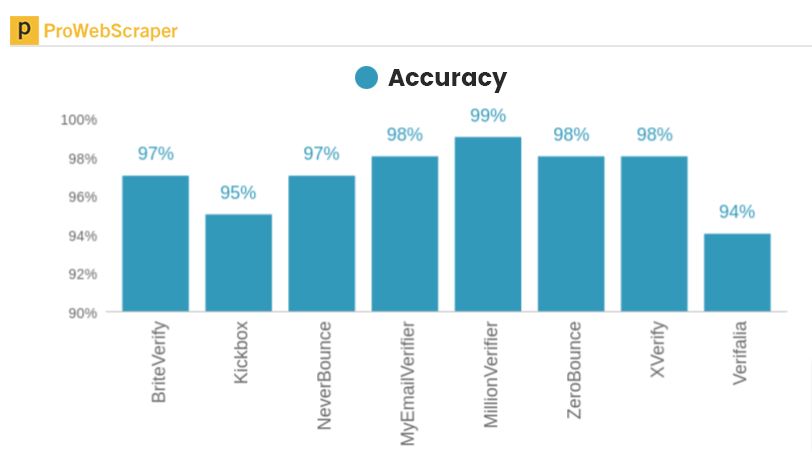 The above shows the accuracy of the top email validators compared, based on what they claim. Verifalia doesn't clearly state their accuracy, so their accuracy is based on what users have reported.
Free trial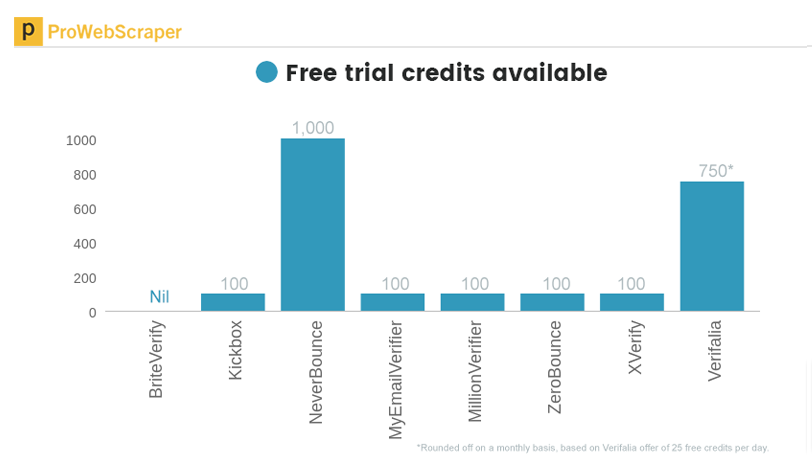 Verifalia offers 25 credits free on a daily basis, so their figure is rounded off at a total of monthly free credits.
Pricing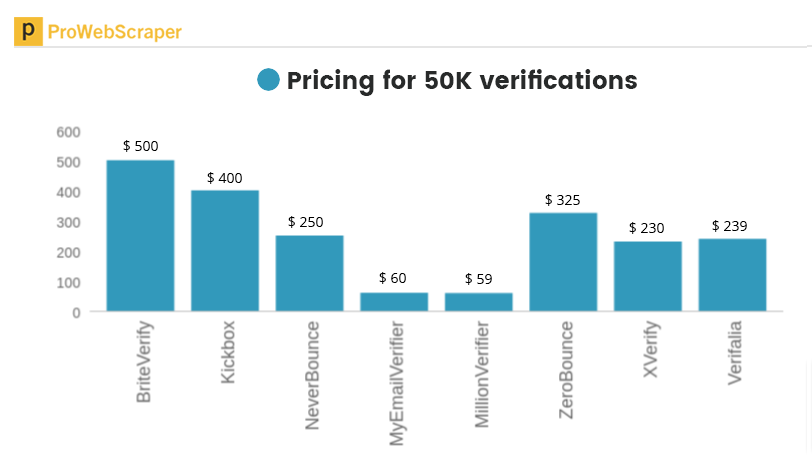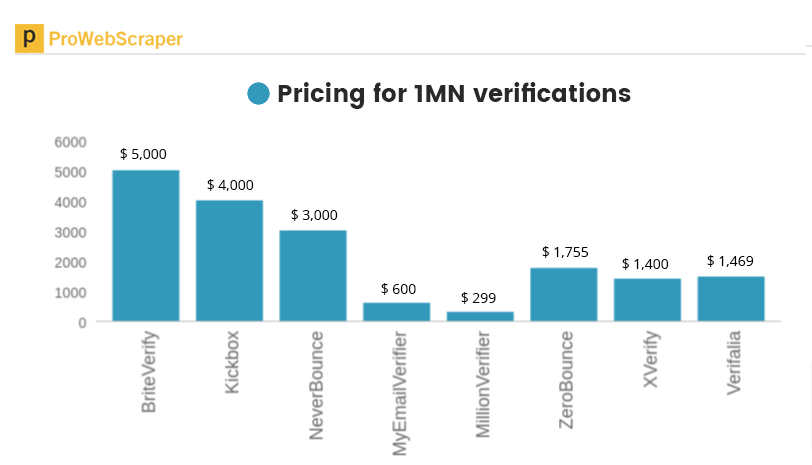 Speed and turnaround time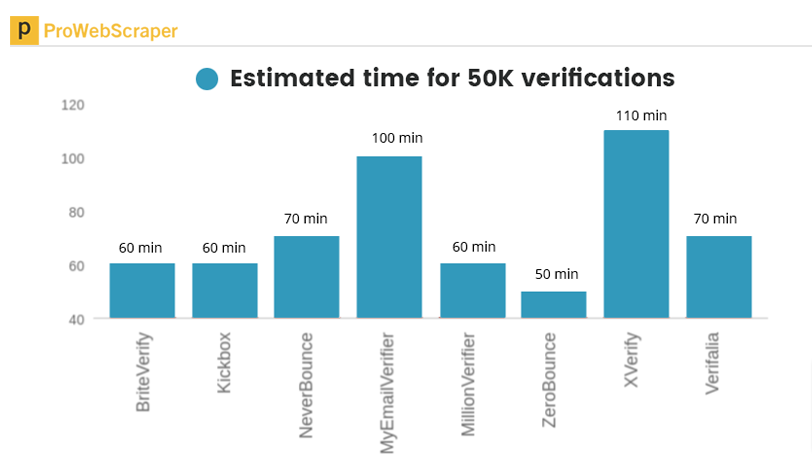 Detailed comparison of eight top email verification services
Below, we have made a detailed comparison of the eight leading email verification services. Each service has been discussed in detail, along with their features, pricing, strengths and limitations.
Overview:
| | |
| --- | --- |
| Accuracy | 97% |
| Pricing | $ 500 for 50,000 credits |
| Free trial | Nil |
| Customer Support Available | Yes |
| Data Security | GDPR compliant |
| Integrations | Their site mentions 12 official integrations |
| Real-time verification API | Available |

Analysis
BriteVerify is an old player in the email verification industry. Some time back it was taken over by Validity. Apart from BriteVerify, Validity also owns ReturnPath, a service that can help you with sender reputation.
The good
So what makes BriteVerify a great email verifier?
A smooth interface to easily verify your email list. Verify individual emails or entire lists

Real-time email verification API

Use three tests: syntax checking, MX record checking and authenticating with the email server of the address.

Each email validation takes about 0.5 seconds, which is pretty fast.
However, as we have always maintained, there's no one single email verification platform that's right for all businesses.
The not-so-good
BriteVerify is the costliest service on our list, and probably the costliest email checker tool.

No clear way to know if there's a free trial available. For a service that's priced on the higher side, one might want to check it for free at first.
BriteVerify Features
Here are the top features of the email validator BriteVerify
Upload / download options:
Puzzling why BriteVerify isn't offering more flexibility in file upload and download formats. It allows only CSV and TXT files in uploads and downloads and nothing else.
No clear free trial:
BriteVerify offers no clear and obvious free trial – at least none that we could spot on their website.

However, there's a 'Schedule A Demo' option.
Selectable Download Options:
After the email verification process, you may download any of the four types of email lists: Valid emails, Invalid emails, Risky emails and All emails.

If using an ESP, it's best to download the Valid emails list.
Interface:
Interface and layout of the site not impressive

Resources like blogs aren't highlighted enough on website
Pricing:
Around 5 times as expensive as the best priced service here

There are many email verification companies so the price differential is unusual
Our view
As an email validation platform, BriteVerify has its distinct advantages. Firstly, it's a part of Validity that has other software solutions under its fold. If you have a wide range of email problems to solve and don't mind shelling out more money, BriteVerify is a service you'd want to check out.
However, BriteVerify keeps its features rather out of sight. Browse through their site but you won't find too many features listed. That makes it slightly difficult for new visitors to understand why BriteVerify charges a premium over other email checker tools.
Overview

:
| | |
| --- | --- |
| Accuracy | 95% |
| Pricing | $ 400 for 50,000 credits |
| Free trial | Total 100 credits |
| Customer Support Available | Yes |
| Data Security | GDPR compliant |
| Integrations | 24 integrations |
| Real-time verification API | Available |

Analysis
Kickbox is another platform whose name you'll see in almost every list of top email verification services.
Kickbox classifies all its results as one of the following: "Deliverable," "Undeliverable," "Risky," or "Unknown."
The good
Compared to ZeroBounce and BriteVerify, the free trial for new customers appears to be a great deal easier.

Kickbox has a separate portal for agencies. With that you can serve each client separately, improve their email data quality, and help them resolve deliverability issues.
The not-so-good
On the pricing front, Kickbox is a semi-premium service. The value they bring against this precinct isn't always obvious.

A few users have mentioned that the Kickbox support team isn't always great, though it's difficult to independently corroborate this.
Kickbox Features
Sendex score: Kickbox has developed a feature they call the Sendex Score.
It is a numerical value between 0 and 1 that Kickbox assigns to an email address. Higher the score, better the quality of the address.

Kickbox also suggests a range of scores that it considers Good, Fair or Poor for transactional and marketing emails.

Kickbox uses its email verification results to regularly learn about what constitutes a high-quality email address. For instance, an address like mary.poppins @ domain .com is rated to be higher quality than an address like qwerqwer @ domain . com.
95% Email deliverability guarantee:
Kickbox offers a clear 95% deliverability guarantee. If more than 5% of the emails sent to addresses classified Deliverable bounce back undelivered, paying customers are eligible for refund on a pro-rata basis. Bounces due to poor sender reputation, purchased lists etc aren't eligible for a refund.
Team accounts: Normally, only one person would have been authorised to use the email verification service through your company's account with Kickbox.
Kickbox offers team accounts, so multiple users can access the same account, manage email verification and can carry out bulk email validation simultaneously.
Data Protection:
Kickbox is GDPR (General Data Protection Regulations) compliant.

Kickbox claims to be the first email verifier approved under the new EU-US Privacy Shield data transfer program.
Our view
Firstly, their accuracy rate is quite good. Kickbox is slightly expensive. Their pricing isn't low – they fall between BriteVerify and ZeroBounce. Against this, their features are not very different from the ones that many other email checker companies give you at a lower price.
Considering all this, we feel you should consider adding Kickbox to your list of tools for bulk validation.
3. NeverBounce (A part of DiscoverOrg)
Overview

:
| | |
| --- | --- |
| Accuracy | 97% |
| Pricing | $ 250 for 50,000 credits |
| Free trial | Total 1,000 credits |
| Customer Support Available | Yes |
| Data Security | GDPR compliant |
| Integrations | Yes |
| Real-time verification API | Available |

Analysis
NeverBounce were originally a digital marketing company and they had built this bulk email verification platform 'out of their own necessity'. Naturally, you can expect them to be both inexpensive and easy to use, in addition to being accurate.
The good
As compared to some of the other competitors here, NeverBounce offers great prices. For instance, for 50,000 credits NeverBounce charges exactly half of Briteverify.

They've made using the free trial easy. All you need to do is sign up and that's it.

They promise you a fast turnaround: approximately 3 minutes for 10,000 email verifications.
The not-so-good
While NeverBounce mentions 99.9% deliverability guarantee, their refund guarantee is pegged at 97%.

The service comes across as one with no special features.

As one user mentioned in a review, considering that they're nearly 7 years old, their features or interface don't seem to have changed much over time.
NeverBounce Features
Discounts for nonprofits:
NeverBounce offers a flat 20% discount to all eligible nonprofits. In order to be eligible for a discount, the nonprofit should be a 501(c)(3)-designated charitable nonprofit organization and have internet presence or public reference on the internet.
97% Deliverability guarantee:
Just like Kickbox, NeverBounce also offers a deliverability guarantee. Subject to certain terms, NeverBounce guarantees that no more than 3% of your emails will bounce.

Bounces from free email service providers (Gmail, Yahoo etc) are not eligible for refunds.

The minimum list for a refund eligibility is 500 unique addresses.
Discounts for startups:
Startups are eligible for a 30% discount. Certain conditions, like age of the startup (no more than 2 years old), privately held and an internet presence, are applicable.

Once your request for a discount is approved, your startup account can enjoy the discount for 2 years.
Team accounts:
NeverBounce allows organizations to opt for team accounts where the admin or account owner can add team members.

The account owner or admin can decide which team member gets to use how many email credits and view account usage and lists of other team members.
Our view
Aggressive pricing and a slightly better deliverability guarantee makes NeverBounce one of the best email verification services here. As an email verifier, they have been in the business for six years now (est 2014) and their long standing experience is certainly in their favor.
Of course, they don't have a unique feature of email quality scoring like some of the other email tester tools here. We believe that companies looking for a value for money email validation platform will definitely want to explore NeverBounce.
Overview:
| | |
| --- | --- |
| Accuracy | 98% |
| Pricing | $ 120 for 50,000 credits |
| Free trial | 100 free credits. More free credits available, subject to certain terms. |
| Customer Support Available | Yes |
| Data Security | GDPR compliant |
| Integrations | Their site mentions 5 official integrations |
| Real-time verification API | Available |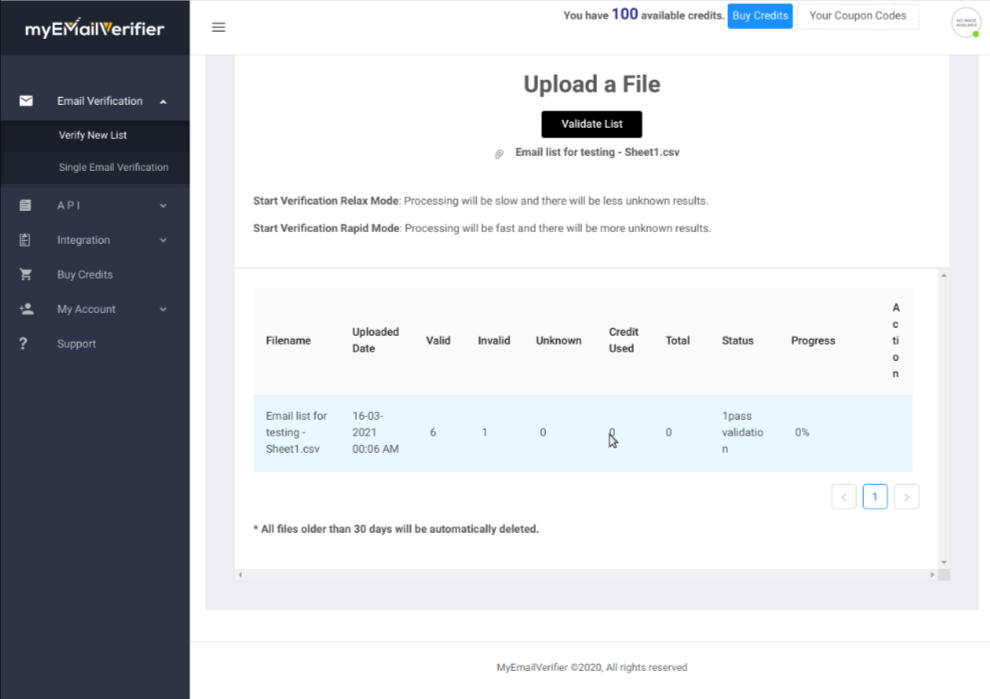 Analysis
As a newcomer to the email list validation space, MyEmailVerifier brings some good features, in addition to the great pricing options.
The Good
Many services struggle to get past free email services like Yahoo and Gmail. MyEmailVerifier claims they can spot the "disabled users" in Yahoo and AOL. This is a great feature.

Bulk discounts are available for students and non-profits. Besides, you can request for a special lockdown discount if you think your business was adversely impacted during the pandemic lockdown.
The Not-so-good
We feel their speed is a concern; when you have a huge mailing list, the difference in the turnaround time could be substantial.

While their home-page says their accuracy is 98%, the FAQ inside their 'About our Service' mentions their accuracy is 95%. The Terms of Use doesn't mention accuracy at all.
MyEmailVerifier Features
It's probably a little early to call them an email deliverability expert, but they have most of the features you'd expect in one.
Spam trap detection: MyEmailVerifier says they can detect spam traps. While it must be understood that no email validator can fully remove all spam traps from your list, this is certainly a very important feature.
Since spam trap email addresses are never submitted to sign up forms, anyone emailing to this address is clearly sending unsolicited emails.

The presence of spam traps on your mailing list indicates at least some of your email addresses have been purchased or you didn't use double opt-in.
Turnaround time and speed: This is one area MyEmailVerifier lags behind its competitors.
It takes between 10 to 15 minutes to verify 1,000 emails. That's almost 10x slow: most service providers verify between 500 and 1,000 emails in a minute.

However, they have clearly mentioned on their website that they are slow because they do not wish to compromise the quality of results just to be faster.
Team accounts: Agencies or large organizations have special needs and may need multi-use access to accounts or more than one APIs for the same account.
They do not seem to offer team accounts.

If you wish to run more than 1 APIs from a single account, you need to send them an email. They will respond to let you know if they can arrange for that.
Scaled free credits: The basic free plan allows you 100 free credits just by signing up. However, if you are looking for more free credits, there is some good news.
You send them a request for more free credits and they will add 500 credits to your account. You can also win 500 free credits by posting about them on forums.

Submit your review on G2, TrustPilot or Capterra and you might get 5,000 free credits. A video testimonial can bring you another 10,000 free credits.
Real-time verification API: A real-time API lets you check email addresses in real-time.
This feature is important for your sign-up forms, inquiry forms or other webforms where users submit their email address to your system.

MyEmailVerifier has the API available for languages like PHP, Java, Ruby, Perl, and .Net.
Our View
MyEmailVerifier has become an easy-to-use email list cleaning service for many reasons. Their pricing, features, and overall result quality lead us to believe that it's a service you'd want to check out.
Their interface is simple and clutter-free, making it easy to use. All this makes them a service worth checking out provided you aren't looking for super-fast turnarounds.
Overview:
| | |
| --- | --- |
| Accuracy | 99% |
| Pricing | $ 59 for 50,000 credits |
| Free trial | 100 free credits |
| Customer Support Available | Yes |
| Data Security | GDPR compliant |
| Integrations | Their site mentions 7 official integrations |
| Real-time verification API | Available |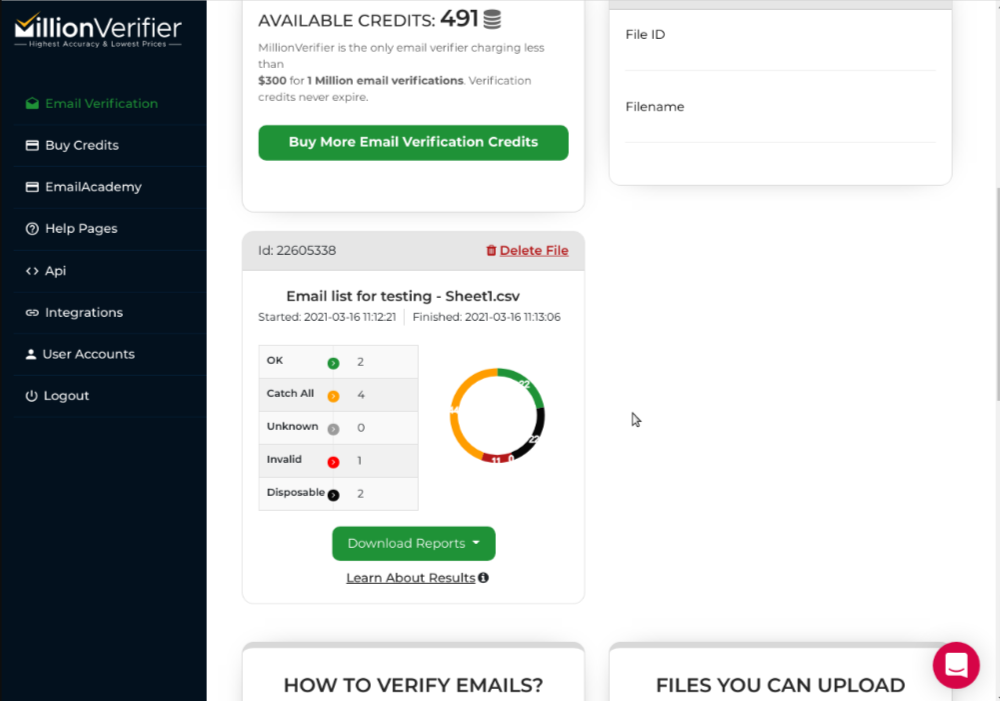 Analysis
Even though they are a relatively new entrant, MillionVerifier has quickly become a significant email list cleaning service provider.
The Good
Very competitively priced; their service costs about one-fourth or less of some of the other services listed here

They offer 100% money-back guarantee.
The Not-so-good
The first thing you notice on their site is the lack of literature or guides. It's more of a plain-vanilla site – just verify emails and move on.

Currently, they have only 7 integrations, which severely limits your choice of ESPs.

There is very little information on the site regarding additional features, so you've got to spend time understanding them.
MillionVerifier Features
MillionVerifier offers many of the features that you'd expect from a good email validation tool. The challenge, of course, is that their site has very little information to
Value for money: It is clear that MillionVerifier is positioning itself as a competitively priced, value-for-money hard bounce checker.
If you buy 5 million credits, you can get 1 million credits for free. That's certainly a great deal if you've got big requirements.

It's primarily looking for companies with huge requirements.
Turnaround time: Speed is certainly a strong feature of MillionVerifier.
Their standard speed is verifying about 3,000 emails per minute, about the same as NeverBounce.

It takes about an hour to clean about 100,000 emails.
Accuracy and refunds: Hungary-based MillionVerifier offers a 100% money refund guarantee. This is quite good, considering that even some of the leading email verification service providers too don't have this. However, the fine-print for the conditions is interesting.
The guarantee applies only if you get a hard bounce of 4% or more. Therefore, the net accuracy rate guarantee is 96%.

To qualify for the guarantee, you must have sent the emails through a third-party email sender (read ESP).

Upon refund, your account and the data therein will be deleted.
Cut the chase: Their site content and offers are directed to get things done quickly. So while you won't find blogs or detailed videos anywhere, it also suggests that their target group is companies who understand email marketing well.
The homepage gives you the Data Processing Agreement (DPA) upfront. That way, you understand exactly how they deal with your data and know everything before you even try their tool for free.

For real-time email verification and API, you can use the samples codes that are available in Bash, Go, PHP and Python.
Our View
Founded by Tamas Szabo, an email deliverability expert, MillionVerifier is certainly one of the services we'd recommend for the price value proposition. What's more, they are partners with Email Academy and ColdCampaigns. The latter will help you with your cold email campaigns and is available free of cost, at least for the year of 2021.
MillionVerifier and Hubuco are run by the same company, Hubuco Ltd. As MillionVerifier themselves confessed, Hubuco is reducing its support – which probably means MillionVerifier is going to see more push and support from the parent company.
Overview:
| | |
| --- | --- |
| Accuracy | 98% |
| Pricing | $ 325 for 50,000 credits |
| Free trial | 100 free credits |
| Customer Support Available | Yes |
| Data Security | GDPR compliant |
| Integrations | Their site mentions 9 official integrations |
| Real-time verification API | Available |

Analysis
ZeroBounce is certainly an important bulk email verifier you should consider.
The Good
Great security for your email data

GDPR-compliant and automatically delete your data after 30 days

98% accuracy

Data appends of first name and last name by running email address past older databases (The success of this feature is unknown but nevertheless)

Reliable and prompt customer support
The Not-so-good
The first is pricing. At $325 for 50,000 credits, ZeroBounce is certainly a very expensive service – anywhere between 1.5 to 4 times as expensive as the other services here. If you are going to use their service regularly or have a huge mailing list to clean, it's going to affect you substantially. That way, ZeroBounce pricing certainly gives you second thoughts.

Very small free trial. With a bigger free trial, you would have been able to test the speed and results more reliably.
ZeroBounce Features
Just like other top email verification companies, ZeroBounce too has a large number of features. We'll analyze its five features here.
Spam Trap Checker: ZeroBounce will check if there are any spam trap addresses on your list, mostly by comparing them with the spam trap list they have in their database. That's an important feature. Understand two important things about spam traps:
Firstly, spam traps fiercely guard their existence, so out of the many spam traps, only a few can be known.

Secondly, new spam traps are created almost daily, so there's no way any system knows all the spam traps.
Email Gender Append:
This feature seeks to identify the gender of the person behind the email address. If ZeroBounce can ascertain the gender, they will append it to the email address.

While interesting, its not important in the overall email verification outcome
Catch-All Email Checker:
ZeroBounce checks and reports if the email address is a catch-all address.

Nearly every email list cleaning service offers this feature.
A.I. Email Scoring:
ZeroBounce uses AI to attach scores between 1 and 10 for each email address. A score above 5 means the email address is safe to send.

Verification results show if an address is deliverable or not. Hence this feature doesn't bring any additional insight.
Selectable Download Options:
You decide what emails you'd like to keep. For instance, you might want to download the role-addresses separately and send them a fresh opt-in email.
Our view:
ZeroBounce definitely is a service to check out. Their security and accuracy is quite good.
The flip side is the pricing factor. If your requirements are very small, their pricing will make a small difference. But if your requirements are large, the pricing difference could be enormous.
Considering that other services here can offer a similar service at better rates and comparable security features, ZeroBounce may not be suitable for the budget of many businesses today.
Overview

:
| | |
| --- | --- |
| Accuracy | 98% |
| Pricing | $ 230 for 50,000 credits |
| Free trial | 100 free credits |
| Customer Support Available | Yes |
| Data Security | GDPR compliant |
| Integrations | Yes |
| Real-time verification API | Yes |

Analysis
As far as bulk email verification is concerned, XVerify is accurate and pretty fast, if not the fastest, in cleaning your email list.
The good
There are two ways you can check their service without making a payment. Either sign up for an account and their rep will schedule your free trial (volume unknown). Or, verify 5 email addresses for free, using their free email verifier tool. However, the latter doesn't give you any detailed insights other than whether the address is valid or not.

They are 'mobile-ready'. According to website, their Javascript will protect you from incorrect results arising out of dumb thumbs.
The not-so-good
Not all users are impressed with their interface; there's certainly room for improvement.

They let you upload files only in CSV format only, which limits their flexibility.

We're not sure why they aren't making the free trial simpler.
XVerify Features
Send Shield technology:
The multi-level checks they perform, branded Send Shield technology by XVerify, puts email addresses through different levels of verification.
Each level is a check. It starts with the basic syntax checking, followed by a comparison with the XVerify database.

They use a feedback loop from industries to figure out if the user behind the email address is a 'frequent complainer'.
Real time validation without cache:
Like most other services, XVerify too makes sure the email verification is carried out in real-time.
The service carries out a fresh check every time an email address is presented for verification.

However, it must be borne in mind that tests like spam track checking have to generally rely on cached results, because real-time verification can't check if an address is a spam trap.
Javascript validation:
Their Javascript validation gives you a ready-made script that you simply paste in your HTML and verify emails in real-time.

In addition to the basic syntax check, this check will perform additional checks like format of the email address as approved by the domain Of course, this is possible only when XVerify knows about the criteria a domain has laid down.
Data security:
XVerify is GDPR compliant, which means they follow the European Union's guidelines of handling personal data. Data Processing Addendums are made available to all clients upon request.

They are certified for EU-US Privacy Shield Framework and also for the Swiss-US Privacy Shield Framework. The two are slightly different.
Fraud protection:
Their fraud protection measure lets them see if the email address is associated with any fraudulent online activities including false chargebacks (typically associated with temporary email accounts).

It must be borne in mind that such checks have clear limitations because fraudsters keep themselves a step ahead of such checks. Hence, treat such checks as basic and not fool-proof.
Our view
XVerify is certainly a major email validation service with a long history so you can't really complain about the major factors like accuracy or speed. Their pricing is fairly competitive too and in the current list, they're certainly among the best-priced email validation providers.
Another good thing about them is they're honest about spam traps. While some email verifications companies claim they remove spam traps, XVerify explains it's not possible to check spam traps since they're a moving target – the list is always expanding. And besides, if you use only opt-ins, you don't have to worry much about spam traps.
On the whole, a good service that you might want to check out at least once.
Overview

:
| | |
| --- | --- |
| Accuracy | 94% (reported by users) |
| Pricing | $239 for 50,000 credits, depending upon the quality of results and features |
| Free trial | 25 credits per day, equivalent to approximately 750 credits a month |
| Customer Support Available | Yes |
| Data Security | GDPR compliant |
| Integrations | Yes |
| Real-time verification API | Available |

Analysis
A part of the Cobisi group, Verifalia offers a simple, quick and reliable email verification and validation service that businesses of all sizes can trust. As a part of the list validation process, they check email syntax, carry out SMTP verification and so on, like any other bulk email verifier.
The good
Verifalia can check temporary outages of mailboxes. In other words, they can detect if a mailbox is temporarily unavailable when it is down at the moment, it is full at the moment of checking and so on.

Verifalia offers good flexibility: they accept XLS, XLSX, CSV and TSV files for uploads.
The not-so-good
There's no clear mention of accuracy rates on their site – at least we couldn't find it. Users report that Verifalia offers an accuracy rate of 94%. This is slightly below the industry average; there are many which offer higher accuracy.

Because there are no reviews on G2 and only three reviews on Capterra, it's difficult to check the community-driven comparison of Verifalia with other email verifiers.

Their pricing model is complicated. The upper price band is way more than most other comparable services.
Verifalia Features
Multiple email validation passes:
This is a slightly different idea.
Every pass is a validation test that determines whether an email address meets the criteria of that particular level. For instance, checking the syntax of an email address is a test of checking the validity of the address and would be a part of some pass.

Verifalia has set up three quality levels, based on how many passes it will subject the email address to: Standard Quality, High Quality and Extreme Quality. The Standard Quality, which is satisfactory for most requirements, has 1 pass while the Extreme Quality level has 9 passes.
Three price bands:
Unlike other email validation platforms which offer uniform quality bands, Verifalia has three price bands, based on the level of quality you require.
Here, each email verification will use a certain number of credits. For instance, the highest quality level will use 0.04 credits, while the standard quality level will use 0.008 credits.

In other words, the price for the highest quality email list cleaning is 5x the price of standard quality email scrubbing.
Temporary mailbox unavailability:
Verifalia can detect downtimes of recipient servers and will retry email validation.
Multiple Anti-tarpit times:
Verifalia allows an anti-tarpit time between 5 seconds and 2 minutes, depending upon the Verfalia's pricing plans you've chosen.
Our view
As an email verification platform, Verifalia offers all the standard features, for mailbox existence checking to disposable email checking.
However, given their complex pricing model could turn off users. That's because unless there's a very, very clear value proposition, customers see no reason to pay a heavy premium that Verifalia charges.
How we've rated the services
From our own experience as well as from our conversations with other email marketing experts, we've found that not all factors are equally important when you evaluate email validation services. Some factors, like email data security, are extremely important, while other factors, like whether the service offers team accounts, are only moderately important.
We have based our comparison of email verification services on two groups of factors:
Critical Factors
Additional Factors
We found that four factors are extremely important so they have been placed under the Critical Factors category. All other factors are placed under Additional Factors.
(You'll notice some services have a third category: Miscellaneous Features. As the name suggests, Miscellaneous Features carry factors that are more like bonus factors; they don't add any real value to the service).
Critical Factors
As mentioned above, four factors are critical to the overall effectiveness of the email verification process. They are:
1. Email Data Security
If the email list you submit to the email bounce checker isn't secure, other factors don't matter. From the point of view of the competitive scenario as well as from that of current data protection regulations, email data security is absolutely a critical feature.
2. Accuracy of Results
Your email checker should give you accurate verification results. Only if the results are fully reliable can you expect results from your email marketing campaigns.
3. Customer Support Available
The best customer support is the support you never need! However, there are times when you can't get an integration to work right or you have a question about your special requirements.
At that point, you need customer support the most. A service that provides timely and dependable support adds lots of value to your email verification exercise.
4. Pricing of Service
When you have only a few thousand email addresses to verify, pricing may make a difference of only a few dollars. But when your email list runs into a few million, the pricing difference is certainly an important factor.
Remember, pricing is one of the four critical factors, but not the most important one.
Additional Factors
Here are some of the additional factors you need to consider when you wish to select out of the many email verification tools:
API availability

Auto-correction feature

Email data append

Email duplication removal

Free trial

File formats

Integrations

Scalability

Turnaround time