Top 5 Myths of Price Scraping Legality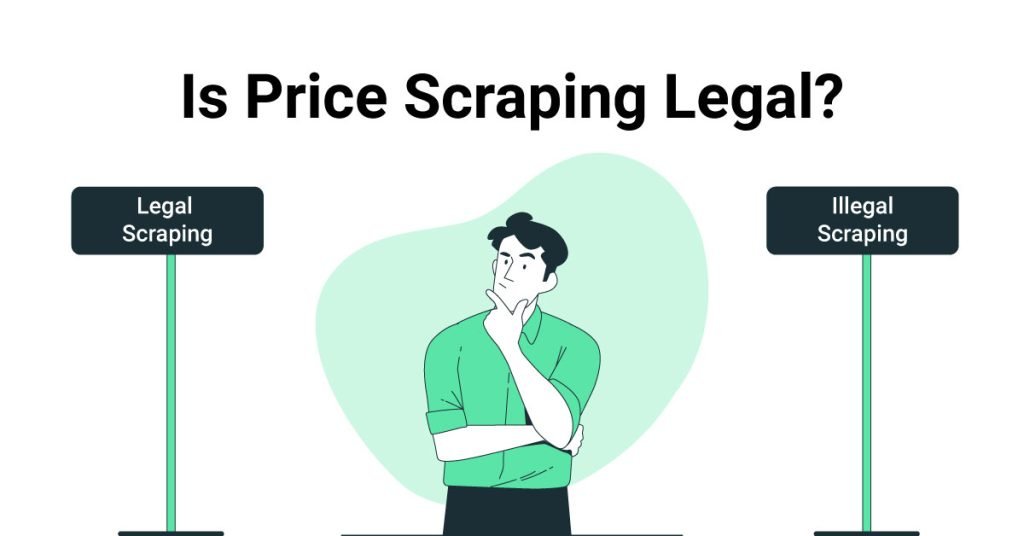 Introduction
With all the hype going on about web scraping, the first question that arises in people's minds is "Is price scraping legal?"
Price scraping helps you extract the competitor's price data with or without their permission. All businesses, mainly travel and e-commerce use price scraping to monitor and adjust their prices to beat their competitors and lure more customers.
However, with its increasing usage, some people also questioned its legality.
To answer 'Is price scraping legal?', we need first to understand the working of price scraping.
How does price scraping work?
You can scrape prices from different websites through scraper bots or price scraping tools. The extracted data from the competitor's website is then used to monitor what your competitors are doing to bring in more customers. It helps you to know their strategies and target market.
But how do we scrape these prices?
Target the competitor website- First, the bot or scraper tool asks for access from different desired websites at frequent time intervals ( every minute, hour, day, week, etc.)It helps to track the website activity and changes in pricing.
Extract the data- When a bot finally gets the website access, it starts extracting the data based on your requirements. It extracts the relevant data and you can access it in a structured format like spreadsheets or databases.
Myths around price scraping
Myth 1: Price scraping is cheap.
Price scraping is a process that is mind-blowing to develop and keep up with. This procedure requires both a high level of exertion and experience, which cost you a good amount. However, many websites provide you with a hybrid price extraction solution. This procedure indicates employing an inside automated scraping mechanism that makes price scraping a genuinely less complex job.
Smart will be the work when you use the services of reputable price scraping jobs for lengthy projects when you require regularly updated price and market information from several sources in a particular manner. Selecting based on your needs and financial constraints might be beneficial.
Myth 2: Price scraping is only for business works!
Price scraping such as price checking, price tracking, and market analysis for businesses are employed by different fields other than business for lead generation. Experts in real estate can steer housing research and forecast the housing market. As a newcomer to the field of entrepreneurship, you can use multiple websites to get well-researched information about the market and price analysis for your startup.
Myth 3: Price scraping can fetch price information data from any website!
This is one widely spread myth that price scraping can extract the price information data through the URL of any website. Though the fact is that every website has some guidelines and principles. These guidelines are frequently set up to safeguard and secure information. These rules prevent a bot from immediately grabbing the pricing information from the page. For instance, if a website page is copyright protected, price scraping isn't allowed on that website page.
Myth 4: A price scraper is versatile!
It is very much possible that you have experienced that a website changes its layout and price margin very frequently. You might feel overwhelmed by this frequent change as it let you get confused about the trending price of a particular service in the market. But there is no need to be upset. There are a bunch of reasons why this happens on any particular website. It is very less probable that the website has noticed your activity on their website as a suspicious bot. Additionally, it shall be brought on by various geo-locations or machine access. When this occurs, it is typical for a price scraper to encounter problems parsing the website before the modification is made.
Myth 5: You require to know to code!
No, not at all. There are no requirement criteria for you to be a pro at coding for knowing how to do price-scraping. The perfect example of this is non-tech professionals like marketers, statisticians, financial consultants, bitcoin investors, etc. They are no coder but, for sure, experts in price scraping. With the help of the pre-built crawlers in the ScrapeHero Cloud, you can simply scrape well-known e-commerce websites like Amazon, Walmart, and Target. Web scraping APIs can quickly provide you with pricing information, and ScrapeHero Cloud also includes scraping APIs that can help you scrape prices from Walmart and Amazon in real time.
Is price scraping legal?
Technically, yes. Price scarping is legal. Provided the condition that the price is publicly shown on the website you are scraping. There is a set of specifications for data scraping bots on every website. Price scraping is acceptable as long as you follow the bot guidelines correctly and collect sales/price information.
Before price scraping a website, take these steps:
Look at the robots.txt documentation on the target website.
Verify any additional terms and policies the target website may have about the usage of its data.
Verify the price data requirements published by the target website's government.
Price scraping for sales/price data is highly popular despite the legal concerns. If this act is prohibited, none of the price tracking software or site scraping tools will be available.
Best Price scraping tool- ProWebScraper
Now that you know that price scraping is completely legal, let's know about the best tool to scrape prices.
ProWebScraper, a no-code scraping tool helps you scrape prices efficiently and accurately. You can frequently scrape the prices from your competitor websites by setting up the scraper and let it handle the rest.
What's more? You get the data in a desired structured format. So, all you have to do is sit and study the data and make the decisions for your business.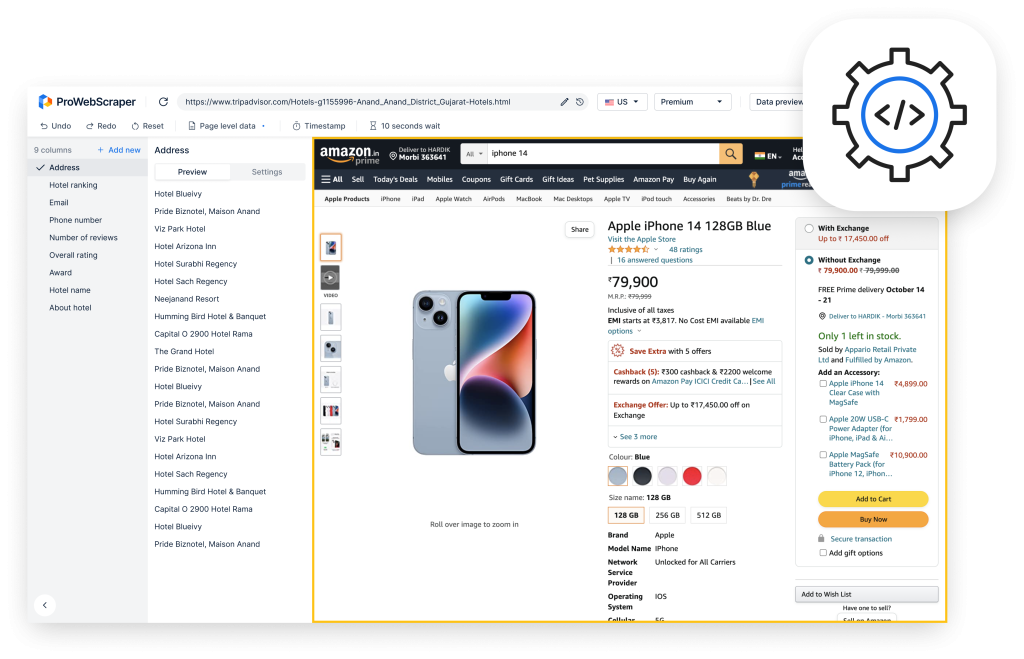 FAQs
Q. How to protect businesses from price scraping?
A. In contemporary times, price scraping is very prominent. The bots can fill out a form to get into the pricing of your business and simulate human behavior by quickly cycling through thousands of IP addresses. In such a situation, a DAF can not provide you with a good level of protection from these bots. Advanced bot protection is the best defense against any kind of scraping. Numerous software applications offer real-time scraping danger detection and prevention through bot management solutions. It installs quickly on any web infrastructure and then operates automatically.
Q. What is price scraping/screen scraping used for?
A. Price scraping is used for having a good command over competitive pricing.] If you are starting as an e-commerce company, you will need pricing data from your competitors to update your price strategy competitive and maintained.
Q. Which's the best price scraping tool?
A. All the tools we have recommended and given the brief of in this article are the best in the business. Though, please consider your budget and needs.
Q. What are the ways to prevent being blocked when scraping a website?
A. This is very common for websites to block any suspicious activity they notice on their website. The internet server eventually crashes due to over-burdening of the data request. Therefore, it is no win-win situation for both the website and you. The best way to prevent blocking is by preventing overloading. Be gentle even while price-scarping from any website so that it can eventually turn up as a benefit to you.
Q. Do CAPTCHA be solved during price scraping?
A. There was a time when CAPTCHA solving was an issue but now is not. There are a range of price-scarping tools providing CAPTCHA solutions to make your work easy and steady.