Best Alternatives to Octoparse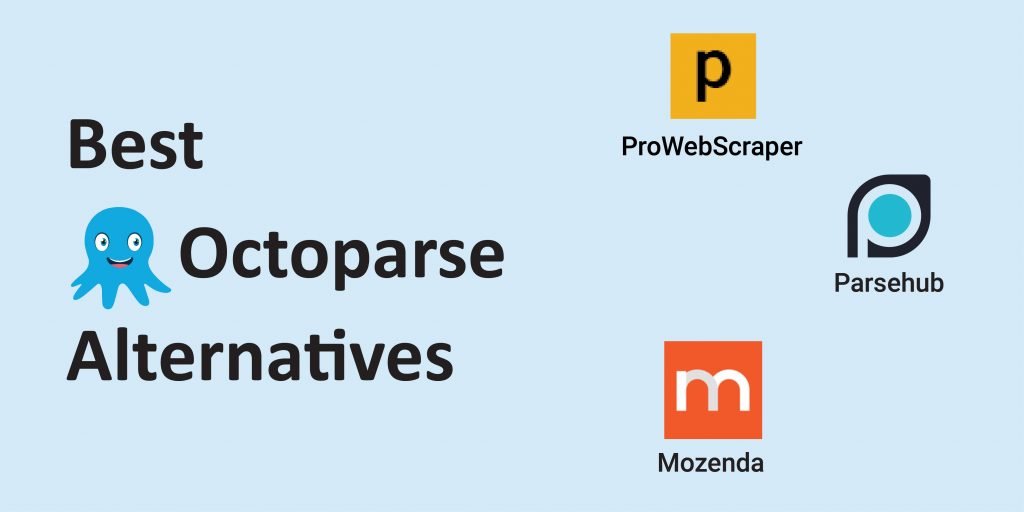 Octoparse is one of the best web scraping tools that can help you scrape websites even when you do not know coding. It comes with an option to convert the data you scrape into spreadsheets with convenience. The software scrapes websites with infinite scrolling, but still, that is not the only web scraper in the market.
You can use Octoparse even when you are not a programmer. But still, as a user, you would need a lot of understanding of the software. It becomes complicated to use for some, especially when they do not want to invest their time learning how to use it. This is why you can look for alternatives to Octoparse.
You must be thinking that looking for options will be another time-consuming job. But if the alternatives are easy to use, then that can speed-up the processes of your daily business fast.
Features the alternative web scraper must-have.
When looking for an alternative web scraper, these are the features you must verify in one:
Ease to extract web data:
Speaking of the web scraper features, the first important thing is that it should extract web data easily. The software tool must suffice the purpose of automatic data extraction. It should help scrape the data even when someone does not know how to code.
The softwares must be engineered in a manner in which it can extract data like the prices on competitors' websites. The scraped data should be real-time to extract massive leads for sales and research.
Point and Click Interface:
The software scraper should support data scraping with advanced machine learning algorithms. It helps to locate the data the moment you click on it accurately. The web scraper tool must scrape the website by clicking and dragging.
The tool must offer convenience to all who do not know how to code. Scraping vast data with just a point and click feature enhances the scope of work. You can concentrate on other things associated with work.
Ability to scrape all sorts of websites.
It is better if the web scraping tool does not get stalled by any complicated website. The tool should be able to scrape JavaScript, AJAX, or any other website. The software must not get troubled by the login or fill-in forms. You must be able to extract data from sites that have multiple levels of navigation.
The web scraping tool must adapt to infinitive scroll and switch dropdowns. Moreover, getting the data like text, link, image URL, or HTML code from web pages must happen fast with the tool.
Cloud Extraction:
Cloud-based software tools are faster to scrape the data from any website. In addition, these software tools can run the data extraction any time, that is, 24X7. Another best part of cloud platforms is that they store the data which is accessible from any machine.
Automatic IP Rotation:
If you do not want to get caught, the best scraper you use must set automatic IP rotation. These tools can help you develop scraping at regular intervals. In addition, owning a scraper with the ability of automatic IP rotation makes the task fast.
Scrapers with this ability are the best way to hide your IP, which is essential for protecting your privacy. It also prevents you from getting blocked or tracked.
Assist in scheduled extraction.
Scraping becomes a task when the website you want to scrape gets updated quite often. It will help if you put your eye on these, which is practically impossible. This is why using a web scraper through which you can schedule extraction is favorable.
Your scraper must have a feature to schedule the extraction at any part of the day, week, or month.
Support data download in API, CSV, Excel and Database formats.
The scraper must help you download the data in different formats like Excel, CSV, etc. You must be able to export the scraped data to your database to explore anytime.
After every time scrape, you must receive a notification about the update in the database. In addition, the software tool must offer automatic integration to get data, export data, and publish data to use in your creative way.
Best Alternative ProWebScraper
Scraping serves the purpose when the data extraction is effortless. One of the best scalable data extraction tools that you can use instead of Octoparse is ProWebScraper.
Using this data scraper, you can get clean and actionable data giving a boost to your business. Therefore, you consider it as the best alternative of Octoparse as it supports these features:
3-step installation: ProWebScraper is an easy to install software tool. The users have to enter the website URL and extract data. The scraper can be easily installed and used. Data from the scraper can be accessed via JSON and API formats within seconds.
Point and Click Interface: Apart from fast installation, ProWebScraper offers a point and click interface. The users have to hover their mouse over the data. Soon, after the mouse icon turns green, the scraping of data starts.
Scrapes all sorts of websites: Websites are developed on different platforms like JavaScript, AJAX, or dynamic. ProWebScraper extracts data from all the websites. It can dive deep into multiple levels of navigation like categories, subcategories, and different pages.
Cloud-based software: ProWebScraper is a cloud-based software. It can scrape 100+ websites parallelly. The speed of ProWebScraper is higher than Octoparse, making it a better alternative.
Robust and Flexible API: ProWebScraper can extract data from web pages to deliver instantaneous responses within fractions of seconds. With this scraper, you can integrate the structured web data into business processes to include applications or visualization tools.
Automatic IP rotation: This web scraper puts millions of data centre and residential IPs to not get blocked. It gives 95% success in data scraping. Not only this, if you require to scrape a website from a particular geographical location, it will select the IP address of that region.
If the IP address in use is blocked, the traffic manager of ProWebScraper will automatically swap it. Immediately the work resumes without effect.
Data delivery: Web scraping tools are good to use when you do not have much to play with the output. With ProWebScraper, you can download the data from the dashboard in CSV or JSON format. You can have access to all the data via API.
Apart from these two, you can directly transfer the data to your cloud storage service like Google Drive, Dropbox, Amazon S3, etc.
Other Alternatives to Octoparse
Some other alternatives of Octoparse you can consider are:
Parsehub
Parsehub is an easy-to-use friendly software that non-programmers can use. It is a desktop application that runs smoothly on Linux, Windows, and Mac OS X. Just like Octoparse, this web scraper can dive into complicated websites.
Parsehub users require a little technical knowledge, but it provides you with good quantity data. This web scraper allows you to create APIs from websites that do not offer it. Parsehub can provide these features:
Ability to scrape maps, calendars, search, forums, and nested comments.
It goes on for infinite scrolling.
Parsehub supports authentication before scraping and can take you through fill-in form logins.
The scraper allows rescheduling and recurrent scraps.
Use Parsehub on Graphical User Interface to extract text, images, attributes, links, numbers, and HTML.
Parsehub allows scheduling of scraping every week, daily, and hourly.
Parsehub has API Integration to download the data to JSON, CSV, and Excel formats. On the other hand, Octoparse can integrate to send the data directly to your system.
Parsehub is the second-best scraper, preventing itself from getting blocked using the IP rotation while scraping the website.
The scraper holds the data history for 14-30 days based on the plan, unlike Octoparse that does not mention anything about data retention.
Parsehub scraping plans start at $149/month, whereas Octoparse is priced at $399.
Mozenda
Scraping becomes all the more best when it can automate the process. Mozenda is another robust web data extraction tool. It provides data visualization services taking away the need to hire a data analyst. Mozenda offers these three services:
Data services
Cloud-hosted services
On-premises services
Mozenda can be considered another competitor for Octoparse as it is:
Cloud-based self serve web scraping tool that has scraped about 7 billion pages so far.
Mozenda supports downloading the data conveniently into Azure, AWS, and spreadsheets. The makers provide third-party integration with Amazon S3, Dropbox, FTP to publish data.
This web scraping tool is easy to learn for those who are new to scraping.
Just like Octoparse, this software tool allows us to scale the scraping when required.
Mozenda offers Point and Click interface, which makes it a good product in the market.
The software is downloadable for Windows, unlike Parsehub and Octoparse that supports Linux and Mac OS also.
Mozenda helps to scrape lists, tables, text, links, and images. Data download formats by Mozenda are CSV, TSV, and XML.
The scraping plans start at $250/month for 20K processing credits.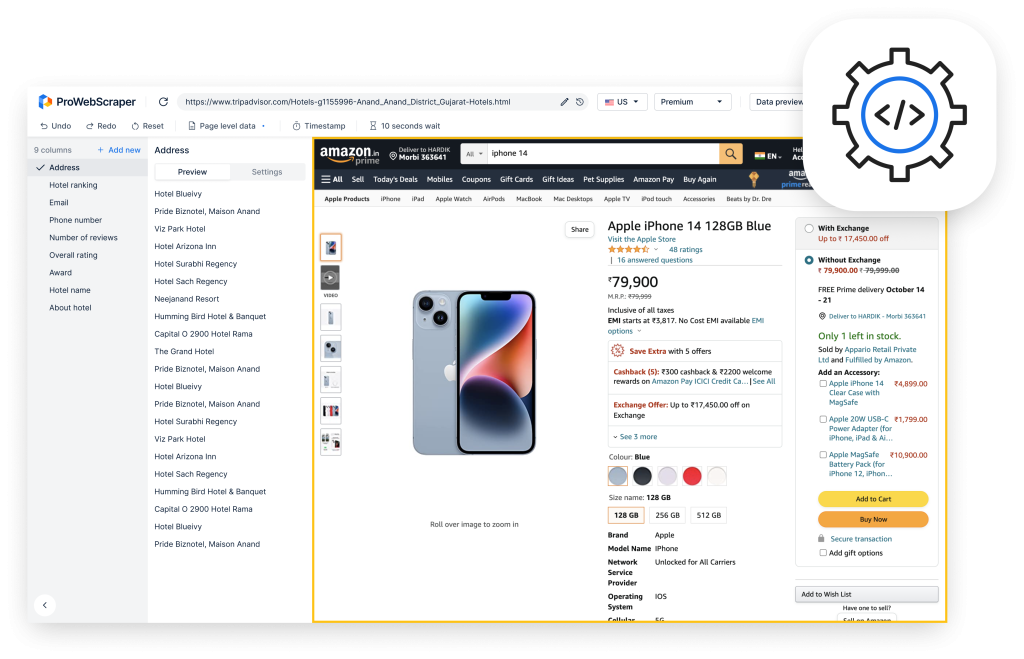 Conclusion:
Octoparse is a powerful web scraping tool, but you may not need every scraping activity to be robust. There are alternative softwares present in the market, and most of them offer free trial packs.
Depending on the need for scraping, you can pick the right tool. First, choose the web scraper after considering its price, utility, ability, outputs, and possible integrations. Also, check whether the makers provide you with the installation and after work support or not.