Top Parsehub Competitors and Alternatives [2022]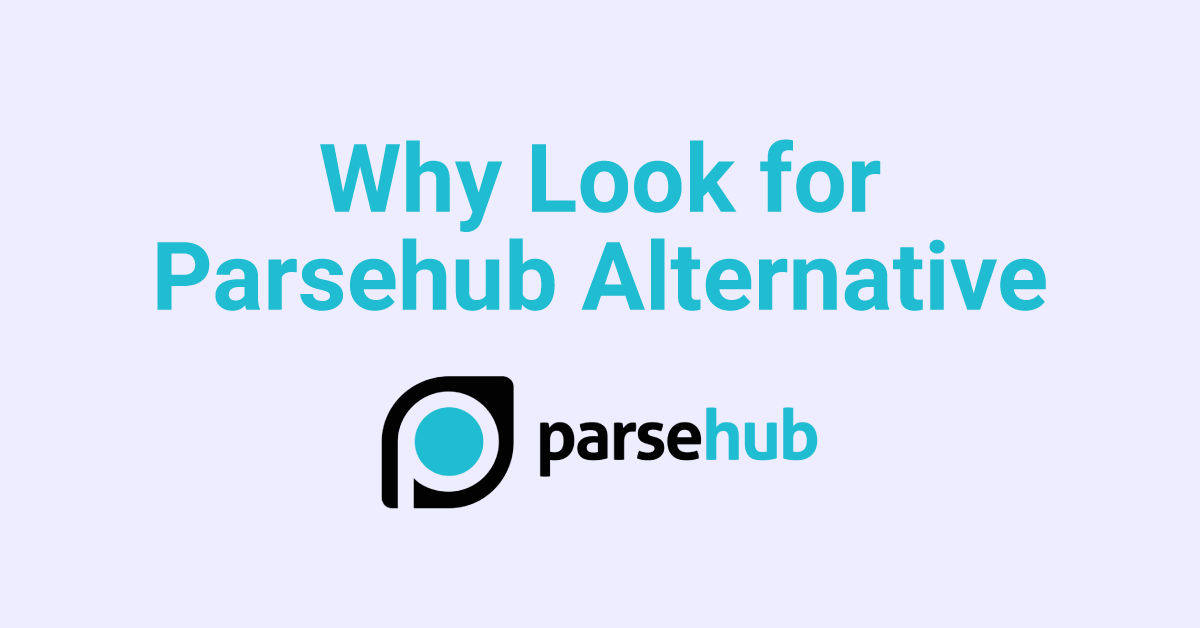 Did you ever try searching for a perfect web scraping tool? If you did, you would have come across 'Parsehub' because of its excellent services.
This age-old web scraping tool entered the market when people were yet to understand the concept of web scraping in all. Only the IT professionals understood this concept back then. The tool helped them to scrape data from various websites within seconds. Hence, Parsehub is a common name that you will come across when you talk about web scraping.
Today, with the increasing digitalization, even ordinary people want to use web scraping to grow their business. But, many people are looking for web scraping software other than Parsehub.
This search proves that Parsehub is such an old software that serves excellency and has satisfied customers for all these years. But due to certain limitations, people are looking for alternatives of Parsehub.
Let us understand the reasons behind it.
Why look for a Parsehub alternative?
While Parsehub has been helping people extract data from websites for years, it still has certain drawbacks. Looking at these, the users who want to start with web scraping are looking for better alternatives. Moreover, the existing users of Parsehub are also looking for easy-to-use software.
Apart from it, the following reasons allow us to understand why we should look for the Parsehub alternative.
1. Not easy to set up
If you do not pay Parsehub for setting up the software for you and decide to do it yourself, it may get a little difficult for you. Even though Parsehub is old software, it has undergone many updates to make it more user-friendly.
2. Scraping failed
No matter how old Parsehub is, it is not efficient in scraping web pages like the latest software available in the market. When you try to scrape web pages, you will often find 'Scraping failed' displayed on the screen while using 'Parsehub.'.
It frustrates the user as it becomes a time-consuming process. Hence, the existing users are looking for alternatives to Parsehub.
3. Limited scraping speed
The scraping speed of Parsehub is comparatively low than other web scrapers in the market. If you opt for the free plan, it can scrape 200 pages in 40 minutes. However, the standard plan can scrape 200 pages in 10 minutes, and the professional plan can do the same number of pages in 2 minutes.
But when we compare the speed and time required to scrape web pages with other tools, we find that the speed of Parsehub is very slow. The other web scraping tools can scrape 200 pages in a couple of minutes in their basic plans, which Parsehub does in their professional plan.
4. Scraper setup fee
Most software like ProWebScraper offers free scraper setup when you buy their subscription. However, Parsehub doesn't provide its scraper setup services for free. It asks the user to pay an extra fee besides the subscription cost to set up the scraper for them.
Thus, compared to other web scrapers, Parsehub becomes an expensive option.
Hence, you see a few factors that arise the need of looking for Parsehub alternatives.
Top 5 Alternatives to Parsehub
Here are the 5 best web scraping tools that you can use instead of Parsehub.
If you are looking for a one-stop solution for all your web scraping needs, then ProWebScraper is your solution. Users love this tool because it provides world-class services at affordable prices.
You can extract any data from the URLs effortlessly through the point-and-click method. Even if you have zero knowledge about coding, you can still use this tool to extract the required data.
Hence, ProWebScraper is the best tool for companies who want to scrape data frequently. Additionally, it provides more features like:
Easy to set up 
The most significant advantage of this tool is that it is easy to set up the ProWebScraper. You do not need to learn any coding to use this web scraping tool. With the help of a simple point-and-click selection method, you can easily scrape data from the desired URLs.
99% success
While using ProWebScraper, you will hardly face any problem of 'Scraping failed.' This accurate tool provides a 99% success rate while scraping data from any URL.
Hence, there are rarely any occasions when ProWebScraper is unable to scrape your data.
High-speed scraping
Not only does ProWebScraper extracts data successfully, but it does the process quickly. With this tool, you can scrape multiple web pages together within a few seconds. Thus, the high-speed scraping feature of this tool makes it the favourite tool of the users.
Free scraper setup and maintenance 
There are times when you need to customize the scraper set up to extract the required data from the web pages. During such instances, ProWebScraper offers you the service of a free scraper set up within a couple of hours and also helps you maintain it. Hence, it provides total customer support to its users and stands with them in case of any query.
Scraping from dynamic websites 
The websites where data keeps updating at infrequent intervals throughout the day are dynamic websites. ProWebScraper is a powerful tool that can scrape data from such dynamic websites. You can also scrape data from different levels of navigation, categories, pagination, or product pages. Moreover, it allows you to download the extracted data and store it in the desired format.
Another benefit of ProWebScraper is that it allows you to link the tool with API for a streamlined process. You can also schedule and automate the web scraping process.
Pricing: Starting from $50
This point-and-click web scraping tool makes it easy for every person to scrape data from the URLs. Even if you need data from dynamic websites, this tool will still be pretty helpful to you.
The biggest advantage of this tool is that it can even scrape data from the modern web, which only a few scrapers can. After finishing the web scraping process, you can download the data in CSV, XLSX, and JSON formats based on your convenience.
Moreover, you can schedule the web scraping process or integrate it with API. This way, Webscraper.io has become a favourite tool of most businesses.
Pricing: Starting from $30 per month.
To scrape links, texts, images, phone numbers, email addresses, IP addresses, videos, and documents- Apify is the best web scraping tool. However, if you are from a non-technical background, you will not be very comfortable using this tool. So, if you are a developer and know JavaScript code, you should try using this tool.
Since Apify is a cloud-based model, it allows you to log in from your desired place. Moreover, you can also integrate it through API. Its great documentation structure has made it popular among people.
However, the biggest problem is that Apify can get stuck with a firewall when you try to scrape a large amount of data together.
Pricing: Starting from $49 per month.
People use Octoparse because it is a powerful and visually appealing web scraping tool that helps you extract bulk data. It means that you can scrape multiple URLs together through Octoparse.
Moreover, it also provides you with ready-to-use web scraping templates for websites like Amazon, eBay, Twitter, and others. You can also customize web scrapers that help you extract complex data based on your needs.
You do not need to learn any coding process to use this software. Hence, non-coders prefer this web scraping tool to extract bulk data quickly.
However, this tool occasionally shows errors while extracting a large amount of data. And you may have to wait for a while to hear back from the customer support centre.
It provides you with a free crawler for a lifetime that helps you extract data and store it in your desired format. However, you can also opt for subscription plans to fit your needs.
Pricing: Starting from $75 per month.
This no-code web scraping tool lets you extract data like competitor price, high-quality data required for your AI algorithm, or any other data from web pages without wasting your time.
Moreover, you can also integrate it with your API. This cloud-based, powerful web scraping tool can easily extract complex data from the web and store it in the cloud.
Its easy-to-use interface requires only a point-and-click web extension from Google Chrome Extensions. Then, you can freely extract and download the data without the help of any code.
Moreover, you can also scrape data from multiple websites at once through URL scraping. Alternatively, you can also schedule the scraping process using a scheduler or hide your identity through anonymous proxies.
Pricing: Starting from $29 per month.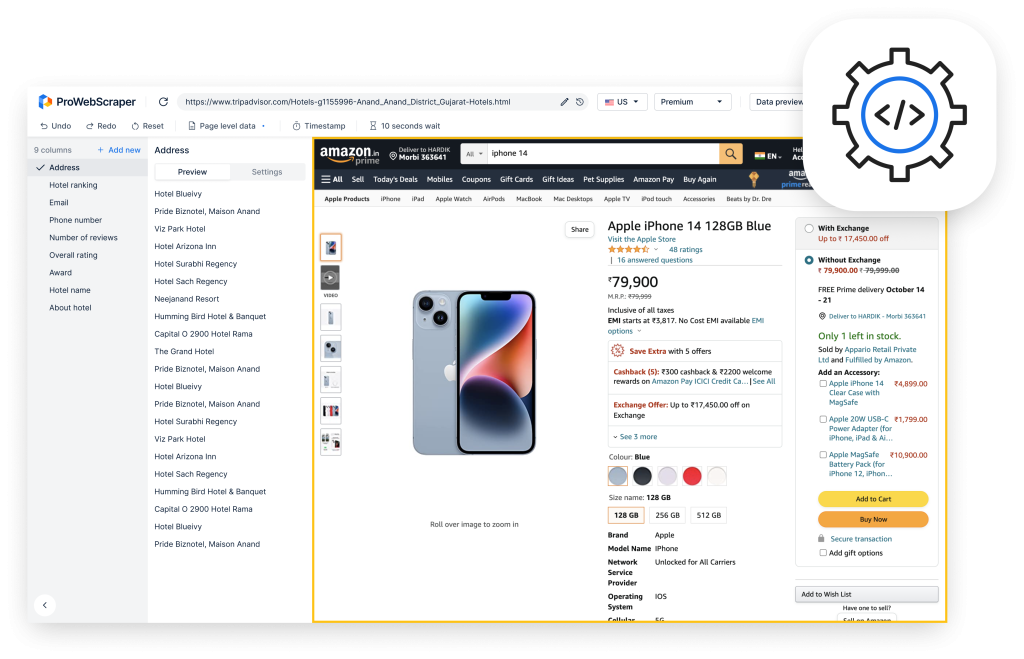 Final Words
So far, we understand that Parsehub is an excellent tool serving us the purpose of web scraping for years. However, it has not been able to adapt well to the latest technology in the market. Hence, the need of looking for an alternative arose for the existing users of Parsehub.
While conducting research, you'll find that ProWebScraper proved to be an effective alternative to Parsehub. Users prefer this tool because of its easy-to-use interface and accurate and cost-effective solutions. Hence, if you are looking for an excellent web scraping tool, you can try the above-listed web scraping tools, and I am sure you wouldn't get disappointed.