Top 10 Price Scraping Tools Compared [2021]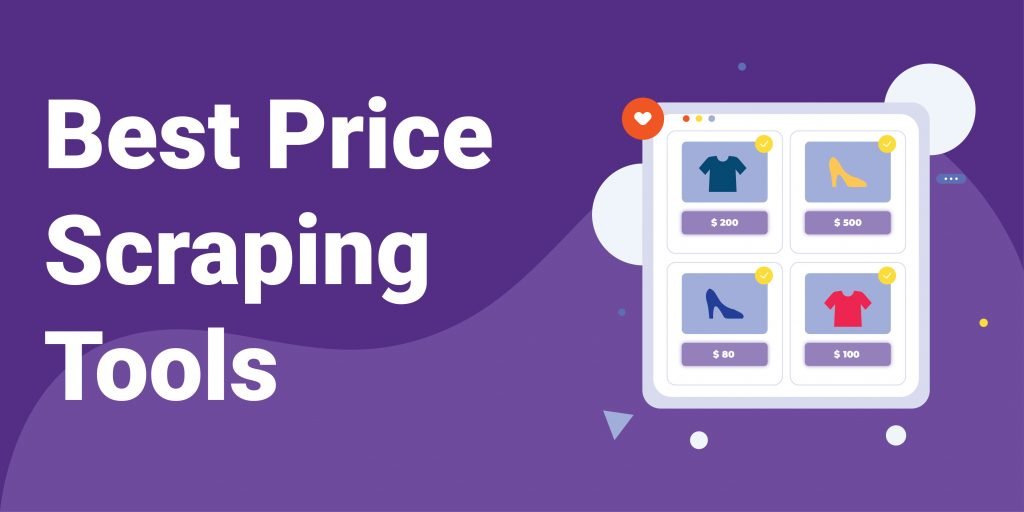 Planning to have an e-commerce website?
Then you will need to keep your competitors' prices and pricing strategy on a regular basis.
Manually, you can't hope to keep track of fast moving price changes.
That's where price scraping software or tool comes in!
Such a tool can automate the process of extracting prices from your competitors' websites and make it available through API or in the form of CSV or Excel files.
However, there are numerous tools in the market and it's easy to get confused.
No worries, we have put together top 5 free price scraping software or tools for you.
Read on and discover a tool that works for you!
List of Best Price Scraping Software
ProWebScraper is a top-notch web scraping and price scraping tool that you can use to scrape price related data from any kind of website.
If you are into e-commerce business, you would urgently and frequently need price related data from your competitors' sites. While it's not easy to get such data on your own, you can extract it using ProWebScraper's robust price scraping mechanism. Whether it's Amazon, eBay or any other site, you can quickly and frequently extract data points like price in no time. You can scrape the price related data at a frequency of your choice- hourly, daily or weekly basis.
Even for a non-technical user, it's easy to use the point-and-click interface to scrape price without any coding knowledge.
ProWebScraper never gets blocked while scraping data because of automatic IP rotation from a pool of millions of IP addresses.
In terms of access, ProWebScraper lets you integrate the data through API.
At times, prices of the same product vary between different geographic locations. However, geo price extraction is also possible with ProWebScraper.
In all, ProWebScraper is a complete tool when it comes to price scraping.

Pricing: First 1000 pages are free. After that, pay as you scrape.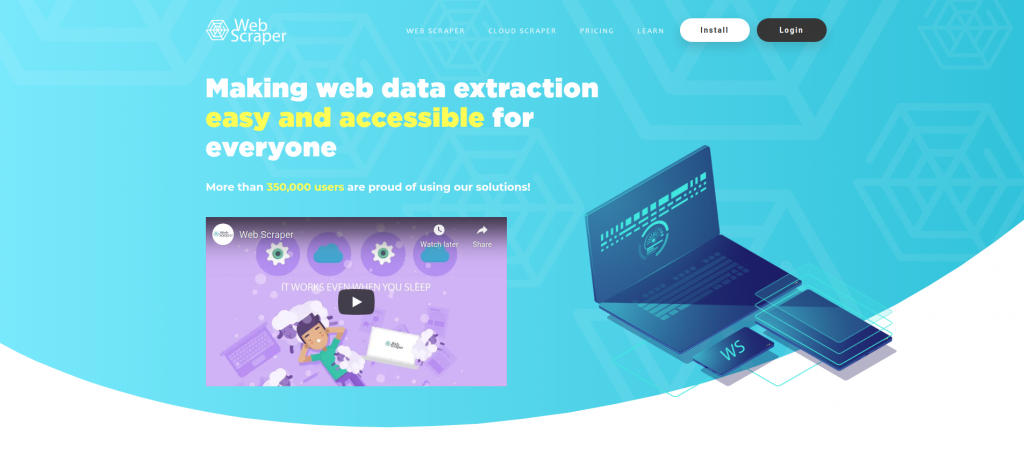 If you are looking for easy access to price related data, Webscraper.io is what you need. Built for the modern web, Webscraper.io is a leading player when it comes to price scraping.
Fully equipped to tackle complex and dynamic websites, Webscraper.io offers functionalities that make price scraping such a seamless experience!
You can configure scraper with a simple point and click mechanism to select elements. You won't need any coding! Scrape the price related data on an hourly, daily or weekly basis using the scheduler – as many times as you wish. It uses hundreds of IP addresses so that price scraping can go on seamlessly without the prospect of getting blocked.
You can use API to access the data or get the data delivered in your Dropbox.
You can use its browser extension for free. If you have the requirements to scrape data in bulk, you can explore their different packages.

Your search for a tool for scraping prices with one click ends with Dataminer!
Yes, Dataminer is a chrome browser extension that enables you to scrape prices at ease, from any website. With Dataminer, you are in complete control. You can set the frequency of scraping and the way you want to scrape. Using Dataminer, you can keep scraping away prices in a legal and ethical way.
After scraping, it's about access to the data. With Dataminer, you can scrape the prices in seconds and get your data immediately delivered in a CSV file. Moreover, there are Javascript API hooks in place as well.
As a browser extension, Dataminer price scraping tool is free!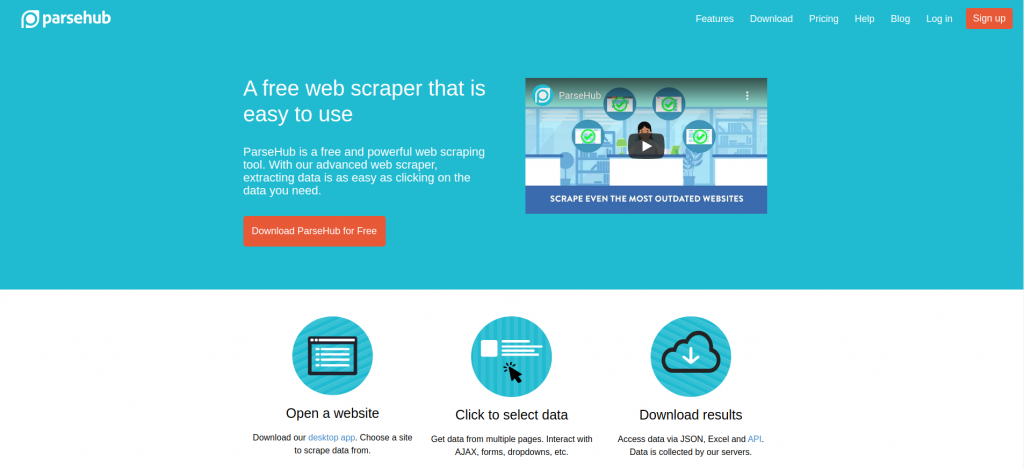 Parsehub is a free and robust platform for extracting prices as seamlessly as clicking on the data you need.
All you need to do is to open a website, select the price related data and get started. No matter how complex is the website, Parsehub can scrape the prices in no time.
Since you would need prices at regular intervals, you can use the scheduler to daily, weekly or monthly as you need. Parsehub uses a fleet of proxies for smart use of a chunk of IP addresses that save you from being blocked .You can use the API and integrate your extracted data from anywhere. You can also download it JSON and Excel.
Parsehub is a free tool so leverage it for price scraping!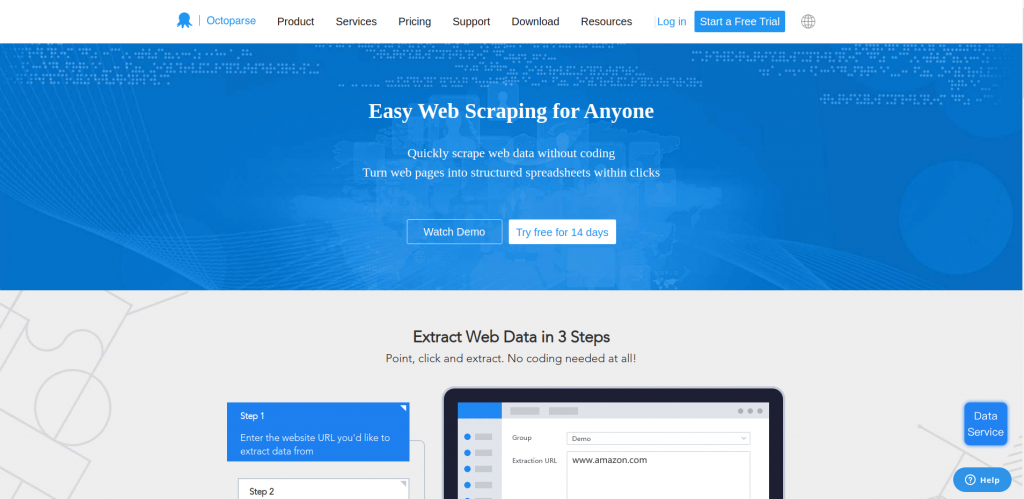 Octoparse is a trusted price scraping tool for those who want to easily and quickly extract web data without any coding.
Just follow three easy steps – point, click and extract- and turn web pages into structured spreadsheets with a few clicks!
When it comes to price scraping, Octoparse delivers as effectively. With Octoparse, you can extract prices from any kind of website in a matter of seconds. Since prices keep changing on e-commerce sites, you will need to schedule price scraping more frequently. With Octoparse, you can schedule it to any specific time- hourly, daily or weekly. In spite of relentless price scraping, you don't need to worry because Octoparse uses automatic IP rotation so that you can keep scraping without any possibility of being blocked.
You can download your data as CSV or Excel files. API is also available for easy access to your data.
In all, Octoparse is a great and free price scraping tool for your price scraping requirements.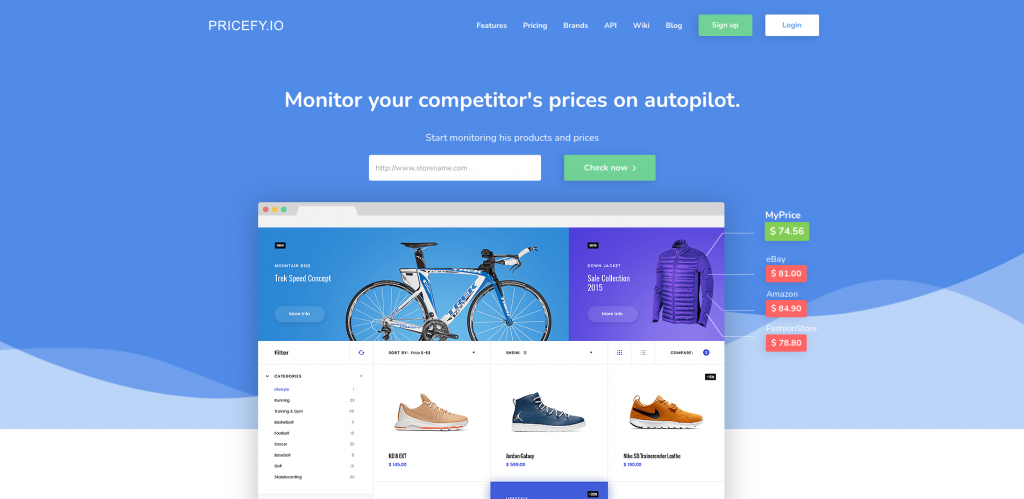 Pricefy is a reliable price scraping and price monitoring tool that you can use to extract and track prices on any kind of website, anywhere across the world.
As its tagline suggests, it lets you scrape and monitor your competitors' prices on autopilot. It's a great relief compared to being worried all the time about scraping prices and keeping track of your competitors' pricing strategy.
You don't need to paste any URLs. You can simply import products and Pricefy scraper will do the rest. You can scrape the price of any product in any country on a daily basis. With its powerful API, access to data is quite easy.
It's fairly safe too; price scraping will go on uninterrupted without getting blocked.
Its basic plan is free. As a free tool, Pricefy offers a lot that you can leverage for price scraping!!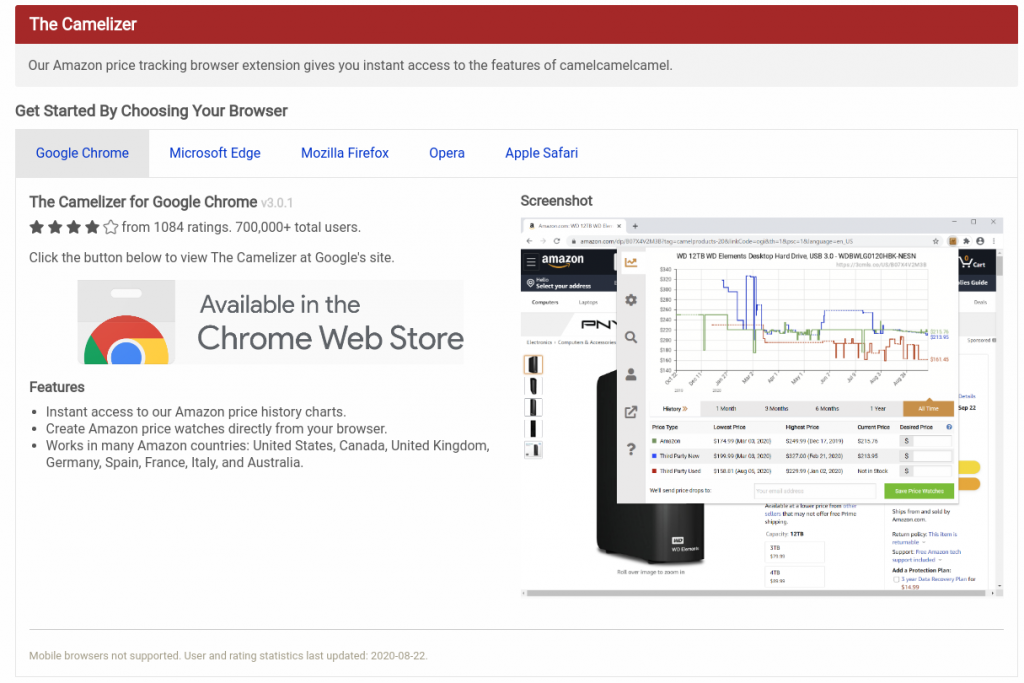 It's a Browser Extension which you can use to access prices of Amazon products.
It gives you instant access to Amazon price history charts. It gives you alerts when prices drop and help you keep track of prices as they change.
You can create Amazon price watches directly from your browser.
It helps you keep track of Amazon prices in many countries such as the United States, Canada, United Kingdom, Germany, Spain, France, Italy and Australia.
It's a great free tool to monitor and track Amazon product prices!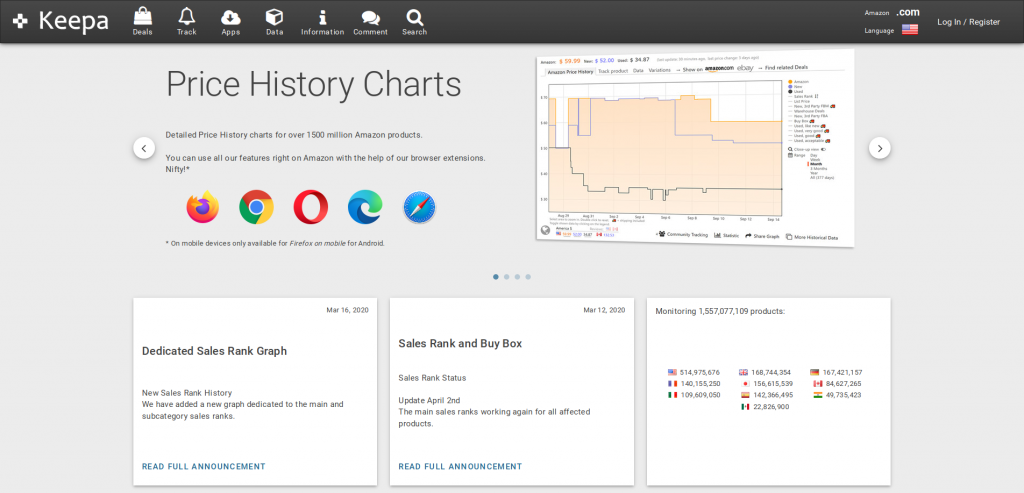 Keepa is yet another decent price tracker that you can capitalize on.
You can keep track of prices and monitor your competitors' pricing strategy using Keepa. However, the data access is governed by a quota system. When you make data requests, your quota will decrease. If your quota is depleted, you will not be able to make further data requests till the quota is not replenished. You can use Keepa API for accessing data.
For tracking the price, you can place price increase alerts as the price reaches the price level of your choice.
If you are looking for a free tool that can easily and effectively track Amazon prices, Keepa is a good choice
Otsledit is a tool that you can use to select any block on the site including price and track the price related data you need.
All you need to do is open the page from which you want to track the price and click on the extension icon and the window that appears. After that, click on "create track" button. Then you can hover your mouse over the price and click on it. You will be notified as soon as there are price changes.
It will also show you the history of all the tracks that you created and the price changes.
For tracking prices on e-commerce sites, Otsledit is a great tool!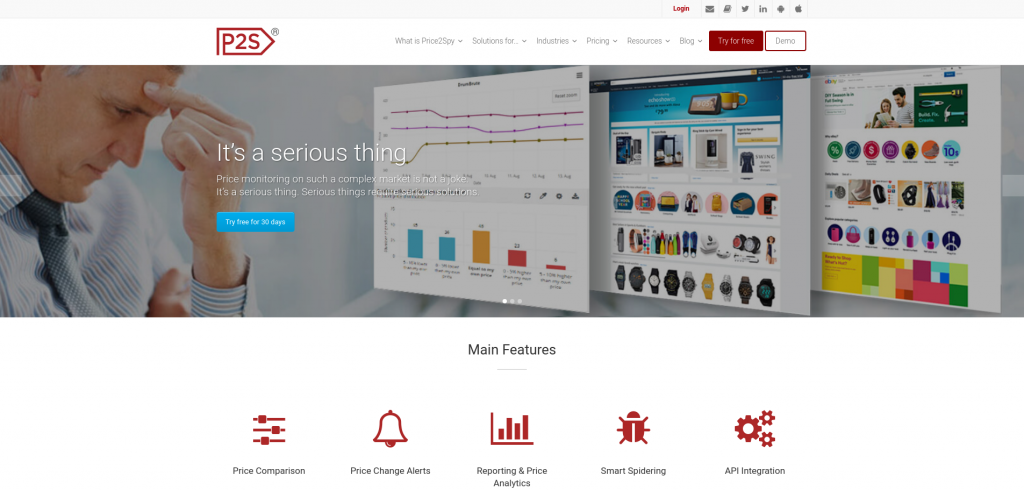 PricingBot has been acquired by Price2Spy. It's a tool for tracking the price on your competitors' site. As price monitoring is a tricky and complex exercise, it's advisable to use an automated tool like PricingBot.
As it keeps track of price, you will receive regular notifications every time the tool notice price changes.
To get started, you can register for a 30-day free trial and add your products in a manual way. You can also send the list of products in Excel. Then you need to add your competitor URLs manually in products, send the Excel sheet if you like. Else, the team at PricingBot can manually match it for you.
PricingBot has a great dashboard that lets you visualize everything. You will receive alerts for price changes and enable you to keep track of your competitors' pricing strategy.
In the trial period, you can keep track of price changes once a day.
If you don't have bulk work and want to do it one time for a specific purpose, you can use PricingBot for a trial period and get your job done!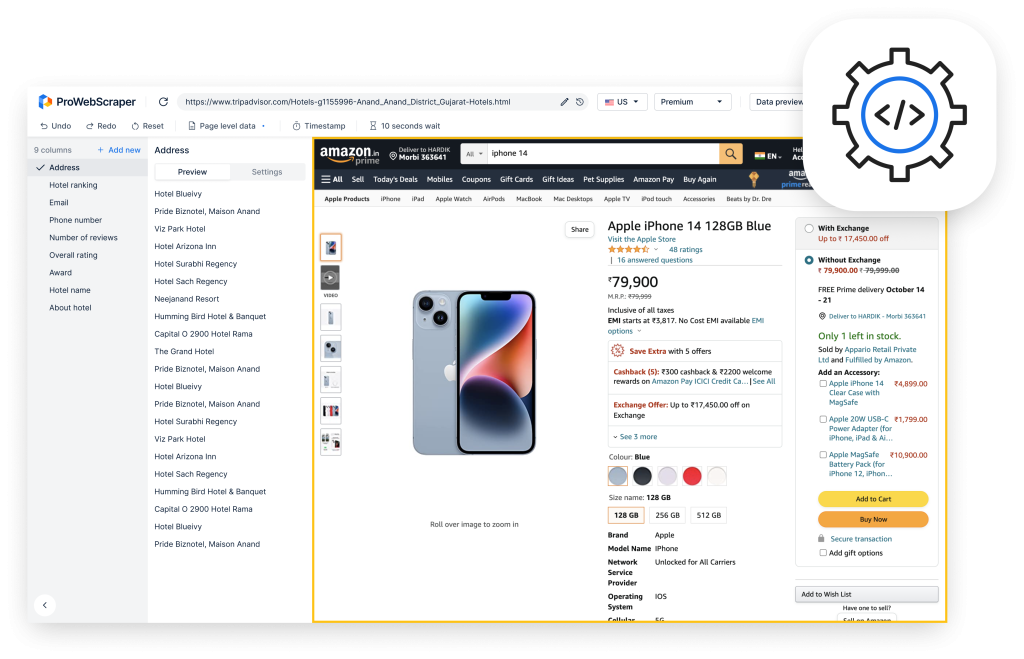 Conclusion
If you want to get an edge over your competitors, you need to get hold of a great price scraping software.
The more powerful the tool is, the more advantage you can have.
So we hope that this blog will help you discover the right tool for your specific price scraping requirement and your business.
Leverage these price scraping tools and propel your business forward!
Feel free to leave your comments and suggestions here.